300: Virginia Defeats Marshall, Bennett Reaches Milestone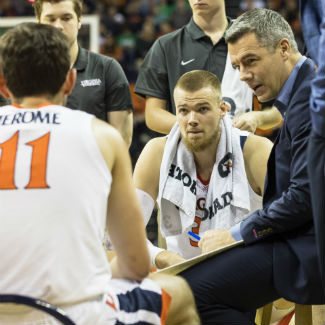 By Jerry Ratcliffe
On a day that was supposed to be all about Tony Bennett, the Virginia coach turned the attention elsewhere. That's just Tony Bennett.
As the Cavaliers, ranked No. 4 by the Associated Press and No. 1 by the Coaches Poll, rolled to a 100-64 blowout over visiting Marshall, they handed Bennett his 300th career coaching win. It was the first time during Bennett's era at Virginia that his team has reached the century mark in scoring as they also advanced to 12-0 on the season.
In addition, junior guard Kyle Guy set three career highs while pummeling the Thundering Herd. Guy scored a 30 points, besting his previous high of 29 at VCU last season, but also hit seven 3-pointers and pulled down eight boards, all bests for his career as a Wahoo.
When it was all over, Bennett was his usual modest self about becoming the 80th active Division I coach to hit the 300-win mark.
"I'm thankful," Bennett said. "It just means I have really good players. It means I've been coaching for a while. I've had a great staff. My whole hope is that in my 300 wins I've honored and respected the game, the people who've poured into my life and what I value as important, and that in the many games I've lost, I've done the same."
Another of his junior stars, Ty Jerome, said that Bennett was so humble that he didn't even mention 300 to the team.
"Actually, Coach Jay [Williford] mentioned it to us," Jerome said. "It's another good thing about today."
While praise was being heaped upon Bennett, he didn't forget who helped launch his career and has been a role model all his life, father Dick Bennett, former head coach at various schools including Wisconsin and Washington State, where Tony followed him as head coach before moving to Virginia.
"What my father did for me … he came out of retirement and went to Washington State, bottom of the barrel in the Pac-10," Tony Bennett said. "Basically took all the bullets. I'm the associate head coach for three years and established a program.
"He said son here you go, I don't know if you will be successful, but at least you're in a spot where you have a chance," Tony recalled. "He took a great career, Final Four coming off that, did that for me, took the losses, and then I took over and we went to the tournament and won some games.
"I don't know how many dads would do that for a son to get me started but I always go back to that and I think, 'Wow,' at the end of his career to take that on for me and then I was ready to go," Tony said. "When I came [to Virginia] he said you're on your own, you've got to figure that one out for yourself. That's where I got started, much respect goes to him."
After struggling his first two years at UVa (15-16 in 2009-10, and 16-15 in 2010-2011), Bennett has guided the Cavaliers to seven consecutive 20+ win seasons.
Monday afternoon, Virginia flexed its muscles and rolled to a 50-25 halftime lead over the Herd and never looked back.
As good as the offense was — the Cavaliers shot 53 percent from the field and 44.4 percent from Bonusphere — the defense was just as good. UVa held Marshall to 35 percent shooting (20-57 from the field) and 27 percent behind the arc (6-22), while holding Herd star Jon Elmore to his worst game of the season (3 of 17 from the field, and 1-8 from the arc) for 14 points (seven of those coming from the free throw line).
Virginia alternated several fresh players on Elmore throughout the game, although De'Andre Hunter did most of the work.
Meanwhile on offense, Guy was golden. The former Indiana "Mr. Basketball" connected on 7 of 9 from 3-point territory and 10 of 14 overall for a new career high. Jerome and 7-foot reserve Jay Huff each had 14 points and Hunter added 11, Mamadi Diakite 9.
"Hillbilly Ball wasn't very good today," said Marshall coach Dan D'Antoni. "They shot the crap out of it early, and it kind of put us back on our heels."
UVa shot 57 percent in the first half (17-30) and 50 percent from the arc (6-12), along with 10 of 12 from the free throw line.
"They played like a top 10 team and we didn't, but I've been here before," D'Antoni said.
Guy, who nearly had a double-double, said he didn't have a feeling that he was in for a career high scoring.
"You know there is not really a feeling, for me at least," Guy said. "I know when Ty is looking for me, or Kihei [Clark] is looking for me that they go out of their way and that is when I feel the best shooting the ball. That's how much I love play with this dude (Jerome). That's the kind of chemistry we have."
The Cavaliers don't play again until Saturday when they open up ACC play against a good Florida State team.
"I think our confidence comes from every day in practice," Jerome said about UVa's 12-0 boltaway. "How we prepare for our next game and get better every day. I feel extremely confident going into ACC play."
Comments