Convention Draws Hundreds of Baseball Coaches to Charlottesville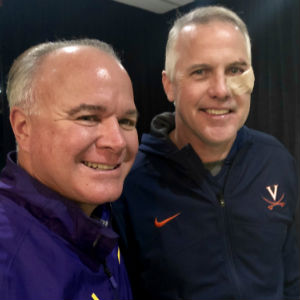 By Jerry Ratcliffe
Paul Mainieri's first visit to Charlottesville turned out to be a memorable one.
LSU's legendary baseball coach, who was Brian O'Connor's mentor and now longtime friend, came to town for a couple of reasons. He was the headline speaker to open the first Virginia Baseball Coaches Association Convention this weekend at the Omni. It was also a good opportunity to catch up with O'Connor.
The VBCA, a brainchild of Tim Merry (executive director of the organization and head baseball coach at Trinity Episcopal School in Richmond), drew 200 baseball coaches from all levels of the sport and from all over the Commonwealth.
Mainieri, who hired O'Connor at Notre Dame before the former moved to LSU and the latter to UVa, wanted his convention-opening speech to mean something, particularly to the younger coaches.
"My message to them is to make sure they're coaching for the right reasons," said Mainieri, who is in his 37th year as a head coach, and has taken the Tigers to the College World Series five times, won the title once and was runner-up once.
"The right reasons are very simply to impact young people's lives. These coaches have a unique opportunity to have a tremendous impact on young people," Mainieri said. "Today they might be helping young people become better baseball players, and what it takes to be successful in the game of life."
Clearly the veteran coach was a hit with the state coaches. After his talk, Mainieri and O'Connor teamed up for a Q&A session.
Merry, who said he got the idea of starting the state organization after attending the national convention in Nashville in 2016, came back and worked to get a Virginia association off the ground last year before officially launching earlier in 2018. His group has 300 members and growing.
The weekend's itinerary included more than Mainieri and O'Connor. Several college coaches, including Virginia Tech's Ryan Fecteau, Radford's Joe Raccuia, MI's Johnathan Hadra, and several others were featured in breakout sessions along with coaches from junior colleges, travel baseball, and high schools, including Miller School's Billy Wagner, a former Major League pitching star.
Mainieri was surprised that the organization was new because he had been aware of the high school baseball talent in Virginia for decades.
He wasn't surprised, however, at how his one-time assistant has flourished at UVa.
"I hired Brian O'Connor when he was 23 years old, one year out of college, and made him my No. 1 assistant coach at Notre Dame," Mainieri said. "He worked with me for nine years and was uniquely gifted as a coach with great intelligence, was a great recruiter, outstanding pitching coach, and had a great way with the players."
The chemistry between the two was incredible. They were on the same page with most everything, something that Mainieri discovered was still the case this past summer when he brought the Virginia coach onboard the summer USA Collegiate Team, where they were reminded of just how much they were on the same wave length.
While O'Connor had turned down three or four offers to become a head coach while he was assisting at Notre Dame, Mainieri knew that when Virginia called, that he would be losing his main man.
"There was this one day when I received a call from Craig Littlepage and he wanted to talk about Brian," the then-Irish coach said. "I can remember exactly what I told Craig that day. I said, 'Craig, if you hire Brian as your head coach, your reputation as an athletic director will be made by that hire.' Brian is phenomenal."
As soon as that call ended, Mainieri called to O'Connor, who was recruiting in Nebraska and said, "I just got off the phone with your future new boss. Then I told Brian about Littlepage and how Virginia wanted him as its new head coach. Brian's reaction told me that was the school he was ready to go to. I knew he was destined for greatness."
Mainieri was aware of Virginia baseball, having played against the Cavaliers in the 1996 NCAA Regionals after UVa had won the ACC Tournament. O'Connor was on his Notre Dame staff at the time.
"I always thought that UVa was a sleeping giant for baseball," Mainieri said.
He was right.
O'Connor took the Cavaliers to 14 straight NCAA tournaments prior to last season's injury-riddled campaign. He has won the national championship (2015) and take the Wahoos to Omaha four times.
"Brian gave me a great tour of 'The Dish' (UVa's Disharoon Park)," the LSU coach said. "The facility is beautiful. The construction was still going on today. I'm so proud of everything Brian has done here."
Mainieri knew about Dennis Womack and previous UVa coaches and their hard work to build the program and gave them credit.
"But to see where this program has come, it's one of the best programs in the country," Mainieri said. "What Brian has done at Virginia is one of the amazing stories in college baseball. Now, they're one of the premiere programs in all of college baseball."
The two coaches speak via phone about every 10 days during the season and use one another as sounding boards.
"Ninety-nine percent of the time, we end up doing what the other person recommended because that was kind of the way we were leaning already," Mainieri said. "We've always been on the same wavelengths."
Mainieri loved being in the dugout with O'Connor again during the 22-day summer USA Collegiate Baseball experience against Japan, Cuba, and other countries. He also wanted O'Connor as an assistant so that someday down the road that O'Connor can become head coach of that USA team (the organization only appoints head coaches who have served as assistants on the team).
"We had a blast," Mainieri said of his month with O'Connor. "I'll cherish those three weeks for as long as I live."
Merry was thrilled to have Mainieri as his headline speaker for the organization's first convention, along with having O'Connor as part of the program.
"This was our coming out party," Merry said. "We have great plans for the future. Our group extends to the far western reaches of the state, to the beach, to northern Virginia, and certainly around Central Virginia.
"I think this is going to be a spectacular event for coaches," Merry said. "If someone isn't fortunate to go to a national convention with 6,000 coaches in one room, then this is the next best thing. The young coach that can't afford to go to say, Dallas, but can be here and ask O'Connor or Mainieri, or other great coaches _ college and high school _ from around the state, well, that just has to be a cool thing."
Cool indeed, and well organized with speakers on lots of topics from Dr. Bobby Chhaba of UVa Orthopaedics on arm health, the Jeremy Sheetinger of the ABCA on culture, to former UVa and MLB pitcher Tyler Wilson on coaching experiences, the VBCA had everything covered.
The convention continues through Saturday at the Omni beginning with a 7:30 a.m. breakfast through Wilson's presentation at noon.

Comments