Simba's Return To UVA For Top 100 Camp Only Beginning Of His Journey
By Scott Ratcliffe
As soon as former UVA basketball standout and current NBAer Justin Anderson's flight touched down at the Charlottesville Airport earlier this week, he couldn't help but take it all in.
"You get off [the plane] and you kind of walk onto the runway a little bit — I just took a second and smelled the air, and it's just different," said Anderson. "Took a second at the top of the staircase and looked around, and I felt like I was home again."
Anderson was back in his old stomping grounds for this week's National Basketball Players Association Top 100 Camp, which brings in some of the nation's top talent each June to UVA's John Paul Jones Arena. After playing for some great mentors of his own over his hoops career, Anderson is now ready to try his hand at coaching.
"Simba," as he was affectionately known during his time as a Wahoo, was once a Top 100 camper himself in 2012, and over the past few days he was one of the current or former pros who were coaching the camp's 12 teams. His team, the Spurs, won their final five games, including the camp championship on Saturday.
Got the chance to COACH and win the CHAMPIONSHIP at the #NBATop100 camp at my old playground, UVA! Winning is Sweet at ANY level! @Top100Camp #CoachA #Retired ? pic.twitter.com/m0eK1bDEfD

— Justin Anderson (@JusAnderson1) June 16, 2019
Perhaps there's a career in coaching after Anderson's playing days are through?
"People have always told me, 'You know, you'd make a great coach,'" said Anderson. "My father was a coach growing up and I'm actually kind of a natural at that as well. So it's cool to be able to invest in myself a little bit."
Last week, Anderson also took part in the NBPA's 'Broadcaster U' clinic for players in California, as he's beginning to look at what his options look like after the NBA career eventually comes to an end. In both the coaching and broadcasting field, Anderson seems to be a natural fit.
Going pro by Day 3 at #NBPABroadcasterU ✔︎ pic.twitter.com/ZZYkFrZJpv

— NBPA (@TheNBPA) June 6, 2019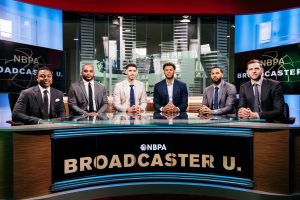 "My thing was, I have to be able to sacrifice about two weeks of my summer, rather than going to a beach or something — two weeks of my summer to invest in myself," Anderson said. "I went to the broadcast program in L.A. and I thought that was great. That was a great opportunity for me to see if I liked it, and I ended up loving it."
After that exhausting, but fun week out west, Anderson admitted that it was going to be tough to turn around and commit to another one on the other side of the country.
"To be completely honest, I didn't know if I was gonna be able to make it out here after the [broadcast program] because of my fatigue level," he explained. "I was very tired from the travel, from talking in front of the camera all day and doing all that — when I had my word already here I understood that my word is all I have. And the first thing I looked at was, what better opportunity at [25 years old], closer to these guys' age, and playing in this camp — knowing about the long days and classrooms and things that they're throwing at you.
"This is a great opportunity for me to go out and be a servant, and put these kids in a position to know that I, too, went through what you're going through. I sat in that same seat. And the kids have been responding well, and that kinda gives you that extra lift every day, so it's been a pleasure being able to be here and work with the younger guys."
Anderson, who has run his own youth camps in Northern Virginia over the past few years, will be starting his fifth season in the league this fall, and first full campaign with his new team, the Atlanta Hawks. He missed the first 16 games of the 2018-19 season due to injury, but appeared in 48 games on the year and started four of the last seven.
Anderson was taken with the 21st pick of the 2015 draft by the Dallas Mavericks, where he played for another former Cavalier, Rick Carlisle, before being traded to Philadelphia right around the All-Star break in 2017. He played in 24 of the final 25 games with the 76ers that year, averaging close to 22 minutes per game with eight starts, but only appeared in 38 games the following season, all coming off the bench.
After battling back to full health with the Hawks, Anderson is ready to get back to work for the new season, but realized that taking a little time off to get a head start on his future was something he couldn't pass up.
"I can't wait to get back to the grind," Anderson admitted. "I can't wait to get back to the offseason workouts and working on my body, but I'm kinda taking [the time off] for what it's worth and allowing it to be my rest time, if you will."
All the while, he's paying dividends for whatever career path he may choose to follow down the road.
"Always setting up for the future," Anderson said. "When you're working out, you're setting up for your next season, right? So I try to take this as an opportunity to set up, and all you hear about is life after basketball from the guys in the league, your current teammates, your former teammates. So why not give an opportunity, when the NBPA does a great job providing these services for us, to get back in the community and kind of get back to ourselves?"
As he pointed out, Anderson's father, Edward, coached Justin and his brother in youth leagues, up until Justin started dunking halfway through middle school, which prompted his dad to seek tutelage from the best. Anderson explained that he's been a lucky guy when it comes to who he has studied the game under, at pretty much each stop of his career.
"Coach Stu Vetter at Montrose Christian, the things that he's taught me — whether it was quotes and slogans before practice, the gameplans that we had for practices and games, I've been blessed to be able to have great coaching throughout my career," said Anderson. "Coach Boo Williams, who's a legendary grassroots [AAU] basketball coach, what he's taught me. So being able to use those three things and those three guys — obviously the most recent is Coach Bennett and his pillars — those things shape my life.
"It's not just about basketball right now while I'm playing, that's what I'm gonna go to and that's what I'm gonna try to stand on for the rest of my life, whether it's raising my family or my kids, being a husband. Coach Bennett, Coach Vetter, Coach Boo — those guys are model citizens, and what better guys to learn from and carry out those things from."
The usefulness of Bennett's 'Five Pillars' of excellence to Anderson (and every other Cavalier that Bennett has coached) is not limited to the court.
"I think those five pillars are what I stand on," Anderson said. "That's what [Bennett] taught us from day one when I came in as a freshman, and those are your absorbing years of your life. Those are when you want to be a sponge and absorb everything."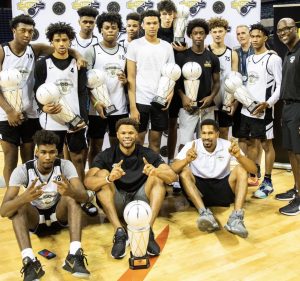 Now, Anderson has a chance to pass on all the knowledge and experience he has gained to the next generation of aspiring players, including 2021 UVA target Trevor Keels, who was one of the players on his camp team this week.
"I kinda just want to be a big brother and put myself into a position where [Keels] feels as though he can come to me at any time, and that's not just for Trevor, that's for everybody on that roster," said Anderson. "And that's a part of the reason once again is… if they want to talk about UVA, which a couple of guys did, we can talk about it however long or short you want to, but I want them to know most importantly I care more about them than their careers and their futures, because basketball is a brotherhood. We're all supposed to look out for each other, so I'm here to serve those guys and be there for them if they have any questions on anything."
Anderson was on hand in Minneapolis in April when the Cavaliers claimed their first national title, and described what it was like following the magical season as a member of the NBA.
"I keep up with [UVA basketball] a lot, whether it's talking to the guys or whether it's watching games," Anderson said. "I made it a personal goal of mine for everybody in my locker room in Atlanta to respect us this year, because they weren't putting respect on our name to start the season.
"So it was a situation where I was talking so much trash at one point and betting on games and stuff at one point, that I almost felt like everybody was betting against us to win the championship… and for those guys to come through, it just showed — you know, everything is fun in the NBA, everybody talks about their college — but it just shows the support and the care that we have for this program, not only here and in the local area, I rep Virginia everywhere I go."
Should Anderson eventually jump into the world of coaching, he says that joining a college or professional team would be the most intriguing.
"But you just never know," he said. "Maybe having my own high school program. I don't want to keep myself boxed off. The whole point of this is kind of to keep every door open, and I'm just enjoying the process right now."
Comments
Trackbacks
Check out what others are saying about this post...