Tale of the Tape: Virginia vs. Florida State
Phase One of the Virginia men's basketball schedule was a complete success. Now the real fun begins — welcome to the 2019 version of the Atlantic Coast Conference gauntlet.
After getting through non-conference competition unscathed, fourth-ranked Virginia jumps into league play with its greatest challenge of the season. UVA (12-0) opens ACC play Saturday afternoon against No. 9 Florida State (12-1) at John Paul Jones Arena.
Virginia coach Tony Bennett — fresh off his 300th career victory, while seeing his first UVA team put up 100 points against Marshall Monday — said on his weekly radio show Wednesday that the Cavaliers can't afford to waste any possessions against the Seminoles.
"Whenever we play [the Seminoles], it's just a war," said Bennett, speaking with Dave Koehn. "Last year [in Tallahassee] they really knocked us back and we had to fight like crazy to come back in the second half, I remember that.
"So everything will be fought for in this game — catches, possessions — and hopefully these are two high-level teams going at it, and you're going to have to outlast them for sure."
The Wahoos will play eight of their remaining 18 regular-season games in the month of January — half of those are against ACC schools ranked in the AP Top 20.
Through Thursday, the 'Hoos, which dropped a spot to No. 2 in the USA Today Coaches' Poll earlier this week, are still 2nd overall in the KenPom ratings (4th AdjD, 8th AdjO) and also 2nd in the NET rankings.
Kyle Guy continued his recent hot streak by notching a career-high 30 points against the Thundering Herd, and he and the rest of the Cavaliers will be hungry to start off ACC play on a positive note.
Leonard Hamilton's Seminoles check in at ninth in both the AP and Coaches' polls, 17th overall according to KenPom (23rd AdjD, 25th AdjO), and 22nd in the NET rankings. Saturday's game will mark just the eighth top-10 matchup in school history for the 'Noles, who feature a long, athletic, physical, experienced and deep roster that advanced to the Elite Eight for the first time in 25 years back in March.
"The league looks strong without a doubt," said Bennett, "but that's a lot of the reason why these guys came to Virginia — to play in a league like this — and it's time to step up and do that."
Virginia has won seven of the last 10 meetings against FSU dating back to the 2012-13 season, with six of those wins coming by double digits. However, the 'Noles have claimed two of the last three in the series, and gave the second-ranked Cavaliers fits in Tallahassee last season before a late rally lifted UVA to a four-point victory. The 'Hoos won only once in the prior 10 matchups (from 2005-12).
FSU is led by 6-foot-7 senior Terrence Mann, who leads the team in scoring (13.1 points a game) and rebounding (6.8 boards a game). Junior floor general Trent Forrest averages 10.7 points, 4.5 rebounds and a team-high 3.6 assists per contest. Sharpshooting senior guard PJ Savoy leads the 'Noles with 20 made 3s on the season.
The Seminoles also recently got 6-8, 230-pound redshirt senior forward Phil Cofer back in the rotation after he missed 10 games with a broken foot. Cofer, who in May was granted a medical hardship waiver for a fifth year from the NCAA after playing in just 11 games (ankle surgery) during his sophomore season, started every game in 2017-18 and led the team in scoring and minutes played.
Hamilton's squad could be without the services of sophomore M.J. Walker Saturday, who logged just one minute against Saint Louis on Dec. 22 and then sat out of FSU's 11-point win over Winthrop on New Year's Day. Walker has started 11 games and averages 8.3 points, 2.5 rebounds and 1.3 steals a game.
Up front, 7-4 senior center Christ Koumadje will be a tough matchup for the 'Hoos, along with 6-9, 235-pound sophomore forward Mfiondu Kabangele, who hasn't started a game for the 'Noles but averages 18 minutes off the bench and is the team's second-leading scorer with 11.8 points per game.
Senior David Nichols, along with freshmen Devin Vassell, Raiquan Gray and Anthony Polite all provide fresh legs and depth for the Seminoles, who knocked off then-19th-ranked LSU in overtime on Nov. 23 and then-No. 19 Purdue five days later. The team's only loss came in between against Villanova, 66-60, in the championship game of the Advocare Invitational.
FSU ranks high in Division I in offensive rebounds (23rd — 11.2), shooting percentage (66th — 47 percent), and steals per game (19th in the country, 2nd in the ACC —8.7). The Seminoles are averaging an ACC-high 15.3 turnovers per game, while Virginia gives up the fewest in the conference at 8.6. UVA leads the league in assist-to-turnover ratio (1.76), while the Seminoles check in at 14th (0.83).
Virginia first-year point guard Kihei Clark had his cast removed Wednesday, according to Bennett, and it was replaced with "a less-restrictive splint type of thing," explained the coach.
"So, hopefully that'll help some," Bennett said. "[Clark] said that he felt like he had a little more range, a little less padding or whatever around the palm."
Saturday's game tips off at 3 p.m., and if you can't make it to JPJ, you can watch on ESPN2 (and online with ACC Network Extra via the ESPN app) or listen to the call on the Virginia Sports Radio Network. The Wahoos will hit the road for two games next week — at Boston College Wednesday night at 9, and then Saturday at Clemson at 12 noon.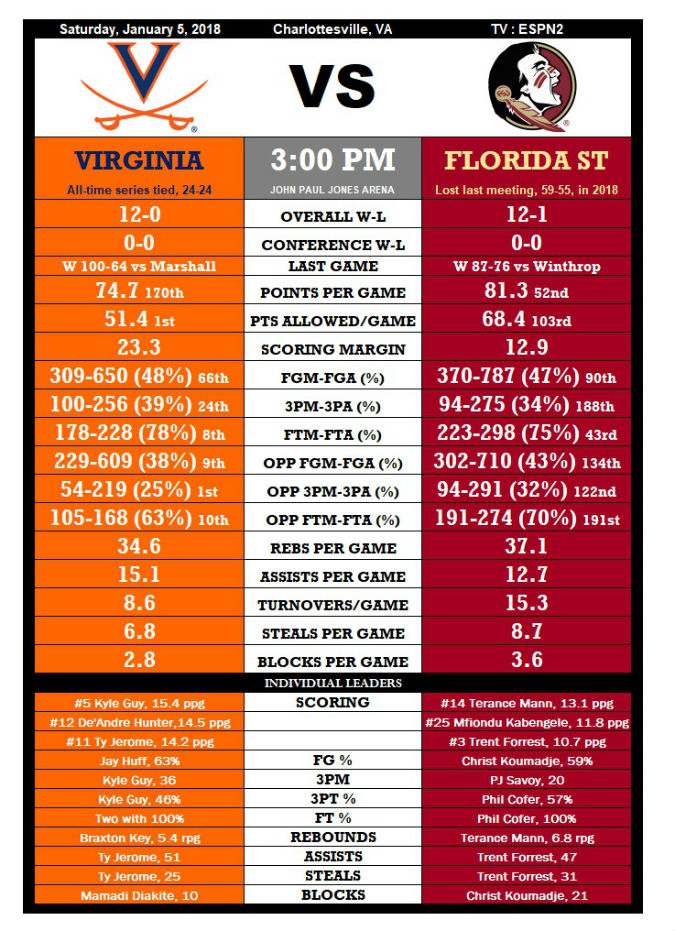 Comments