UVA's Big Three Could Make It A Historic Night
By Jerry Ratcliffe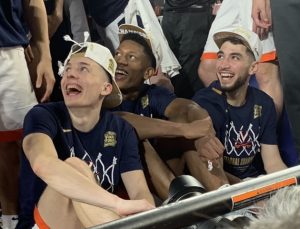 Virginia basketball fans may have something to celebrate Thursday night when potentially three of their favorite players could be selected in the NBA Draft. It is likely the most exciting draft for the Cavalier fans since Ralph Sampson was the NBA's No. 1 choice (Houston Rockets) in 1983.
De'Andre Hunter, Ty Jerome, and Kyle Guy, three of the key players in UVA's march to the national championship in April, could possibly be taken in tonight's draft, which consists of two rounds and 60 overall selections. Only once in UVA history have three Wahoos been taken in the same draft (1987), but the NBA had numerous rounds then, cutting back to the current two rounds in 1989.
Olden Polynice (a first-round pick and No. 8 overall) led the way in '87 with the Chicago Bulls, but was immediately traded to the Seattle Super Sonics for Scottie Pippen. Andrew Kennedy was taken in the second round (43rd overall pick) by the 76ers, and Tom Sheehey was picked in the fourth round (No. 70 overall) by the Celtics.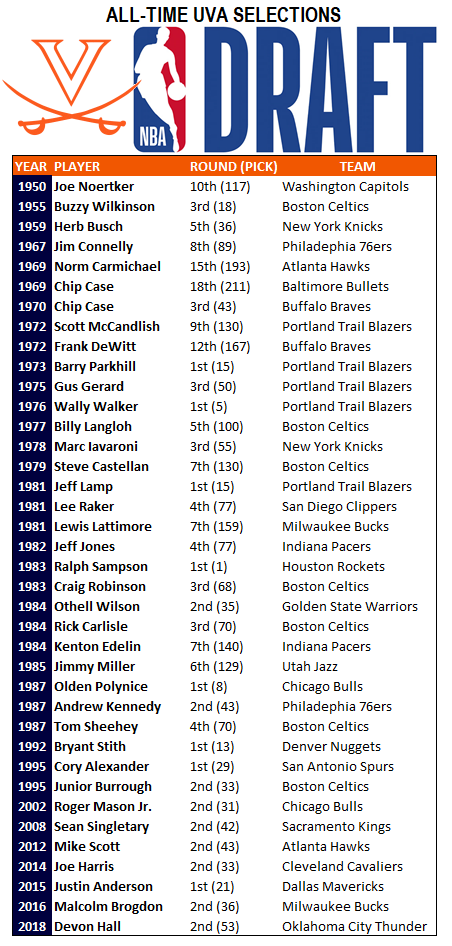 Hunter is a flat-out lottery selection, projected to go in the top 10 picks, and possibly as high as the fourth overall pick, which would be the highest by a UVA player since Polynice, who enjoyed a 15-year NBA career. Jerome is forecasted to go between the mid-20s to mid-30s, while backcourt mate Guy could be a late second-round choice, although many mock drafts do not include Guy on their lists.
Hunter is a 6-foot-7, 225-pound wing who was the NABC National Defensive Player of the Year, but also was an effective 3-point shooter and a matchup nightmare for most opponents.
He has made a splash around New York City this week, having appeared on "The Tonight Show" with Jimmy Fallon as well as talking to school children about leadership, and signing autographs at various locations. The draft hoopla has been a good one for the former Wahoo.
"It has been a fun experience," Hunter said. "It's something I've been dreaming about for a while, something I've seen as a kid, guys going through the draft. I'm just taking it all in, not taking it for granted."
Labeled a "3 & D" guy by some draftologists, Hunter said he could embrace that analysis (3-point shooter, defensive player), but that's not enough.
"I'm working to be more than that," Hunter said. "It doesn't matter what I am right now, I haven't played a game. What I'm labeled doesn't really matter. Once I get there, I have to prove I can do more."
The scouting report on Hunter is that he's a long, competitive forward with significant potential as a floor spacer and multi-positional defender coming off a stellar 27-point performance in UVA's national title win over Texas Tech. He has good size for a modern forward with a strong frame to go with a 7-foot-2 wingspan and good all-around athleticism.
According to one NBA analyst's report, Hunter was given the green light by Tony Bennett to exploit mismatches one-on-one, and scored with comprehensive efficiency from the perimeter, moving without the ball, and creating for himself from the mid-post. Defensively, he can guard multiple positions at the point of attack, and goes straight up inside with good discipline, often guarding the opposing team's best scorer (one through four).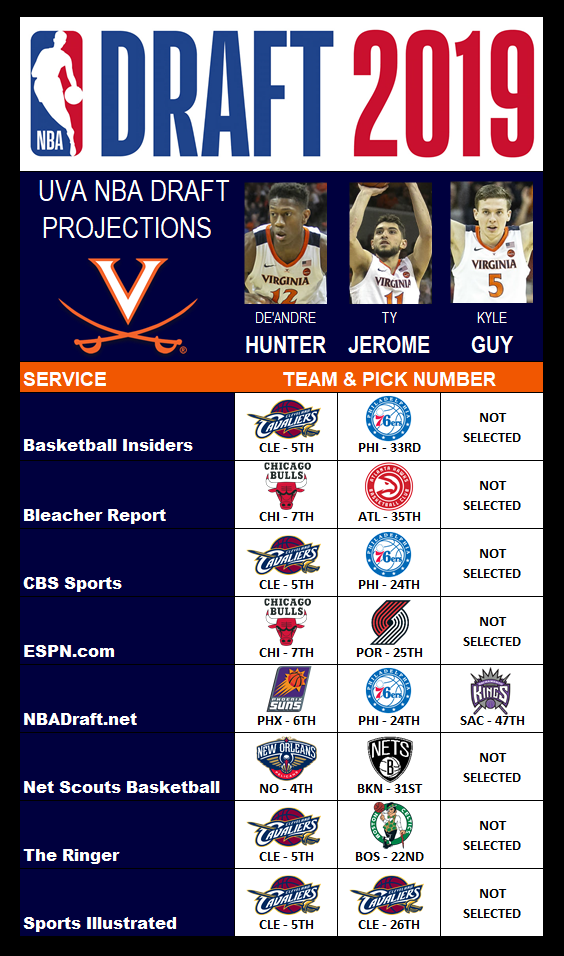 While there are myriad of projections about where and when Hunter might go in the draft, one report noted that the New Orleans Pelicans, which are expected to select Duke's Zion Williamson with the No. 1 pick — and also own the No. 4 pick from the Lakers — are contemplating trading back to the 6-to-9 draft positions to select Virginia's Hunter in order to save money.
Meanwhile, Jerome, a 6-6, 194-pounder, is scouted as a crafty PG who guided the Cavaliers through the roughest patches of the NCAA title run. He was a consensus Top 50 high school prospect and proved his worth at UVA.
Scouts say he's an average athlete who plays at his own speed but has excellent feet for how to get to his spots, according to Chris Dortch. He was the clear-cut leader of one of the slowest-paced but most efficient offensive teams in the nation and did his best work as a passer with excellent vision. He made timely shots from the perimeter and midrange floaters in key moments late in the season, and was also not afraid to take the big shot, particularly from deep 3-point range.
Jerome competed defensively and displayed excellent fundamentals, helping compensate for his lack of imposing physical tools. He has active hands poking at the ball, chips in on the glass, and knows when to give a foul. He allowed 0.571 points per isolation possession (79th percentile) serving as a viable cog within Virginia's elite defense.
When someone took a shot at Jerome, describing him as a "sleeper," Guy was the first person to come to Jerome's defense.
"He's a straight killer and everyone knows it," Guy replied of his former teammate.
That boy is not a sleeper…. lol straight killer and everyone knows it https://t.co/YVyT6rra9X

— Kyle J Guy (@kylejguy5) June 18, 2019
Most mock drafts do not project Guy among the 60 selections, which means he could attempt to sign as a free agent with a team where he might have the best chance of fitting.
If he doesn't get drafted, it won't be for a lack of trying. Guy competed hard at the NBA Combine in Chicago and has worked out for several teams around the country, including twice with the Sacramento Kings.
In fact, Guy worked out 13 times for various NBA teams. He did a West Coast tour, returned to Indianapolis, and was called back to Los Angeles for the second time in three days for another workout.
Man, 3 days… what a run. 3 days. ?? pic.twitter.com/AFyPdonPAi

— Kyle J Guy (@kylejguy5) June 17, 2019
"It's definitely a grind but a good problem to have," Guy said. "The process is part of it. You've got to trust it. I don't really care what my path is, I know that it's all going to work out the way it's supposed to."
Guy described his experience as a "little mini-season" after being selected as the MVP of the Final Four in early April.
"I really haven't had a break, but again, it's a good problem to have," Guy said.
Comments