Virginia finishes strong against Campbell for 62-41 win to move to 6-0 for first time in over 20 years
By Scott Ratcliffe
The Virginia women's basketball team moved to 6-0 for the first time since the 1997-98 season with a gritty 62-41 win over visiting Campbell Wednesday night at John Paul Jones Arena. With the victory, the Cavaliers exceeded their win total from last season (5-22) with still three games left in November.
Virginia closed the contest outscoring Campbell, 21-8, across the final 10 minutes. Senior forward Camryn Taylor scored 11 of her team-high 13 points in the second half, while senior point guard Taylor Valladay (8 points and a team-high 4 assists) and senior forward London Clarkson (10 points off the bench on 5-of-6 shooting) helped pace the effort throughout on another night where everyone was involved.
"I challenged Cam at halftime just to be more physical and aggressive, because I think Cam is one of the most versatile scoring post players out there," said Virginia first-year coach Amaka Agugua-Hamilton. "And [the Camels] were kind of taking her off her rhythm a little bit, so I loved how she came out in the second half, and that's the Cam we know — she was very physical, she was aggressive, she was obviously scoring, and the way she was scoring gave our team a spark.
"And so I'm proud that she was able to do that, just push through adversity, and then same thing with London. I run plays when she gets to the game because I really believe in her talent, and I just want her to walk with that confidence too when she's out there, and I saw her kind of come into her own here even though she was dancing a little bit on the and-one. But she put the team on her back. We were struggling to score in the paint, we were struggling to score, period, and London came in with some fire, so just really proud of these two."
Taylor scored her second basket of the night to start the second half, giving Virginia its largest lead up to that point, 24-18. The Camels (3-2) trimmed the score to 24-23 on a Shy Tuelle stepback 3-pointer at the 7:47 mark of the third quarter before a 10-0 UVA run over the next four and a half minutes put the Wahoos in control.
The Cavaliers did it with defense, as junior Mir McLean scored on a steal and a fast break as part of the spurt, and then a McKenna Dale block of an Audrey Fuller shot led to two more points. Later in the quarter, a Dale steal led to a Kaydan Lawson layup, and despite a late Camels rally, the Hoos headed to the final period with a 41-33 lead as Yonta Vaughn's jumper gave the Cavaliers just their second made basket across their last 11 shot attempts of the third quarter. Dale led the Hoos with 8 reboounds to go with a pair of takeaways and a block in 16 minutes off the bench.
"I thought tonight, we grew on the defensive side of the ball," said Coach Mox. "That was something that we've been working on. And I think our communication and attention to detail on that side of the ball was a lot better. And offensively I think we're going to continue to get better, especially when we can have a little bit more time in between games to work on ourselves, but was pleased defensively and also that we came out with a win."
Notre Dame transfer forward Sam Brunelle knocked down a triple from the top of the key — her first bucket of the night — early in the fourth, pushing the UVA lead to a dozen, 47-35, with 7:21 to play.
Clarkson picked off a Campbell pass less than a minute later and finished in transition, as the fans in attendance could start to feel it. Brunelle sank another 3-ball from the wing to cap an 11-0 run, making it a 17-point contest the next trip down the court as the Hoos began to pull away.
Virginia shot 38 percent from the field (23 for 61), 30 percent from 3-point land (3 for 10), and 62 percent from the free-throw line (13 of 21) on the evening. The Hoos outrebounded the Camels, 43-31, recorded 10 steals (Clarkson had a game-high 3 of them) and converted 25 Campbell turnovers into 25 points on the other end.
"That's got to be our staple — defensive and rebounding — because we are just so versatile," Coach Mox said of the team's ability to turn defense into offense. "There's a lot of things we can do on that side. We've got high-IQ kids, we've got bigs that can guard the perimeter, we've got bigger guards that can guard inside, so there's things we can do.
"So when you're not really getting it going offensively, again, defense can create offense, and that team we played is good. Campbell was a good team. They're big, they're physical, they run their stuff pretty good, so for us to be able to blow up their offense like that just shows how good we can be on that side of the ball."
FIRST HALF
After the Cavalier defense forced a Campbell shot-clock violation in the opening quarter, Valladay scored on a drive on the other end to cap an early 6-0 run. Virginia committed turnovers on three-straight possessions before a Clarkson basket pushed the lead to 8-5 with 2:03 left in the first quarter.
Campbell cut it to one on a reverse lay-in by Gemma Nunez, and then Nunez gave the Camels a brief 9-8 advantage before Valladay answered with a putback to put the Hoos back on top with 21 seconds on the clock. Campbell had the last laugh, however, as Svenia Nurenberg sank a triple to put her team ahead by two at the end of the period, 12-10.
Valladay knocked down a long jumper from the top of the key to start the second quarter, and then her steal led to a McLean putback, and UVA was back in front, 14-12.
The Cavaliers then hit a cold spell, misfiring on seven attempts in a row, and didn't score for over five minutes until freshman Cady Pauley scored on a turnaround jumper and then Vaughn got to the hole to make it 18-16.
Nurenberg  tied it up on an easy drive, but Clarkson scored on back-to-back buckets with a steal sandwiched in between, and the Hoos went into halftime with a 22-18 advantage. Both teams shot right around 34 percent in the first half, with Virginia converting on 11 of 32 attempts (34.4 percent) and Campbell making 8 of 23 (34.8 percent) from the floor.
Final score presented by @WellsFargo
Virginia 62, Campbell 41
The Cavaliers are 6-0 to start the season for the first time since 1997-98 #GoHoos⚔️🔶#GNSL pic.twitter.com/CVKfRV5gfC

— Virginia Women's Basketball (@UVAWomensHoops) November 24, 2022
Team Notes
Courtesy UVA Media Relations
McKenna Dale's eight rebounds were the most she has had in her two seasons with the Cavaliers

Virginia was 11 of 13 from the free-throw line in the third quarter
The six-straight victories are the longest win streak for the team since winning eight in a row during the 2017-18 season (Dec. 17- Jan. 11)
UP NEXT
The Hoos will host a pair of games at JPJ this weekend as part of the Cavalier Classic. UVA faces Minnesota on Saturday at 2 p.m. (ACCNX) and East Carolina on Sunday at 2 (ACCN).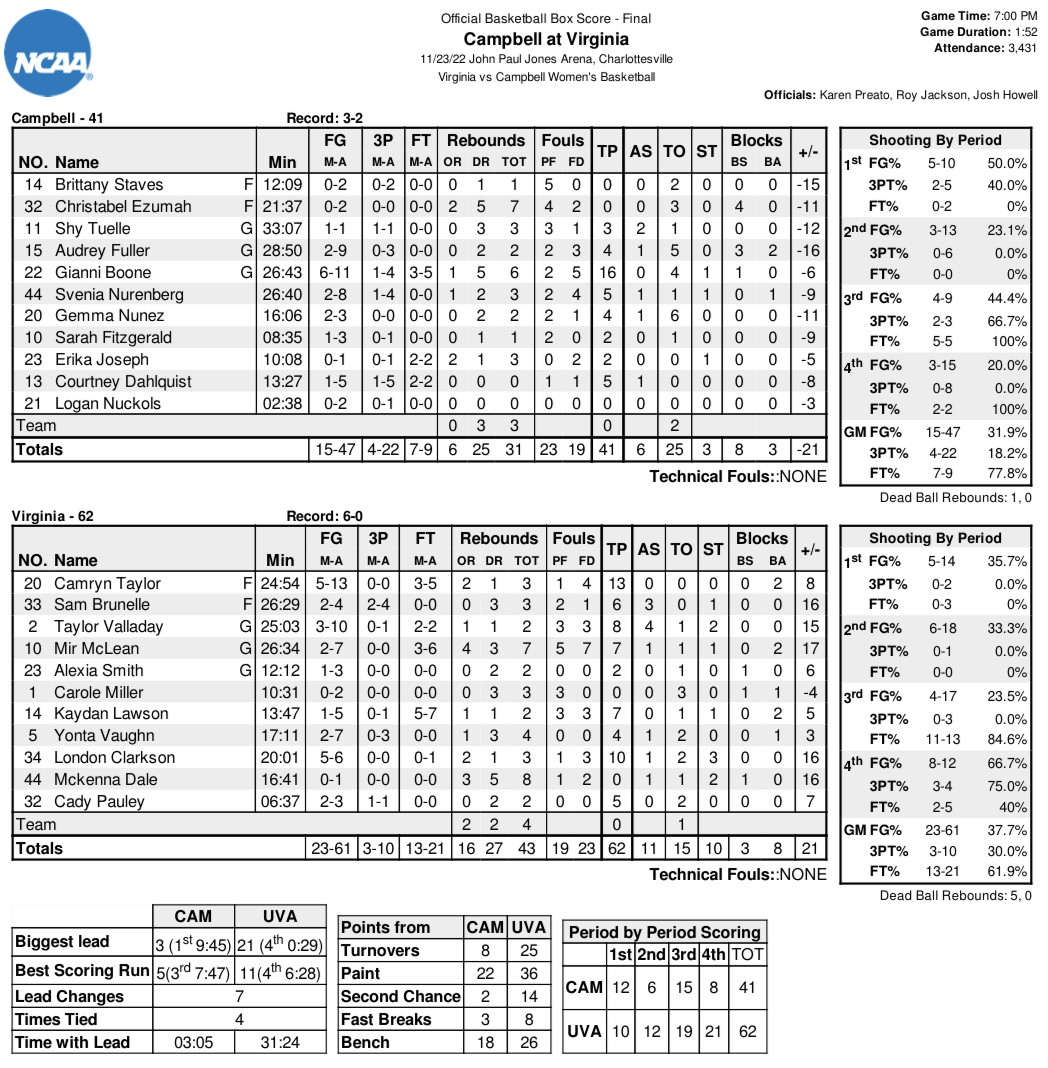 Comments