Virginia holds off Clemson thanks to Key's long-range scoring, 51-44
Virginia kept the recent positive momentum rolling Wednesday night, as senior Braxton Key sank two crucial 3-pointers in the last five minutes to help lift the Cavaliers to a 51-44 win against Clemson. It's UVA's third win in a row, fourth in the last five games and the 10th straight against the Tigers.
The Wahoos (15-6, 7-4 ACC) were in control from start to finish, but let a comfortable second-half, double-digit lead slip away in crunch time.
When UVA went cold, the Tigers (11-11, 5-7) trimmed what was once a 12-point deficit to a bucket, 36-34, on an Aamir Simms 3-pointer with just over six minutes to play, capping a 12-3 run that spanned close to nine minutes.
Key, who came into the contest shooting 17.8 percent from deep (8 of 45) on the season, responded with his third triple of the night with 4:50 left, then split a pair of free throws to push the lead back to six as the game went under four minutes — but the Tigers kept clawing back.
Clemson sophomore John Newman III scored on a nifty move in the lane to once again make it a one-possession affair, 42-39, with 2:20 to go before Key drilled another one — this time from way downtown — with a minute and a half on the clock, sending John Paul Jones Arena into party mode.
The Tigers couldn't connect on two ensuing tries from long distance and were forced to foul, and Virginia buried 6 of 8 from the free-throw line in the final minute to clinch the victory.
The 'Hoos sprinted out to a 14-2 advantage to start the game, as Clemson misfired on 12 of its first 15 shots and struggled holding onto the ball out of the gate. UVA was effective from inside and out in the first half, scoring on a pair of Mamadi Diakite dunks, a Jay Huff power jam, and 3s from Key (2), Tomas Woldetensae and Diakite to jump out to a 26-14 halftime lead.
Virginia only turned it over twice before the break and six times after halftime, shooting 37 percent (17 for 46) on the night, 35 percent (7 of 20) from 3-point land. UVA grabbed 35 rebounds to Clemson's 34, and scored 13 points off of 9 Tiger giveaways.
Simms (16 points, 2 blocks, 2 steals) led the way for the visitors, who have gone 2-4 and lost three of the last four after upsetting Duke on Jan. 14. Clemson shot 33 percent (17 for 52) for the game, and only 21 percent from deep (6 for 28).
Key led all scorers with 19 points (4-6 from 3-point range) to go along with his 8 rebounds, while Diakite added 13 points, 8 boards and a pair of swats. Huff double-doubled with 10 points, 10 rebounds and 4 blocks. Kihei Clark was 0 for 3 from the field and only scored a point, but dished out 10 assists.
The Cavaliers will travel to the KFC Yum! Center to face No. 5 Louisville Saturday at 4 p.m. (ESPN).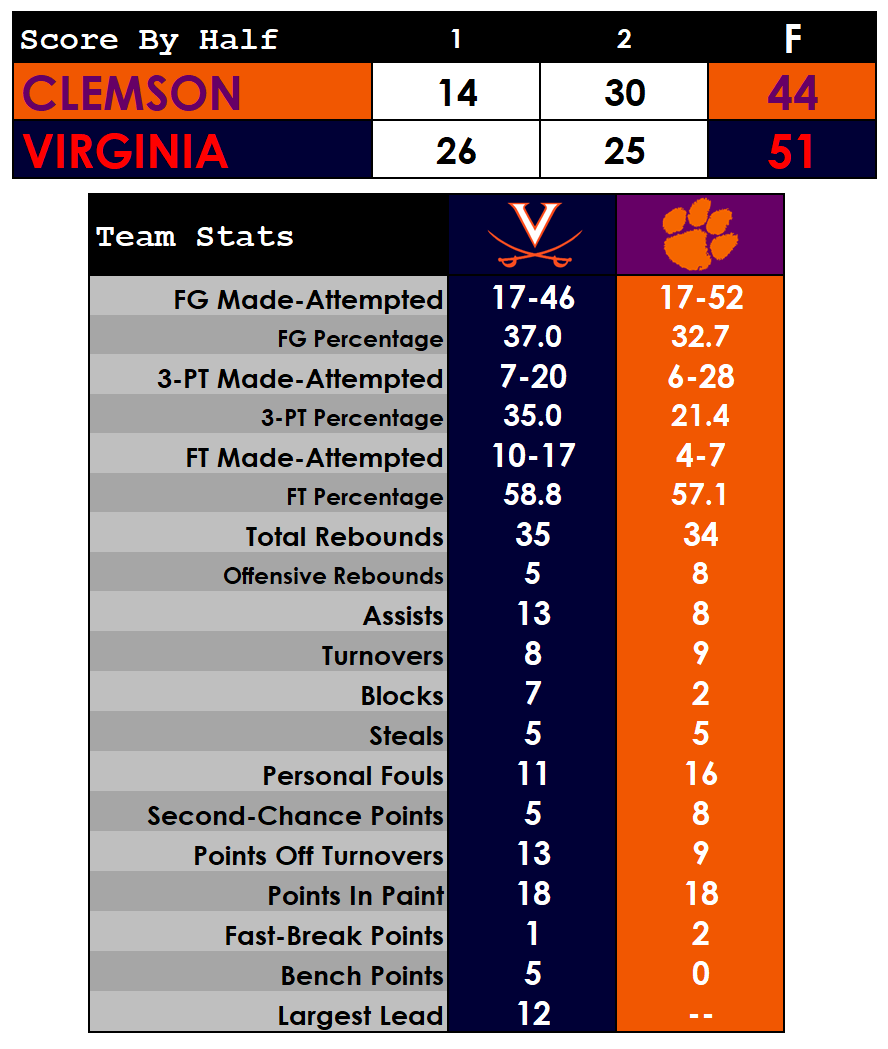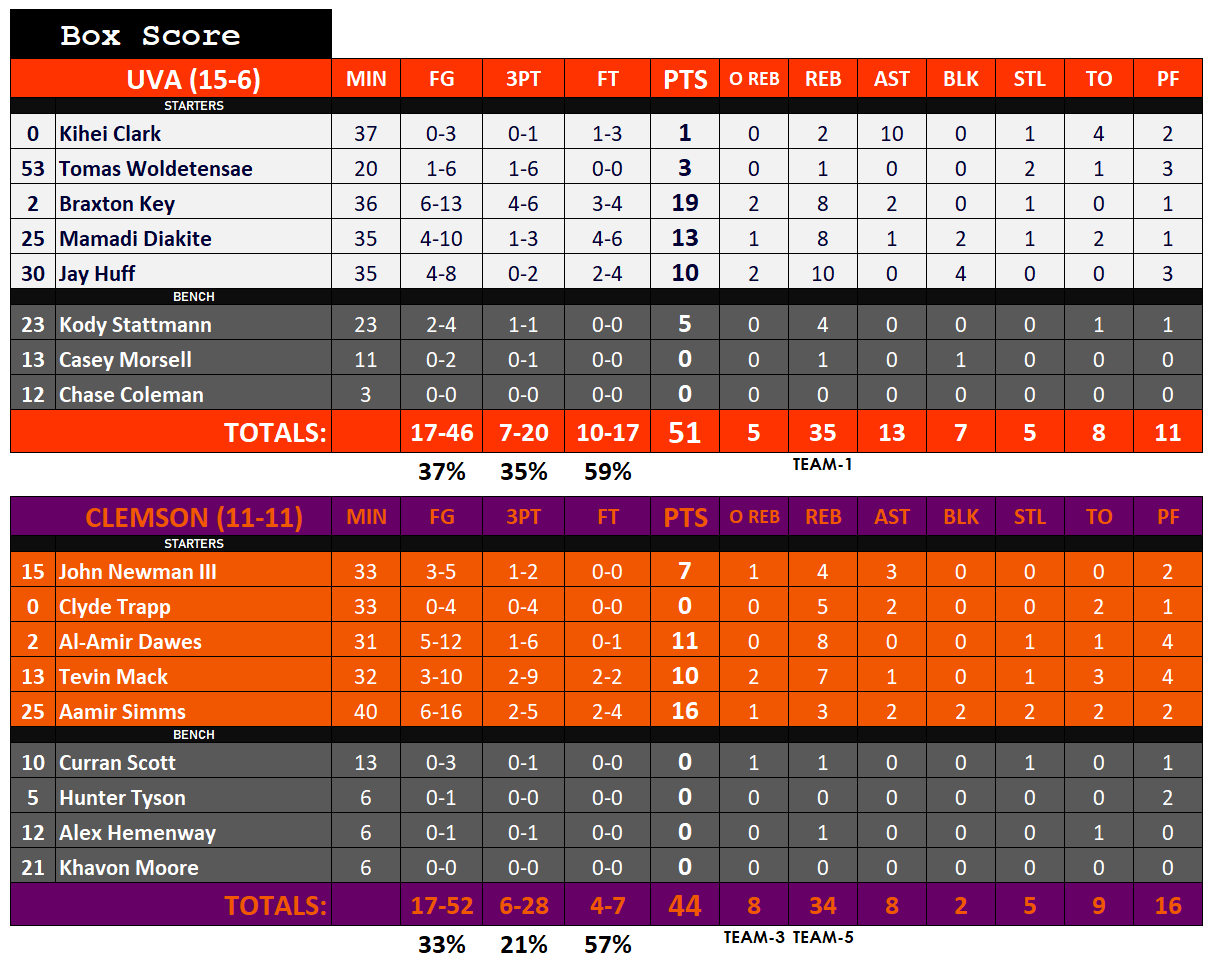 Comments