Virginia will wear legacy patches to commemorate three fallen teammates
Countdown to Kickoff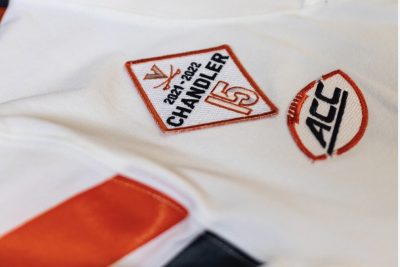 By Jerry Ratcliffe
Lavel Davis Jr., D'Sean Perry, Devin Chandler. Oh how we miss them.
When Virginia takes the field against Tennessee in Nashville (noon, ABC-TV), it will be the first time the Cavaliers have played football since that tragic night last November when those three were taken from us by a cold-blooded gunman in a senseless act. They are gone but not forgotten.
Tennessee will hold a moment of silence for the trio before today's kickoff, and the Vols will wear a helmet sticker in their honor.
Virginia's uniforms will feature special patches to commemorate their fallen teammates, featuring their numbers: 1, 15, 41. It is part of UVA turning tragedy into triumph.
"Every day is a triumph for us," Tony Elliott said earlier this week. "I believe as a program every day that we continue to wake up and come to work, put our best foot forward, that's the triumph in all of this. Now we have an opportunity on a national stage to show just how resilient the human spirit is.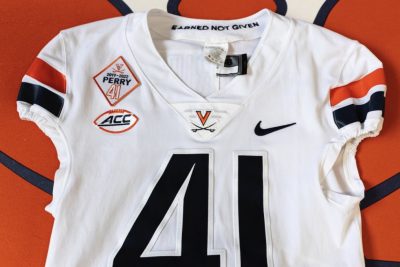 "What I'm looking forward to is just seeing the guys play in a way that inspires people because we know the responsibility that we have to the legacies of the ones we lost, and we have a great opportunity because football is a great unifier."
Elliott said the Cavaliers will be carrying all three families with them when they step on the field, knowing their sons should be with them. He hopes to use that energy in the right way against the heavily favored Volunteers, a 28-point pick.
Place-kicker Will Bettridge, who was a close friend to Perry, will wear his No. 41 number as a tribute in today's game, while freshman wide receiver Suderian Harrison will wear Davis' No. 1 and Chico Bennett, who will miss the game due to a knee issue, will wear Chandler's No. 15.
"So Bettridge has been a teammate of D'Sean and was very excited about the opportunity, and you see that every day as he carries himself in a way as to represent D'Sean," Elliott said. "Suderian, coming from the same high school as Lavel, what we've seen from him is just a humility, a lot of energy, a lot of excitement. He also understands the responsibility of being at the same high school and had a relationship with Lavel prior to coming to Virginia."
Of course, one Virginia player who was close to Perry will be thinking of him all day. Running back Mike Hollins, who survived the shooting (see related story on this site's archives) has dedicated this season in memory of Perry and the other slain teammates.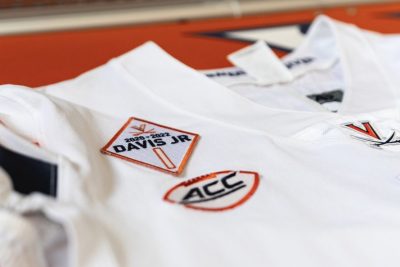 Elliott said the legacy patches are a way to remember those players every time Virginia steps on the field. He indicated there will be a selection process about who will wear those numbers for various games throughout the season.
While there will be remembrances of all three players at today's game, Virginia will have a significant commemoration at Scott Stadium for the first home game since the shootings next Saturday against James Madison. More information will be made public early next week.
Virginia's football team reportedly arrived much later in Nashville than planned Friday night when the team charter plane arrived four hours late to the Charlottesville airport (5 p.m. instead of 1 p.m.) and then had to undergo a 90-minute inspection, leaving players stuck on team buses for hours.
Reportedly the team didn't arrive in Nashville until 7:30 last night, which most certainly disrupted their schedule in terms of dinner, walk-throughs and the like.