'We'll take it:' Bennett's 'Hoos pull out 50-49 win in OT over Notre Dame
As Virginia coach Tony Bennett put it after a hard-fought, grind-it-out, 50-49 overtime win over  Notre Dame Tuesday night at John Paul Jones Arena, "We'll take it." Bennett explained that his Cavaliers did whatever it took to acquire the end result, one that puts the Wahoos back in 4th place by themselves in the ACC standings with just a few weeks until tourney time.
"It was kind of just finding a way," Bennett said of his Cavaliers, who improved to 16-7 on the season, 8-5 in conference play, while ending the Fighting Irish's four-game win streak. "That's sort of been the story line for us all year. In these games, we're getting very tight down the stretch and it's about if we can make plays.
"In this case, I don't know if we made plays, we just got a couple of stops or [Notre Dame] missed. I don't know how to look at it, but we'll take it."
In a game that featured seven ties and seven lead changes, and neither team led by more than five points all night, every possession was critical, especially down the stretch. The intensity inside JPJ was as high as it's been all season in the closing minutes of regulation, as UVA senior Mamadi Diakite scored on a turnaround jumper in the paint over Notre Dame star forward John Mooney to tie the game at 47-all with just 25 seconds left in the second half.
Diakite redeemed himself after missing the front end of a one-and-one opportunity with UVA up by one, 45-44, with 3:04 remaining.
The Irish's T.J. Gibbs answered with a 3-pointer on the other end in front of the Notre Dame bench to make it 47-45 with 2:40 on the clock. The 'Hoos came up empty on their next two possessions as freshman Casey Morsell missed a triple and then Diakite forced a pass that wound up in the hands of the Irish with time ticking away.
Nate Laszewski misfired on a 3-ball and Braxton Key hauled in the rebound with 46 ticks showing, and Diakite's crucial basket sent it to an extra session after Notre Dame ran out of time at the end of regulation.
In the OT period, Jay Huff missed another front end of a one-and-one in a tie ballgame with 2:31 left. Soon after, Mooney was fouled and went to the line to try to put his team ahead, but missed both attempts, and Mooney was whistled for his fourth personal foul on the ensuing loose ball, putting Key at the line for two shots with 2:04 to play.
Key missed everything on the first attempt, as he stepped away to collect himself for his second try. The second one bounced in, giving the Cavaliers the lead for good, as the Irish missed their final three field goals.
"It felt like the fourth double-bye [in next month's ACC Tournament] was up for grabs, and Virginia put themselves in the driver's seat with the win tonight," Irish coach Mike Brey said.
Kihei Clark's missed 3-pointer with 17 seconds left gave the visitors one last crack at it, but Rex Pflueger's potential game-winning 3 clanked off and Key secured the board for the win.
"Give credit to Virginia," said Brey. "Again, they are really hard to score against and we had a couple possessions down the stretch where they just shut us down, and it is kind of hard to run your stuff. … You have to tip the cap to Virginia, they made some big-time defensive plays."
Neither side led by more than three points in a roller coaster of a first half until Gibbs sank a 3-ball with six seconds left to give the visitors a 26-22 lead at the half.
It seemed as though every time Virginia would grab an edge or pull even, the Irish had an answer. Mooney was held to five points on 1-of-6 shooting over the opening 20 minutes. He finished with his ACC-leading 20th double-double of the season (11 points, 14 rebounds) on 4-of-14 shooting.
Prentiss Hubb led the Irish (15-9, 6-7) with 12 points, 4 assists and 3 steals, while Laszewski added 11 points off the bench. Notre Dame went 20 of 61 on the night (32.8 percent), 6 for 26 (23.1 percent) from deep. UVA limited the Irish to just 1 for 14 from beyond the arc in the second half and overtime combined.
Diakite led all scorers with 20 points on 7-of-15 shooting. He was the only Cavalier in double figures, but there were contributions up and down the roster. Clark had 9 points, Huff had 8 points — all within a matter of two minutes during the second half, which gave the 'Hoos a 43-38 lead, their first since it was 10-9 in the early going — to go with 9 rebounds and a pair of blocks.
Key only scored 3 points (1 for 7 FG), but secured a team-best (and career-best) 13 rebounds and, of course, made the game-clinching free throw. Tomas Woldetensae cooled off with just 5 points (2 of 9 FG, 1 for 8 from long range), while Morsell added 5 of his own off the bench.
The 'Hoos shot 37.3 percent (19 for 51) from the field, 25 percent from downtown (5 for 20), won the rebounding battle, 42-34, and committed 13 turnovers on the night (nine of those after halftime). With NC State's win over Syracuse (both now 7-6 in league play) Tuesday night, UVA is alone in fourth place with seven games to go. Tuesday's win could go a long way come Selection Sunday.
"We talked about that before the game," Huff said of the importance of the game in terms of postseason chances. "We were saying how, in some ways, a lot of people might not be paying attention to this game because it's [NCAA Tournament] bubble teams, but it was a really important game for us, as is every game. I think [the Irish] thought the same thing."
The 'Hoos will travel to face North Carolina for a rematch Saturday night at 8 p.m. (ESPN).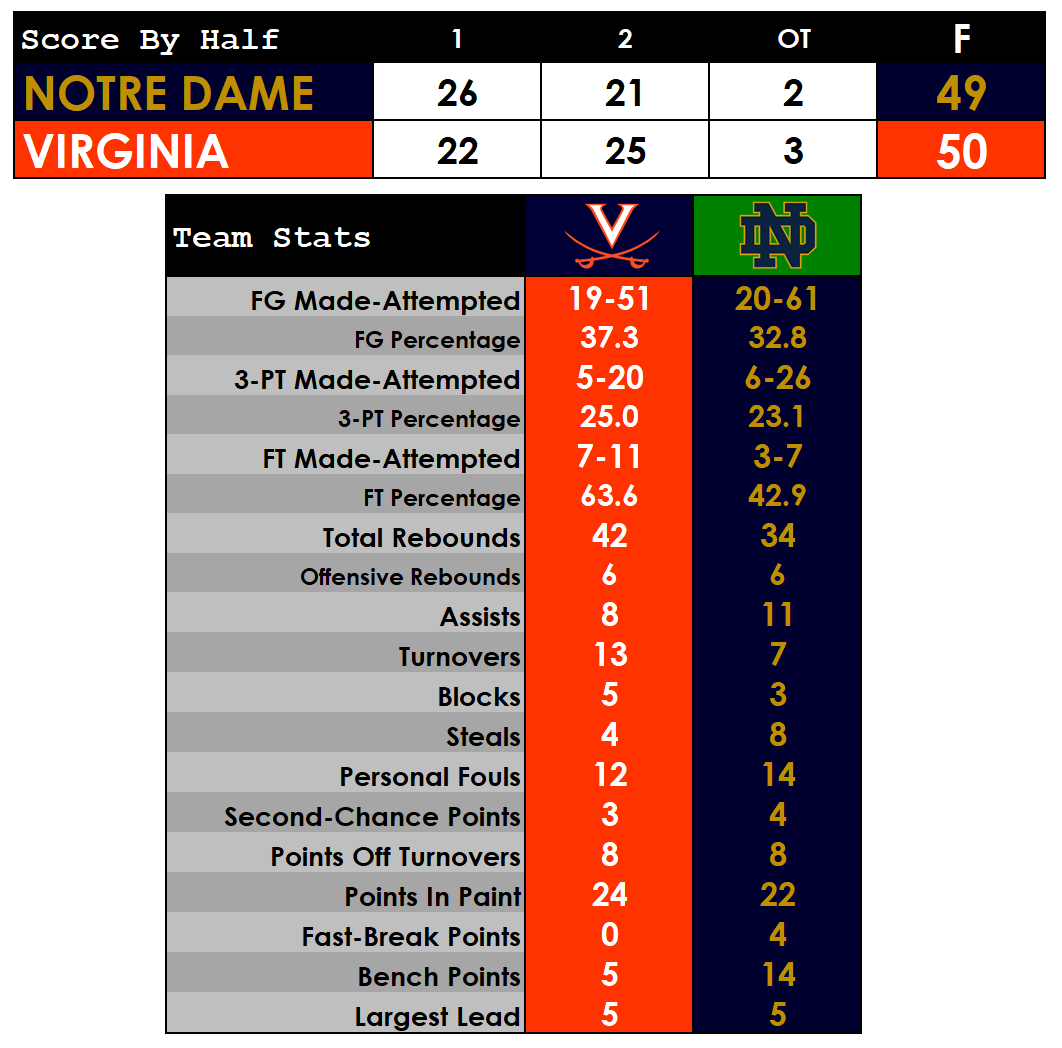 Team Notes
The Cavaliers improved to 16-7, 8-5 ACC
UVA (11-3) has won 11 or more home games for 11 straight seasons
UVA is 2-1 in overtime
UVA outscored Notre Dame 3-2 in overtime
UVA gained a 40-38 lead at 6:32 of the second half, for its first lead since 10-9 at 9:47 first half
UVA's 22 first-half points were its second fewest in ACC play (20 vs. Syracuse, 1/11/20)
UVA improved to 3-7 when trailing at the half
UVA is 11-0 when limiting opponents to fewer than 50 points
UVA is 98-2 when achieving the mark in the Bennett era
Bennett-coached teams are 123-3 when holding opponents to fewer than 50 points (25-1 in three years at Washington State)
Series Notes
Virginia is 14-2 all-time vs. Notre Dame, including a 9-0 ACC regular-season record, in the series that dates back to 1980-81
UVA has a four-game winning streak vs. Notre Dame
The Cavaliers are 6-0 against the Irish in Charlottesville
UVA has limited Notre Dame to 58 or fewer points in eight of the last 10 meetings
Head coach Tony Bennett is 10-1 all-time against Notre Dame, including a 61-41 win over the Fighting Irish as head coach at Washington State in the 2008 NCAA Tournament in Denver, Colo.
Player Notes
Double Figure Scorers: Mamadi Diakite (20)
Braxton Key had a career-high 13 rebounds
Diakite (5 rebounds) joined the 500 rebound club at UVA (504 career rebounds)

Comments