Wrestling: Virginia falls to No. 7 Virginia Tech, 20-15
Courtesy UVA Media Relations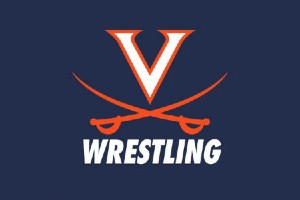 For the third straight season the Smithfield Commonwealth Clash was decided by five points or fewer as Virginia (4-6, 1-4 ACC) fell to No. 7 Virginia Tech (9-3, 4-1 ACC) by a score of 20-15 at Memorial Gym.
The dual counted as a single point in the Smithfield Commonwealth Clash – a head-to-head athletic competition between the two schools. Virginia Tech leads the annual competition 6.0 to 1.5 after Friday night's dual.
HOW IT HAPPENED
Virginia Tech jumped out to the early lead in the dual score, claiming the first four matches of the night by decision to take the 12-0 lead. Down the stretch, the Cavaliers would win four of the last six, to cut into the lead.
Jake Keating started things off with a decision in a matchup of nationally-ranked foes at 157 pounds with a decision against No. 28 Connor Brady before No. 23 Justin McCoy would grab a win by decision at 165 pounds. Virginia Tech would then claim victory at 174 and 184 pounds.
With two bouts left, Jay Aiello pinned No. 30 Dakota Howard at 197 pounds before Quinn Miller gutted out a 4-3 decision over No. 14 Nathan Traxler at heavyweight to close the night.
NOTES ON THE DUAL
For the third straight season the dual with Virginia Tech was decided by five points or fewer.
Quinn Miller handed Nathan Traxler his first ACC loss this season and second loss of the year.
Jay Aiello's pin was his fourth of the season as he improved to 10-2 on the season.
Jake Keating has won five straight matches including his extra countable match Friday night.
Justin McCoy improved to 13-1 on the season with his win over Clayton Ulrey.
INDIVIDUAL RESULTS
125: No. 20 Sam Latona (VT) dec. Patrick McCormick, 9-4 – VT 3, UVA 0
133: No. 5 Korbin Myers (VT) vs. No. 20 Brian Courtney, 8-3 – VT 6, UVA 0
141: No. 22 Colin Gerardi (VT) dec. Dylan Cedeno, 6-2 – VT 9, UVA 0
149: No. 5 Bryce Andonian (VT) dec. No. 32 Jarod Verkleeren,  5-4 – VT 12, UVA 0
157: No. 26 Jake Keating dec. No. 28 Connor Brady (VT), 5-3 – VT 12, UVA 3
165: No. 23 Justin McCoy dec. Clayton Ulrey (VT), 6-2 – VT 12, UVA 6
174: No. 3 Mekhi Lewis (VT) major dec. Justin Phillips , 17-5 – VT 16, UVA 6
184: No. 14 Hunter Bolen (VT) major dec. No. 25 Michael Battista, 14-3 – VT 20, UVA 6
197: No. 17 Jay Aiello pinned No. 30 Dakota Howard (VT), 6:23 – VT 20, UVA 12
285: No. 32 Quinn Miller dec. No. 14 Nathan Traxler (VT), 4-3 – VT 20, UVA 15
EXTRA COUNTABLE MATCHES
133: No. 20 Brian Courtney major dec. Brandon Wittenburg (VT), 14-1
157: No. 26 Jake Keating dec. Jake Hart (VT), 5-4
FROM HEAD COACH STEVE GARLAND
"Quinn Miller ended the dual with a huge, signature win and we were so excited for him in his final home dual. He and Jay Aiello both went out at home with a bang in dual action. He stayed the course against a wrestler with a great motor and got the fall. That's what our young guys needed to see because that's how big matches are won. There's no secret sauce there. When we won, we were riding tough and being stingy. When we lost, we were getting ridden. We have to do a better job of neutralizing the other team's strength and wrestling to our strengths."