11 Years Ago, UVA lured Bennett across the country and changed Wahoo history
By Jerry Ratcliffe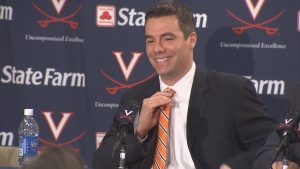 My source on the other end of the phone had called unexpectedly to give me the scoop on Virginia's new basketball coach. He said, 'You've got a 10-minute head start to break the story.'
Honestly, when I was told UVA had hired Tony Bennett, I had never heard of him. I thought I knew college hoops pretty well, but my knowledge of some of the schools out west wasn't up to par. I have to admit, I wasn't blown away when I heard Bennett's name.
That changed quickly. I scrambled to get a story onto the website so our organization would have it before anyone else. As I rapidly read Bennett's profile, I became impressed in a hurry.
Once we broke the story, I changed my focus and started to call some people I knew in the basketball world, and also reached out to a few coaches out west who were familiar with the new Wahoo hire.
That was 11 years ago yesterday, March 30, 2009.
Meanwhile, I got a comment from Jon Oliver, the associate AD to UVA's Craig Littlepage. Oliver played a key role in convincing Bennett to come across the country from Washington State.
I'll never forget what Oliver told me.
"Jerry, Tony Bennett is a young Mike Krzyzewski," Oliver said.
Damn if he didn't nail that perfectly, right?
After a conversation with Oliver, who did what LSU, Indiana, Marquette and a handful of others couldn't do — hire Bennett, I continued on with my round of phone calls.
If anyone knew about Bennett it was my old friend Dick Vitale, who I had known since his early days with ESPN. I called Dickie to ask his opinion of the hire.
Digging back in my archives, this is what Dickie V told me:
"Tony Bennett is a perfect fit for Virginia," Vitale said. "What a great hire. I think ultimately Virginia fans are going to be really happy with him. He's a class young man, a man of integrity, a guy who will represent UVA in a class way."
There was more, but you get the picture. Vitale was sold on Bennett slowly but surely pulling Virginia out of its long basketball slump and restoring the program. He realized the style of play was different and that until Bennett started winning, some of the UVA fan base would be slow to buy in, which was prophetic.
Next on my list was Arizona's interim head coach, Russ Pennell, who succeeded Lute Olson as the Wildcats' head coach. Pennell was familiar with Bennett with both programs in the then-Pac 10.
"[Washington State's] record this year was not indicative of how [Bennett's] team has played during his time there," Pennell said. "He had nine freshmen (seven true, two redshirts) he was trying to integrate into the program.
"In many ways, Tony had a better year of coaching than he did when he was winning all those games because he had to do so much more with the talent on hand."
The Cougars had finished the season with a 17-16 record. In the previous two years, Bennett led WSU to back-to-back NCAA tournament appearances.
Pennell, now the head coach at Central Arkansas, gave a perfect description of Bennett and the style of play. He nailed it just as Oliver had.
"The biggest thing about Tony's team is that defensively, they've consistently been one of the leaders in the Pac-10 conference in scoring defense," Pennell said.
Sound familiar?
"They do not give you easy shots. You have to work. You're going to have to earn everything you get against them. We've called Washington State a bend-but-not-break defense. You just knew they were not going to beat themselves. I used the analogy that playing against Tony's teams was like hitting a tennis ball against the wall … it comes right back at you. And, you know, the wall usually wins those battles."
Pennell said that 11 years ago, but his description is the same thing we've heard from countless coaches during Bennett's era at Virginia.
"Offensively, Tony's a little bit more liberal than he's given credit for," Pennell added. "People try to link him to his dad, who came from the era before the shot clock, when they just passed the ball a lot and played slow. Tony's teams play a little faster. It's a motion-type offense and all five guys touch the ball. It's not going to be a lot of one-on-one. All five guys have to work together to score the ball and I think people appreciate that kind of basketball."
Next was UNLV coach Lon Kruger, who knew everybody in basketball.
"Tony's fantastic," said Kruger, who is now the head coach at Oklahoma. "His teams play hard. They're efficient. He does a great job in preparation and they play with a passion and enthusiasm that I think fans everywhere enjoy.
"Tony will adjust his talent absolutely. His teams do a great job of covering defensively and they are very efficient offensively. I don't know that they are consciously slowing it down, but they are very effective and very efficient and they get the job done."
Go down those descriptions and check all the boxes.
Prior to Bennett's arrival in Charlottesville, the Cavaliers had been to only two NCAA tournaments since 1996-97. As Vitale predicted, Bennett got off to a slow start with 15-16 and 16-15 records his first two years.
He led UVA to the NCAA in his third season, losing to Florida in the first round, finished 22-10, the most wins since Jeff Jones' 1994-95 team reached the Elite Eight.
After falling just short of the NCAAs in 2012-13, Virginia posted a 23-12 record, falling to Iowa in the third round of the NIT.
Then, with all of his own players, everything clicked just as Vitale said it would.
Six consecutive NCAA seasons (this season would have been seven had it not been for the cancellation of college basketball's postseason). A national championship, two ACC Tournament titles, ACC regular-season titles, leading the league and the nation in scoring defense, defensive efficiency, putting players in the NBA.
Most of his rival coaches in the ACC and even outside the conference annually describe Tony Bennett as the best college basketball coach in the country.
A young Krzyzewski indeed. A future Hall of Famer for sure.

Comments