13th-ranked 'Hoos take care of No. 12 Michigan, 4-1
Courtesy UVA Media Relations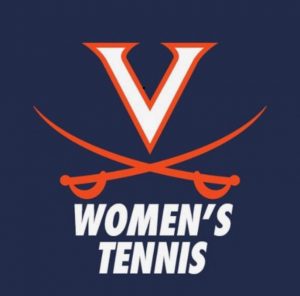 The No. 13 Virginia women's tennis team continued its strong start to the season on Saturday, posting a 4-1 victory over No. 12 Michigan at the Boar's Head Sports Club. It was the third straight win over Michigan for the Cavaliers dating back to the 2018 season.
As has become a trend this season, Virginia (7-2) took the early lead by claiming the doubles point with wins on courts three and one, respectively. The Cavalier duo of Vivian Glozman and Rosie Johanson won 6-2 on court three before Michigan (4-4) grabbed a 6-4 win on court two. The 59th-ranked pairing of Chloe Gullickson and Amber O'Dell then secured the doubles point with their 6-4 win on court one.
In singles action, the Cavaliers got a straight-set victory from No. 21 Natasha Subhash over No. 35 Giulia Pairone to extend the Virginia lead to 2-0 in the dual score.
Michigan got on the board with a straight-set victory at four singles before Johanson put Virginia back on top by claiming a three-set battle at two singles against Nicole Hammond. The Cavaliers then closed things out as Glozman battled back to claim a three-set victory over No. 94 Alyvia Jones at five singles to secure the match.
MATCH NOTES
Virginia has won the doubles point in 8-of-9 matches so far this season.
The Cavaliers improved to 6-2 all-time against the Wolverines with the victory.
Chloe Gullickson had forced a third set at six singles and Amber O'Dell was close to winning her match at three singles when the match was clinched and play was abandoned.
It was the fourth win over a nationally-ranked opponent this season as Virginia improved to 4-2 against top-25 teams through its first nine matches.
Natasha Subhash picked up her 21st win of the year and sixth win in dual play with her singles victory.
UP NEXT
Virginia will go on the road Friday to face No. 17 Georgia Tech before returning home to host Clemson on Sunday in a noon match at the Boar's Head Sports Club.
No. 13 Virginia 4, No. 12 Michigan 1
Singles
1. No. 21 Natasha Subhash def. No. 35 Giulia Pairone (UM) – 6-3, 6-2
2. No. 55 Rosie Johanson def. Nicole Hammond (UM) – 6-4, 4-6, 6-4
3. No. 78 Amber O'Dell vs. No. 51 Andrea Cerdan (UM) – 6-3, 5-7, 5-2 (unfinished)
4. Chiarra Lommer (UM) def. No. 87 Sofia Munera – 6-3, 6-4
5. Vivian Glozman def. No. 94 Alyvia Jones (UM) – 6-3, 1-6, 6-3
6. Bella Lorenzini (UM) vs. Chloe Gullickson – 7-6 (3), 5-7, 1-0
Order of Finish: 1, 4, 2, 5, 
Doubles
1. No. 59 Gullickson/O'Dell def. Lommer/Pairone (UM)– 6-4
2. Anca Craciun/Jones (UM) def. Munera/Subhash – 6-4
3. Glozman/Johanson def. Cerdan/Lorenzini (UM) – 6-2
Order of Finish: 3, 2, 1

Comments