299 and Counting: Competitive Bennett Has Virginia Rolling Along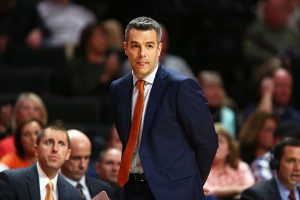 By Jerry Ratcliffe
Tony Bennett couldn't have asked for a much easier 299th career win than Saturday's 72-40 landslide over visiting William & Mary.
The No. 5 or No. 3 Cavaliers, depending on your poll of choice, did exactly what a top-ranked team is supposed to do. They went on big runs the two times that W&M got within striking distance, and then the did what most top-ranked teams can't or won't do: played suffocating defense.
Virginia held the visiting Tribe to 17 points the second half and William & Mary, which averaged 77 points per game and 17 assists per outing, finished the afternoon with 40 and three.
All that made for a nice pre-Christmas present, all wrapped up in a bow with a bright red No. 299 victory for the Cavaliers' coach.
It was all news to Bennett, of course, who is about as modest as they come. He gives you that aw shucks grin of his and moves on.
"I didn't realize that to be honest," Bennett said about his career win count. "Means I've been coaching awhile."
It also means he's been good at coaching awhile.
What else would you expect from a man who hates to lose – at anything. Ping pong, jogging, rec basketball, tiddly winks. You name it.
There are stories about Bennett's competitive nature out there, and he admits that they're all true.
"I tried to play noon hour (basket)ball with Coach (Ritchie) McKay and Coach (Ronnie) Wideman," Bennett confessed while chuckling about what was to come. "I couldn't play anymore with Coach McKay because he kept changing the score. And Coach Wideman was calling cheap fouls, so I stopped playing. It's all their fault, not my fault."
Bennett also confirmed that back at Washington State, before his days at UVa, he and Coach (Ron) Sanchez "almost got into a fist fight, so we stopped that."
You're starting to get the picture.
"Everybody who coaches is competitive," Bennett said. "I like to have fun with stuff but I like to win to the best of my abilities – within the rules sometimes, and sometimes not."
Bennett, of course, was talking about stuff not related to his basketball program, so don't get any bright ideas.
Sophomore De'Andre Hunter has witnessed Bennett's intensity come out first hand.
"We played a shooting game in practice, and I missed the first shot pretty bad, and [Bennett] started screaming at me," Hunter said. "I'm like, that's my first shot. So you've got to be ready from the jump. That's one thing I learned from him."
His opportunity for No. 300 won't come until New Year's Even when UVa hosts Marshall. If the Cavaliers play as they are projected, Bennett will finish his 10th year at Virginia not far behind the school's all-time wins leader – Terry Holland – who had 326 wins in 16 seasons.
Marshall will be 11-0 UVa's last nonconference game of the regular season and so far the Wahoos have lived up to expectations.
So far, Bennett is pleased with where his team stands before ACC warfare begins in early January.
His message to the team prior to game time Saturday was simple, complimentary but challenging.
"I told the guys that you should feel good about yourselves," Bennett said. "Not too good about yourselves, but good. How you've played up to this point, what you can be.
"But know in saying that you have to recommit to how it is every game. I ask them to play in a way defensively that is challenging and demanding. I told them that I chose all of you, our staff chose all of you to come here, and you chose all of us. You chose knowing how we were going to do it and in the right way. So, feel good about what you have accomplished, where you are going and how you do it."
Bottom line, Bennett said, "I like what I've seen."
There's a lot to be pleased with concerning Virginia's basketball program, which at this particular point owns the best record in college hoops over the past two seasons with a 42-3 record.
Heading into the weekend, the Cavaliers were ranked first from sea to shining sea in turnovers per game (a mere 8.0). Also first in assist-to-turnover ratio (1.89), also fewest turnovers (80). They were ranked second in scoring defense (51.3 ppg), fourth in turnover margin (6.1), fifth in scoring margin (21.1), sixth in 3-point field goal defense (26 percent), eighth in fewest fouls (150). We could go on.
Ty Jerome, who entered Saturday's game averaging 14.8 points per game, and coming off a season-high 25-point performance at South Carolina, doesn't believe there's too much tweaking for the coaching staff to do at this point.
It's not like Bennett is coaching a bunch of rookies. Jerome, Kyle Guy, and Mamadi Diakite have been in the program for at least three seasons. Jack Salt even longer. Hunter, who was the ACC's Sixth Man Award winner last season, got plenty of playing time.
"I think we have had a good 11 games," Jerome said. "Coach told us before the game that we should be proud of what we have done up to this point, but it only gets tougher. We have a game against Marshall, which is a good team, and then we are heading into conference play so we have to go home, rest, and be ready to practice. It's not even things to improve, but it's just tightening up our game as we go along."
Guy agreed.
"I think one of our strong suits is that we never really panic," Guy said. "It's a game of runs, so teams are going to have their hot shooting streaks and their cold ones. I think [we need to] tighten up rebounding, taking care of the ball and be calm in the heart of the moment."
Virginia is shooting 47 percent from the field, 38 percent from behind the ar, and 76 percent from the foul line. The Cavaliers bettered all those numbers against William & Mary, particularly the free throw line where they converted 90.5 percent (19-21, with Hunter hitting 9 of 10).
The defense is always there.
"If you're gonna beat 'em, but better shoot it … I'll tell ya that," Tribe coach Tony Shaver said after the game.
His team didn't and lost by 32. W&M was held to 32.7 percent shooting and 2-for-20 behind the arc (10 percent).
Bennett has essentially two lineups he can throw at opponents: a larger one that features Mamadi Diakite as a starter as in the past two games, or a smaller one with freshman point guard Kihei Clark starting.
"We have seven guys who could be starters," Bennett said, obviously referring to Diakite, Clark, and Alabama transfer Braxton Key.
There are some skeptics who point out that Virginia has two starters on the floor that basically don't score, and believe that could keep the Cavaliers from going places. Bennett is convinced that those two players _ Clark (5.4 ppg) and Salt (4.1 ppg) _ bring much more to the game than the obvious scoring figures.
Diakite, by the way, has shown some maturity of late by staying out of foul trouble and has improved. Bennett and Jason Williford, who coaches the bigs, have simplified what Diakite needs to do, and he has responded.
Diakite, whom Bennett refers to as an "X-Factor kind of guy," has hit 8-of-11 field goal attempts the past two games.
As Key gets more comfortable and Clark adjusts to playing with a cast on his left hand, this Cavalier team appears to have enough pieces to make something happen.
It's not hard to believe that Bennett likes was he sees, and it's no wonder he loses count on his number of wins.
Comments