34-year-old kicker Ganyard walks on to UVA team to live his dream
(EDITOR'S NOTE: This is the original story about Matt Ganyard from early training camp. For the newest, in-depth, in-person interview with Ganyard, in what has to be one of the nation's "feel good" stories of the year in college football, check out the "long-read" version that was written in late August and is presently on the front page of our website. Thank you.)
By Jerry Ratcliffe
There's a new "old" leg in town at Virginia's training camp in 34-year-old Matt Ganyard, who is battling for a spot as the Cavaliers' kicker.
A walk-on from Coronado, Calif., Ganyard is a sixth-year player and a former Marine Corps Cobra (helicopter) pilot. A "double Hoo," Ganyard gained his undergrad in history from UVA in 2011 and is presently in his second year of Darden's MBA program.
Ganyard has worked out in the Chris Sailer kicking camp and has also worked with Nick Novak, the former Albemarle High School and University of Maryland kicker, who became the ACC's scoring leader before a lengthy career in the NFL.
"I tell you, Matt Ganyard that came out, that 36-year-old, I tell you what, he's got some pop in that leg," UVA coach Tony Elliott said after a recent practice (Ganyard is actually 34). "He's raw, but he's going to push (Will) Bettridge."
Ganyard's name was brought up by Elliott when the coach was asked if he preferred having one player handle extra points, field goals and kickoff duties.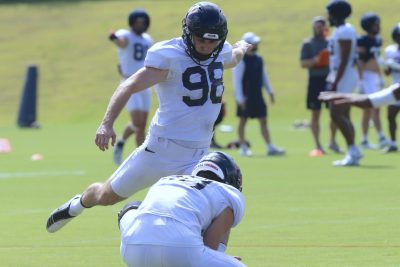 "You would like to have guys that specialize, but it's going to be the best man, and if that means a veteran has to do both," Elliott said. "But I would like to be able to see if Vadin (Bruot) and Matt can push [Bettridge] to maybe take a little off his plate. But that won't be determined until we get into next week."
Bettridge was UVA's main kicker last season, converting 7 of 10 field-goal attempts (longest 47 yards, 3 of 4 from between 40-49 yards), and made 12 of 14 extra points.
Ganyard has caused somewhat of a stir in coming out for football at his age, but has politely declined interview requests as to not draw attention to himself, rather wanting the focus to be on the team.
Sixteen years later, the dream lives on…

I'm truly humbled to announce that at 34 years young, I'm officially a member of the @UVAFootball team.

Thank you to @Coach_TElliott @Coach_Gaither @drewmeyer5 @jsperos for this incredible opportunity.

Now, it's time to get to work. pic.twitter.com/HDuK0Of3lb

— Matt Ganyard (@MattGanyard) August 3, 2023