Abbott posts career day to help Virginia win season opener over UConn
By Jerry Ratcliffe
Virginia baseball was built on the foundation of strong pitching and solid defense. Both had a major impact on the Cavaliers' opening-day win over visiting UConn on Friday.
With Andrew Abbott enjoying a career day on the mound, and UVA's defense playing efficiently, the Cavaliers took a 2-1 win over the Huskies at Disharoon Park. It wasn't an easy way to open the season, beating a UConn team that UVA coach Brian O'Connor compared to ACC-caliber competition.
Abbott struck out nine batters, the most by a Cavalier in a season opener since Danny Hultzen's 10 against UAB, 10 years ago to the day. Abbott surrendered only two hits and issued just one walk in 5.2 innings. He did not allow a run during only his third career start.
Formerly pitching out of UVA's bullpen, Abbott's nine strikeouts were a career high as he mowed down the last nine batters he faced before turning over the game to three Wahoo relievers: Paul Kosanovich, Kyle Whitten and closer Stephen Schoch.
"You pitch like we did today and throw strikes and play that kind of air-tight defense, you'll win a lot of games," Virginia coach Brian O'Connor said. "The hitting will come and go. We played superb defense and had only one walk, so [UConn] had to earn everything."
The only thing the Huskies got was a seventh inning solo home run by Reggie Crawford.
Virginia's offense managed only four hits off three UConn hurlers, including starter Ben Casparius, who went 5.2 innings and gave up two runs, while striking out six Cavaliers. He retired 11 straight batters at one stretch.
"The UConn starter was really legit," O'Connor said of Casparius. "To have a fastball 92 to 94 miles per hour, and to be able to throw a change-up and a slider like he did, he was tough on our left-handed hitters."
Zach Gelof had two of Virginia's hits.
Logan Michaels took a pitch off his helmet with the bases loaded in the first inning to bring in the Cavaliers' first run, and UVA scored the eventual winning run in the third inning on an RBI ground out by Alex Tappen. UConn plated its lone run in the seventh.
O'Connor sent Abbott back out to face the first two batters in the sixth inning, according to plan.
"He was where we hoped he would be," UVA's skipper said. "He held his velocity and held his command through the entire time, which really impressed me."
O'Connor said the big thing with Abbott was that the former reliever has added a change-up to his pitching repertoire, and that the third pitch made a significant difference.
"I'm not certain of the number of times I threw it," said Abbott, who finished with 93 pitches for the game. "I threw it a pretty good amount of times.
"It has come a long way. I didn't really have [a change-up] my first two-and-a-half years here. I was basically a two-pitch guy. I have confidence in it, I just have to be able to throw it across the plate a little more."
O'Connor knew this was going to be a solid pitching staff and he wasn't disappointed.
"I thought the staff was great," O'Connor said. "We went with three veteran guys, and the age of those four guys is probably 22 years old. "Schoch has only been here two years but has been in college baseball for a while and so have those other guys.
"I thought [the staff] was tremendous, they challenged hitters, they threw strikes (15 combined strikeouts), they showed command. That's what you need out of your vets."
The defense came through for Virginia just as O'Connor expected, and helped get Abbott out of an early jam, turning a double play to end the first inning.
"Max Cotier (second base) is the youngest in that infield and he's in his second year," O'Connor said. "We have an experienced guy behind the plate (Michaels) and the left side of the infield has been playing there for two years, and we have some veteran guys in the outfield. My expectation coming into the year, and will continue to be, is that we'll play excellent defense."
Abbott said he appreciated the defense behind him, which built his confidence.
"I don't have the words for how special this team is right now, how old we are, how experienced we are," Abbott said. "It's good to know that when the ball is in play that I have a good defense back there to collect outs.
"They got me out of the first inning with that big double play. I wouldn't have pitched as good if I didn't know they had my back. It takes the pressure away for a pitcher to know that you don't have to do everything, just rely on the defense."
The Cavaliers take on the Huskies in the second of the three-game series on Saturday at 1 p.m. Righthander Griff McGarry will be on the mound for Virginia.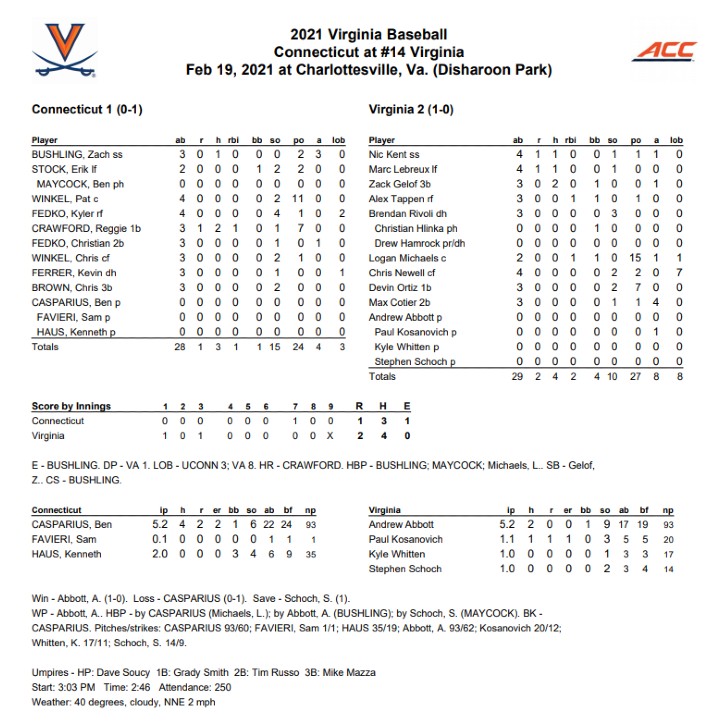 Support JerryRatcliffe.com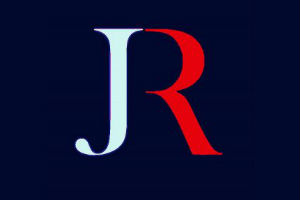 Make a one-time or recurring gift to support JerryRatcliffe.com online below. Your gift is not tax-deductible. Thank you for your support of JerryRatcliffe.com and the "Jerry Ratcliffe Show" podcast!