ACC Championship Q&A: Charles Snowden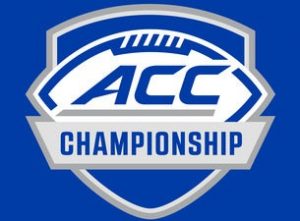 Read what Virginia junior linebacker Charles Snowden said during Monday's teleconference ahead of this weekend's ACC Football Championship against Clemson at Bank of America Stadium in Charlotte:
Q: How much of an opportunity is this in terms of the scope of your career to go against basically the best team in the nation?
A: I mean, opportunities like this don't happen every day. To go up against the reigning national champs, ACC champs, it's a great opportunity. You're not going to find better talent than this in the country. I'm excited to get that opportunity.
Q: Are you approaching this, please don't be insulted, but everybody knows the stakes for both teams, are you approaching this as nothing to lose?
A: Yeah, I mean, I wouldn't say nothing to lose. We're going at it with no fear. We've had a great season so far. We're just looking to build on that. We're going to give it our best foot forward, surrender the outcome and let the chips fall where they may.
Q: I was leaving the stadium the other day. I heard you on the radio. This guy could do this for a living. Ever consider that?
A: It's funny you say that. Dave Koehn, the voice of our football program, he has a radio show. I actually do a one-minute segment every week for his show called The Cavalier Minute. You're actually not the first person to tell me that.
I actually really enjoy it. If that's something down the line, I think I'd definitely be interested in sports commentating or something like that. If that opportunity presented itself, I think that would be great.
Q: Next Michael Strahan.
A: Exactly.
Q: How much have you had a chance to watch Clemson previously across the past two years, winning 27 games in a row? How aware of that are you?
A: Just in terms of being a college football fan, it's hard not to have seen them play because they've been in the national championship the last I think four years now.
I mean, I'm definitely very familiar with them kind of from a fan perspective. I haven't necessarily watched too much as an opponent, X's and O's type manner. I have a sense of what they like to do, their style of play, their tempo, their culture.
Now I'm looking forward to getting into their scheme, what they're trying to attack, their strengths and weaknesses.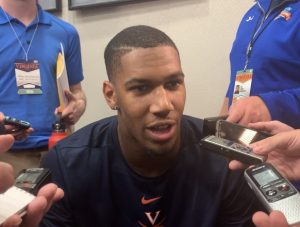 Q: What does it mean for you to be able to play in the ACC Championship Game?
A: It's huge to me. As a guy, I came in with only one scholarship offer at the University of Virginia. No other ACC schools thought I could play in the ACC. So now to have gone from that to being the champions of our division, to be able to play for an ACC championship, I just kind of look back and reflect, really appreciate how far I've come.
Q: In terms of where you are in terms of injury in the secondary, you had to do things a little differently against Virginia Tech. Seems like you're using Noah as a linebacker/DB. Talk about the challenges that put on you guys, how you were able to have success without having your base look out there?
A: Noah is one of the most athletic dudes I've ever met. He's 6'5″, 220 plus. His hips, his feet are quick as lightning. He can just do a lot of things. He's one of our best pass-rushers, but he's also one of our best cover guys.
We had to take him out of the front, drop him in coverage a little bit more. Other dudes I told we have to step up and get to that quarterback. That's kind of what we did and it worked out.
Q: You got to be the one who ceremoniously handed Bronco the sledgehammer to break the rock. What went into that? How much conversation did you have about that?
A: I hadn't discussed it much with my teammates. That was kind of something that we had little side conversations. If we win this game, do you think Coach Mendenhall should break it? Nothing like a team unanimous thing.
In that moment, it just felt so right. He'd been our leader since day one. He's gotten us here. Sacrificed so much for us.
Noah had a great game. Eli had a great game. Bryce obviously had a great game. In terms of wrapping up this regular season, nobody deserved it more than Coach Mendenhall.
Leaving @csnoww3 unblocked? 🥶🥶🥶 pic.twitter.com/jy581kb7jM

— Joshua Harris (@Joshua_Harrris) December 1, 2019
Q: You were mentioning having watched them more as a fan than as a student of the game. From your position, what are the things you have to do against an offense that is so balanced with someone like Etienne running, then Lawrence throwing?
A: I think it's just not try to do too much, understanding that the defense has to work as a whole. One thing we talk about is doing your 1/11th. I think it's just doing my 1/11th, but doing it at a higher level than I did all year.
I don't think I need to go out there and try to create a play every play out there. It's just understanding my job, doing it to the best of my ability, trusting the guys around me that they'll do theirs, see what happens.
Q: You've talked so much about unbroken growth in this program. To go from losing a bowl game, winning a bowl game, now being in the ACC title game, with an upset of Clemson, do you think that would be ahead of schedule for where this program is trying to get to?
A: I mean, I don't think we kind of necessarily have a schedule. I think our goal is just to improve every year. Whatever that improvement looks like is great. I wouldn't say it would be ahead of schedule or behind schedule. If it happens, I think it would be right on schedule.
I mean, as long as we are improving from the year before, I think it's right on schedule.
Q: You talked so much going into the year about improving the run defense. I assume you feel like you made big strides in that area. How far have you come on run defense and how big a challenge will Saturday be?
A: We've definitely made improvements kind of since that middle part of the year where we were struggling a little bit. We still have a long way to go. We still have little assignments we need to fix. Also kind of the mindset we're doing it with.
We've definitely taken strides, but there's still a lot of room for improvement, as there always is.

Comments