After nightmarish '21 season, Virginia's defense delivers in opener
By Kenneth Cross
JerryRatcliffe.com correspondent
Virginia took a 34-17 win over Richmond in coach Tony Elliott's opener as the Cavaliers' head coach on Saturday, and his defense played a major role in the successful debut with a pair of huge fourth-down stops in the game.
That was a scenic view for the new coaching staff as Virginia's defensive improvement has been atop the Cavaliers' menu. Last season, Virginia finished 121st in total defense, giving up 466 yards per game.
While Saturday's matchup with the Spiders cast Virginia against an FCS challenger, holding Richmond to 330 total yards and forcing five punts were a huge issue in being able to win the game. Holding the Spiders twice in the second half on downs was a major factor for a program that had been a defensive nightmare one season ago.
"I thought they responded well in the first half," said Elliott. They had given up too much in the run game but found out a way to get some stops."
The Spiders had 202 total yards at halftime with 105 rushing on 19 carries as running back Savon Smith had given Richmond a 7-0 lead with 6:27 left in the first quarter.
Virginia's defense came up strong on the next three drives as they only gave up a field goal while forcing two Richmond punts. In turn, these stops turned into a myriad of four Cavaliers' touchdown drives that saw Virginia take a 28-10 lead late in the first half when Mike Hollins scored on a 4-yard run just before halftime.
The biggest defensive possessions could have transpired at the outset of the second half when Virginia gave up the ball on a fumble and an interception on back-to-back possessions.
Richmond scored on a 5-yard pass to Smith from Reece Udinski to cut the Cavaliers' lead to 28-17 with 10:51 to play in the third quarter after UVA receiver Dontayvion Wicks fumbled at his own 34.
After that score and Brennan Armstrong's interception, the Cavaliers' defense held Richmond to a Jake Larson miss of a 48-yard field goal.
Then on the next drive, the Spiders had driven to the Virginia 36-yard line and linebacker Josh Ahern was key in stopping Richmond running back Aaron Dykes for no gain on both short-yardage plays.
"Ahern he's a football player and I knew he was going to stay engaged and he was on the sideline the entire time and he was chomping at the bit," noted Elliott. "Actually, he subbed himself in on one of those substitutions so we will deal with that."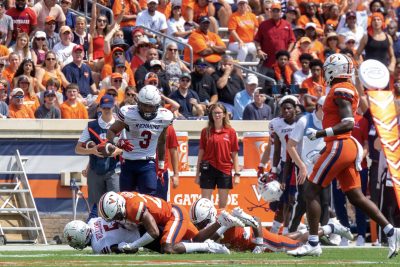 Defensively, the Cavaliers were able to thwart Richmond in the second half to take the upper hand.
"In fairness to the defense, they were in tough situations in the second half," explained Elliott. "We had back-to-back sudden changes, unfavorable field position."
Larson's missed field goal could have cut it to a one-score game
"They had a long field goal that they missed, they had a couple of fourth-down stops," noted Elliott. "Guys having themselves being successful in situations is just going to help us going forward."
Defensively, the Cavaliers will be a key in game preparations from the new coaching staff, which is keyed by defensive coordinator John Rudzinski.
"I would have loved to got a stop on third-and-five on the goal line," Rudzinski commented on Smith's second touchdown run. "Great learning lessons and that is the nature of defensive football. You have to love to go on the field whenever that is."
Elliott was pleased with how his assistants had the Cavaliers ready and in position to make plays, which helped to win the game.
"I'm proud of the guys for having them ready to play, being able to play a lot of people, and then being able to make adjustments in the game so the offense could flip the momentum for us."
Virginia's stopping the Spiders twice on fourth down were both defensive moments that were prime in the victory.
"They had given up too much on first down and to have 4th-and-1 and make a stop, just shows them what they were capable of," said Elliott of his defensive players.