An in-depth look at Dick Voris, the author of Virginia's longest losing streak
By Brian Morrison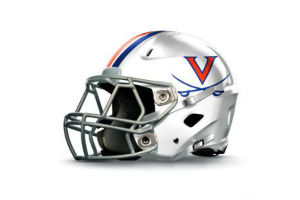 On September 27, 1958, on a hot and humid afternoon in Charlottesville, Virginia, with a second half played in moderate winds and rain in advance of Hurricane Helene, the Virginia Cavaliers, in only their second game under first-year head coach Dick Voris, upset ACC pre-season favorite Duke 15-12.
Surrounded by jubilant fans, an elated Voris tells the media afterwards, "This is the biggest thrill I've ever had in football. I don't think there'll ever be anything again to match it."
Unfortunately for Voris, his words proved to be prophetic as that afternoon would be his lone victorious post-game interview in his three-years in Charlottesville. When he resigned on December 10, 1960, Voris had a 1-29 career record and was saddled with an attention-grabbing 28-game losing streak, tying Kansas State's NCAA record set between 1945 and 1948. Northwestern would eventually surpass both Virginia and Kansas State with a 34-game losing streak between 1979 and 1982.
"The streak" began with a loss to NC State the following Saturday, and ended with the 1961 season opener when the Cavaliers, under first-year head coach Bill Elias, beat William & Mary 21-6. Over the 28 games, Virginia was outscored by an average of 35.5 to 8.6, and was shut out seven times.
Voris was born January 25, 1922, in Los Angeles, California, the middle of three sons to James and Alberta Voris. The family name was originally spelled Van Voorhis. Moving to Santa Cruz in his youth, he was a three-sport star (football, track & field, golf) at Santa Cruz High School and was later named to the school's Sports Hall of Fame.
A three-year starter on the varsity football team, he was the Cardinals' star player, starting at center and linebacker, while earning co-captaining duties. Following graduation, Voris attened Salinas (Calif.) Junior College, where he earned All-Conference honors in 1940 and was the captain of the team in 1941 and played in the Junior Rose Bowl for the California junior college championship that season.
Graduating from Salinas (later Hartnell Junior College) in 1942, he and his brother Bob both join the Marines on July 9, 1942. He served a four-year enlistment, including a 14-month stint in the Marshall Islands.
Entering San Jose State University in the fall of 1947, he played two seasons for head coach Bill Hubbard with the Spartans finishing 9-3 in back-to-back seasons.
In the fall of 1949, he accepted his first head coaching job at Hanford (Calif.) High School where he went 1-7 in his first year and caused "discomfort," with local fans. He moved over to James Lick High School and after directing the team to a conference championship in his second season, the ex-Marine was named the head football coach at Hartnell Junior College (formerly Salinas JC) on May 21, 1952.
He brought with him nine players from the San Jose area and two from his previous coaching job in Hanford, Voris compiled a 20-0-1 record in his two seasons at Hartnell. In his first season, the Panthers finished the regular season 10-0 and then tied heavily-favored Bacone Junior College Warriors in the Junior Rose Bowl in Pasadena. He is currently one of only two coaches in the Hartnell College Sports Hall of Fame.
With another 10-0 season in 1953, Voris announced that he was open to coaching at a major college and just to sweeten the pot, he said he would bring his players with him. After some interest by the University of Idaho, Voris stepped all of the way up to the NFL when he agreed to be the line coach of the Los Angeles Rams. "Voris knows more about line coaching techniques than any other coach in the business," said Rams Head Coach Hampton Pool in praising his new hire.
But all was not well in the City of Angels. Following a 21-3 loss to Detroit on October 10, that squared the Rams' record at 1-1-1, Pool called a coaches' meeting and was "surprised" when his four assistants (including Voris) told him that they were unhappy and would be leaving the team at the end of the season. The discontent stemmed from a meeting at the start of the season when Pool told each of them that he was dissatisfied with their work after a perfect 5-0 pre-season.
On December 12, 1954, Voris was one of four Ram assistant coaches forced to resign two days after the team's season-ending 35-27 win over Green Bay. Several Ram players told media, "the wrong coach got fired."
Voris wasn't unemployed long, and signed to coach Monterey Peninsula College on December 30. But in less than two months, he was on the move again when on February 15, 1955, he left Monterey and signed a rare multi-year contract to become the line coach at Army under Earl "Red" Blaik. He was offered the same position at the Naval Academy a week earlier, bur declined.
Over the next two years, Voris was mentioned as a possible head coach at several colleges, including Washington, Arizona, Iowa State and Utah. After his first season at West Point, San Jose State President John Wahlquist inquired with Voris about the school's head coaching opening. Voris was said to have replied "I'll come if you can guarantee me 75 scholarships and a sizeable chunk of salary."
Meanwhile, down south in Charlottesville, University of Virginia officials were "stunned" when popular head football coach Ben Martin resigned on January 31, to accept the head coaching job at the Air Force Academy. His departure came at a time when Virginia was close to signing Martin to a three-year extension with an increase to his $10,000 a year salary.
Richmond Times Dispatch sports editor Chauncey Durden wrote of Martin in his February 2 column, "His greatest contributions to Virginia football – contributions which will pay off more and more – were his welding unity between the various alumni groups and winning over a faculty that had been at times antagonistic towards football."
"It's a mighty rough blow on us," says Athletic Director Gus Tebell when informed of Martin's decision while attending an Atlantic Coast Conference meeting in Chapel Hill. "It'll be hard to fill his position at this late date."
Nine days later, on February 9, Voris was one of six finalists mentioned for the Virginia head coaching position. Other coaches who made their way to Charlottesville for in-person interviews were Harrison (Chief) Nesbit, an assistant on the Virginia staff, Ernie Hefferle, an assistant at Pittsburgh, Bill Leckonby, the head coach at Lehigh, Carl Wise, a Georgia Tech aide and former head coach of Washington and Lee and Burl Smith, the offensive line coach at Michigan State. Twenty-four hours later, Leckonby, the early favorite, withdraws his name for the position.
Spurred by the imminence of the upcoming spring practice, the Virginia Athletic Council wound up its 10-day search for a head football coach on February 10, by recommending Voris to university President Colgate W. Darden. Darden had to give his approval and then poll the school's Board of Visitors, which had final say on the hire. Voris was given a second hearing by the Athletic Council and won approval of the faculty-alumni student group.
On February 12, a 36-year-old Voris was named the head football coach at the University of Virginia. The 13th former Red Blaik assistant to get a head job in college, Voris signed a four-year contract with a salary that was not disclosed, but reported to be $11,500 a year. He inherited a Virginia team that was 3-6-1 and playing in the tough Atlantic Coast Conference. He was allowed four assistant coaches and a head freshman coach.
Five days later, Voris named Washington Redskins' defensive back Don Shula, as the team's backfield coach. On March 3, Voris and his staff greeted a squad of 70 at the opening of spring drills while up the road in Annapolis, Navy's Eddie Erdelatz welcomed approximately 150 gridiron hopefuls in a downpour of rain.
Even before his first season starts, Voris suffered several casualties to an already-thin roster, including starting end Dave Graham and first-string halfback Carl (Rip) Moser. Despite entering the 1958 season with only 11 lettermen, Voris' Cavaliers were impressive early on and hopes ran high in Charlottesville. In the season opener the Cavaliers dropped a 20-15 decision at No. 18 Clemson on a late fourth-quarter touchdown.
A week later, Virginia, behind the play of "meek-looking field general" Reece Whitley, and before 15,000 in Charlottesville's Scott Stadium, upended Duke 15-12 in a win so unexpected that Raleigh News & Observer Sports Editor Dick Herbert opined that the Cavaliers were the surprise team of the young season and at their present pace Voris would win ACC Coach of the Year honors. Enthusiasm prevailed.
But when the dust settled on the 1959 season, Voris tied West Texas' Clark Jarnangian for the worst record (1-9) among the nation's 19 first-year coaches. To make matters worse, Ben Martin, the man Voris succeeded, was 9-0-2 at Air Force and guided the Falcons to a Cotton Bowl berth. In addition to the varsity's 1-9 record, the Virginia freshmen team, considered the foundation for the future, finished 1-4 with several lopsided losses. And just to top things off, highly-regarded assistant coach Don Shula left the program on February 10, to take a similar job at the University of Kentucky.
Despite having only three seniors, seven returning lettermen and six junior starters, Voris was cautiously optimistic about his team's 1959 prospects. Pointing to a 37-member scholarship freshmen team, Virginia fans hoped to win two-three games before Voris' much-talked about rebuilding project started taking effect in 1960.
Virginia opened Voris' second season with a 37-0 loss to William & Mary, marking the worst opening day defeat in 64 years. The following week, the Cavaliers were routed 47-0 at home by No. 5 Clemson and the Newport News Daily Press broached the possibility that the Cavaliers' might be facing the school's first winless season. Following a 34-12 loss to Wake Forest, which dropped Virginia to 0-7, Deacon head coach Dick Amen denied he pulled star quarterback Norman Snead out of the game early in the third period in an effort to keep the score down against Voris, a friend and a former coaching acquaintance during their time together at West Point.
The Cavaliers closed out the season, pretty much the same way they started it, losing 55-12 to Maryland and sealing the school's first winless season in 70 seasons of competition. Included among the 10 losses was an 0-3 mark against in-state rivals William & Mary, VMI and Virginia Tech, by a combined 96-26 margin. On the year, Virginia yielded an average of 39.3 points per game, setting an ACC record for defensive futility. Starting quarterback Stanford Fischer threw one touchdown pass versus 13 interceptions and as a team, eight Cavalier aerial artists threw 23 interceptions with only two scores. Two days after the Maryland loss, Voris "dropped" second-year offensive line coach Bob Marich from his staff.
The best news for the Virginia faithful, was the Virginia freshman team which finished 3-2, behind the play of quarterback and future NFL pro Gary Cuozzo. Another freshman, Carl Kuhn, said, "We have 700 (students) in our class now but they say only 200 will graduate." Kuhn also said that athletes were referred to as "animals" and the school didn't support football too well. "Generally, when they go to the games it's not to watch the game, but for something else."
On December 12, an athletic committee of the Virginia Board of Visitors was charged with an in-depth study to  athletics at the University before even considering withdrawing from the ACC. The committee said "efforts are being made to have comparable programs to those in the Atlantic Coast Conference at the same time making no concessions scholastically to any boy who comes in here. Efforts will be made to recruit football players who can pass the work at Virginia and still compete in the ACC. It's our opinion we will stay in the conference until such time as we are convinced, we cannot have a representative football team."
But more importantly for Voris, the committee reported, "We don't feel coach Voris has had an opportunity to demonstrate whether we can field a representative team in the conference." A combative Voris now vows "Virginia has been the patsy for the past two years. But it's all over now. Starting next year, we will be a team to contend with."
Early on in the summer, Voris changed his tune somewhat and sent word to the beleaguered Virginia faithful that next year (1961) will be different. The Cavaliers enter the 1960 season having lost 18 straight games, and with only four seniors, more bruises are on the schedule. Yet Voris insisted his rebuilding program was proceeding "almost" according to his timetable, "We should be 300 per cent better." than a year ago, he said. Although the Cavaliers had26 lettermen and the best sophomore group in 10 years or more, Voris conceded his squad is still the weakest in the Atlantic Coast Conference.
If there was any optimism heading into the season, it was quickly crushed with a 41-21 season-opening loss to William & Mary before a Good Neighbor Bowl crowd of 7,000 at Foreman Field in Norfolk. The following week, the Cavaliers were a homecoming victim at N.C. State losing by a 26-7 count. Virginia's best bid to end the losing streak came on October 29, in a 28-20 setback to visiting Wake Forest. The Cavaliers, down at one point 28-6, scored twice in the final period and had the ball on the Deacon 43-yard line before two incomplete passes into the end zone ended the game and extended the losing streak to 24.
In a statement issued before the November 19 game with Maryland, and one day after another meeting of the university's athletic committee, first-year Virginia President Dr. Edgar Shannon said that despite demands by "some alumni groups," the university as a matter of principal did not buy out contracts and that Voris would return in 1961 to complete his contract." The committee also recommended for a second-straight year that the university remain in the ACC. Voris is told of Shannon's statement before the game and he elected to inform the team of Shannon's statement at halftime.
"I'm glad Dr. Shannon has cleared up the situation," Voris said after the game. "It clears up the uncertainty. Now we can get down to doing a recruiting job for next year." Voris added that he imagined some alumni would greet the statement with "a growl."
Over the season's final four games against Navy, Maryland, North Carolina and South Carolina, the Cavaliers were outscored by 146-to-26 and concluded their second-straight winless season.
Late in the season, Sports Illustrated carried a story on Virginia's woes, "The day the team departed for South Carolina, a rally at the airport was planned. Later the Roanoke World-News headlined, STUDENT BODY GIVES TEAM BIG SENDOFF. Below, it pictured three players with captions such as "got to win it" and "our last chance."
"But when the team arrived at the airport, there were no students present, just President Shannon and his wife, a few friends and some alumni. A keg of beer sat neglected on the grass. The players walked out to the two chartered planes and waited. Then the band arrived on a bus and with it a few students. The keg of beer was opened. After a while the band broke out with the alma mater. Then they played a rousing version of Dixie."
"Dick Voris, the center of this Virginia storm, is a compact, ruddy-looking man of 38. He came to Virginia from Army, where he was line coach under Earl Blaik. His office, which overlooks a few of the playing fields, is sparsely furnished and the walls are almost bare. One small tarnished plaque hangs near his desk. It says "Virginia 15-Duke 12." "That was his moment," said one student. "We had a rally the night before and Voris stood up on a platform and said, 'What I want to know is, who the hell is Duke?' Everybody yelled his head off and the band played Dixie, and sure enough we beat Duke. But that's been a long time."
"We better not fly over Lynchburg," Voris says. "The alumni are likely to shoot us down."
Two days after a 26-0 season-ending loss at South Carolina, at a Touchdown Club meeting in Greenville, South Carolina, Voris goes on the offensive saying the University's administration is partly to blame for the team's poor performance. He said a lack of scholarships and strict academic requirements as causes for the school's gridiron problems.
On December 9, amid reports that some alumni have raised the $12,000 to buy out his contract, Voris brought the situation to a head when he told the athletic committee it should either support him fully, or buy out the remaining year of his contract as he "would prefer not to serve out the final year of his contract."
Voris' unhappy and record-tying term as the University of Virginia football coach came to an end a day later, when on December 10, the school and the head coach came to an amicable parting of the ways. The university Board of Visitors, to no one's surprise, accepted Voris' proffered resignation and agreed to pay the remaining year of his $12,000-a-year contract (no word on the assistants). The money for the buyout came from Virginia's cut of ACC bowl revenue, basketball tournament and TV revenues.
Voris said acceptance of his resignation offer meant that his successor "will be able to come in with all factions united behind him." Conceding he never achieved that unity in his three seasons as coach, Voris also said he had doubts about the job within two months after arriving in Charlottesville. He was also lukewarm about the future when he said that Virginia should "be in the middle of the ACC. Not a powerhouse, but above the middle some years and below it in others." He tells media that he was leaving a better squad than the one he had inherited from Ben Martin, especially academically.
How did it all go so terribly wrong?
Part of the answer to that question could possibly be traced back to 1947, when Colgate W. Darden, Jr., was named as the third president of the University of Virginia. Darden supporters said that he was a proponent of finding a middle ground between "big time" football and smaller levels.
On the other hand, it was reported that he reduced athletic scholarships by as much as 80 percent by the time the school joined the ACC. A year earlier, he refused to allow an 8-2 Virginia team to play in the 1953 Cotton Bowl, despite the wishes of energetic 37-year-old head coach Art Guepe. Following the season Guepe requested a five-year contract with an annual contract of $10,000 (his 1952 salary was $9,350). Within weeks, Guepe, who had compiled a 47-17-2 record in his seven years in Charlottesville, left for Vanderbilt and a $12,000 salary.
In response to Guepe's departure, Darden said, "I do not think he could have refused the offer made him at Vanderbilt, nor do I think we could have equaled it without giving to football here an emphasis in comparison with other activities, which would have been injurious in the long run."
The University would not make its first postseason appearance until 1984 when George Welsh guided the Cavaliers to a berth in the Peach Bowl, where they beat Purdue 27-24.
Darden believed football should play a decidedly secondary role to education and that it should continue to compete at a modest level of subsidization and compete with Virginia schools that play at an equal level. The University should also encourage students from the state of Virginia to try out for the team and the athletic department should not pay exorbitant salaries to head coaches (he gave Art Guepe a $100 raise after his team had gone 8-2 in 1951) and, as noted earlier, there would be no postseason contests. On several occasions he considered eliminating athletic scholarships all-together, a reform that the Ivy League adopted in 1951.
Darden said, "Where an institution goes beyond this point and recruits players as players, it is on shaky ground."
Memories of the streak:
Fred Shepard, a running back who ran for 823 yards in his three years (1958-1960) at Virginia, remembered the tough times, "It was difficult game after game after game," he said "We were not held in high esteem on campus. They laughed at us."
"We had some good players, enough to win some games," Shepherd said. "But I'm not sure we had the best people playing. We lacked discipline. We were in horrible condition. We had people out partying on Friday before games. That was a regular practice."
When asked about his time in Charlottesville, Don Shula said, "I was there the year we won a game. It was actually the hardest job I ever had. We went to alumni functions and solicited money. That's where our recruiting budget came from. We'd bring players in, and the professors would flunk them out. The mood on the campus was totally anti-athletic to the time. Dick (Voris) was actually an exceptional coach."
"l was promised 30 scholarships," Voris said. "After I had used the first 15. I asked for another 15. 1 was told, 'Oh, no, not until you have paid for the first 15.' That's when I found out I was supposed to raise the money for my scholarships. I was ready to leave four weeks after I got there."
In a 1976 interview with Miami News sports editor John Crittenden entitled "Sore Loser," Voris revealed that bitterness remained. "They bought up my contract," he saie. "They paid me off." But his last three years at Virginia were so painful that Voris had never forgotten. And he had never been allowed to forget. "Every place I go," he says, "they throw it right in my face. It's like I was a rapist. You can't have football if the administration doesn't want a team. I was at Virginia for two months before I even met the president of the school."
Following his tenure at Virginia, Voris had a lengthy coaching career, including stops with the Green Bay Packers (ends coach on Vince Lombardi's staff), San Francisco 49ers (assistant), St. Louis Cardinals (defensive line/linebackers), Detroit Lions (defensive line), Baltimore Colts (defensive coordinator), New York Jets (defensive coordinator), and Tampa Bay Buccaneers (linebackers).
Voris had a twin brother Bob, and an older brother, Captain Roy Marlin "Butch" Voris, a highly decorated Naval flying ace in the Pacific and co-founder of the U.S. Navy Blue Angels.
Following his three years at Virginia, Voris reconciled himself to being an assistant for the rest of his life, and the bitterness remained with him.
"Blaik told me not to take the job," he said. "It was stupid of me to take it. But I wanted to be a head coach. A young man doesn't understand those things."
Voris retired from coaching in 1976 and passed away in 2008.
Brian Morrison is the former ACC associate athletic director of men's basketball communications and once the conference's media coordinator over football.
Comments