Anae optimistic about UVA's offense under new QB Armstrong
By Jerry Ratcliffe
Robert Anae has a recipe as simple as cornbread when it comes to building an offense.
The veteran Virginia offensive coordinator, who was courted by Miami and Hawaii in the offseason, believes everything is centered around the quarterback. For the first time during Anae's and Bronco Mendenhall's time at UVA, he will have the luxury of grooming a quarterback that has already spent two years in the system before having started a game.
Armstrong, a redshirt sophomore, was named Virginia's starter by Mendenhall last week. Once the best quarterback on a team is identified, Anae knows what's next.
"Now you highlight what he does well, and that's your starting point," Anae said Tuesday. "We went through that with Kurt Benkert. We went through that with Bryce Perkins. Now we're in the beginning process of going through that with Brennan Armstrong."
For skeptics that have somewhat maligned Virginia's football program, predicting the Cavaliers will struggle without record-breaking career total offense leader Perkins (now on the LA Rams' practice squad as an undrafted rookie), Anae echoed what Perkins told this sportswriter a couple of months ago about the offense being in good hands with Armstrong.
"What are [Armstrong's] top skill sets?" Anae said. "He's a real, very tough-minded, competitive person. That's probably his top skill set is how competitive he is. Now what does that translate to a quarterback?
"Well, he can make all the throws. You name it. You name a throw in the game and he can make it."
Anae said that Armstrong has already earned the respect of his teammates, not only from his previous work the past two seasons (while appearing in 11 games), but also from how the quarterback has worked in their weight room and in conditioning disciplines.
Armstrong isn't the only quarterback on the squad that has earned respect from the Cavaliers. Transfer Keytaon Thompson (Mississippi State) has made a strong impression on the team.
"I will say this, Keytaon pushed that thing a couple of weeks and I think he garnered respect from the team in the process," Anae said of the starting QB competition.
Quarterback coach Jason Beck noted a few days ago that Thompson is capable of playing another position if needed, not that that necessarily will happen, but the option is there, and re-noted by Anae.
"From our standpoint, hey, that would not be a good idea if one of our better athletes was standing next to me with a clipboard," Anae said. "We're looking for opportunities to get him on the field and to get him involved."
Thompson is definitely a dual-threat quarterback, a role that earned him some starts and playing time in Starkville, so there's no question he is versatile.
Meanwhile, critics have wondered if Armstrong can improvise and turn chicken feathers into chicken salad when things break down as his predecessor could. What's his grade as a runner?
"Bryce had a real high-end skill set when it came to running the ball, but the trick was getting him to that open-field space … and that was not easy," Anae said.
The coordinator said that Armstrong's running style is different than Perkins, who had great open-field instinct and could often kick into another gear and outrun defenders. Armstrong, Anae said, was more of a "drag-the-pile, more stiffarm or lower-your-shoulder" kind of guy.
"But shoot, we've seen Brennan in the open field run the ball as well, and yeah, we have to capitalize on all those skill sets," the coach said.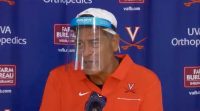 Anae said that the offensive coaches encouraged Perkins to scramble because he was "tremendous" in those type situations, one of his main strengths. Quarterbacks have to realize there are going to be sacks because at times the pre-snap read is often not what the QB is going to get from defenses that attempt to disguise the coverage.
The Cavaliers were fairly effective offensively last season with Perkins behind the wheel. They finished fourth in the ACC in points per game average and passing yardage, but a paltry 13th (next-to-last) in the league in rushing yards per game.
Anae believes that part of UVA's offense will be much better this time around because the entire offensive line returns, starting tailback Wayne Taulapapa is back, and the Wahoos have two tight ends that are good at run-blocking. In fact, sophomore tight end Grant Misch said recently that he spent most of last season basically run-blocking.
"Well, our offensive line is stronger and better than they were a year ago," Anae said. "And a year ago, we were OK running the ball. We weren't great. I'd like to improve if we could be good enough running the football. We do have an addition of a big tight end (Tony Poljan) that certainly added some things to the program, and Wayne (Taulapapa) is back, and Shane (Simpson, a transfer running back from Towson State).
"So we have good enough running backs, we have a much-improved offensive line and we have a better group of blocking tight ends, so the running part should be something that we do good-to-really well.
"I don't know if we're ever going to be great right now in the run game. Our strength last year was a nice balance of everything around the board, so I think that's going to continue to be our identity, to move the ball around and keep the defense guessing. That is our strength as a group."
Virginia averaged 121.2 yards rushing per game last season, ranking 117th in the nation out of 131 FBS teams.
Taulapapa improved as the season progressed and he was particularly dangerous inside the 10-yard line, where he seemed to exhibit a nose for the end zone.
Asked about a "feature back," Anae said that the whole idea of the offense is to do things that players do well.
"So when you say a feature back, the first thing I think of is a first- or second-round draft type of kid and you know, if I thought we had one of those then yes, we would be lighting that kid up and just handing him the ball from left to right and to go with that," the coordinator said.
While UVA used to have NFL running backs for a long stretch during the George Welsh to early Al Groh years, that has been a deficiency in the Cavaliers' attack for quite some time. 
At BYU, Anae's offense produced the Cougars' top two rushers of all time in Harvey Unga (3,455 yards) and Curtis Brown (3,221 yards). In 2013, Anae's offense ranked No. 10 in the nation in rushing offense with a BYU record 3,475 rushing hards, including a pair of 1,000-yard rushers in Taysom Hill and Jamaal Williams.
Having a featured back is nice, but as Anae pointed out, it doesn't guarantee success and used last year's Florida State offense as an example.
"Florida State had that tailback (Cam Akers), the second-round tailback (LA Rams), and that didn't serve them all that well last year," Anae said. "If you [have a back of that quality], yes, you should feature him. At the same time, those guys around him, especially up front, have to pull their weight for [success] to come to fruition.
"We think the strength of our unit is 11 guys working together, and for me as a coordinator and us as coaches, to put them in positions that they have a chance to be successful. That's our brand of football, which is why I love the game because that's the best game, when you can have so many pieces come together."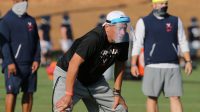 Behind Taulapapa in the backfield is Simpson, a consensus 2018 FCS All-American, who transferred to UVA over the summer. Simpson has picked up the UVA offense well in training camp.
"Oh, he's been a bright spot for us," Anae reported. "He's still working out some of the kinks out of that injury (Simpson had a season-ending knee injury early in the 2019 campaign), but I think as the season goes on, he will get stronger and he will get in better shape. A lot of our players are not in top shape right now and a lot of them are not full-functioning from a strength-and-conditioning standpoint as opposed to a normal year. So Shane's in that boat with probably the whole team."
That sounds a bit ominous considering the season-opening game is on the 19th against UVA's biggest rival in Blacksburg.
Anae's offense will be going up against a hearty Virginia Tech defense that will be without famed coordinator Bud Foster, who has led that side of the ball for the Hokies since 1995. He has been replaced by Justin Hamilton, who played and coached under Foster, who left him nine starters returning.
Anae expects to face the same style of play from the Hokies even though Foster isn't around.
"I think I'm safe to assume that what they're doing there has deep roots defensively," Anae said. "I think I'm safe to assume that they're confident that those coaching structures and defensive alignments and assignments are sound. I do not think that they entered this thing thinking, 'Oh, this thing is broke and we need to fix it.' So, yeah, from an old coach perspective, that would be the worst thing that they could do is to junk what they're doing on defense."
It will be a strong test for Anae's offense right out of the blocks, but should be a good indicator of how that unit may fare for the remainder of the season.

Comments