Armstrong breaks UVA record for TD passes, leads Hoos to first ACC win, 16-9, at Georgia Tech
By Scott Ratcliffe
Despite turning the ball over four times, Virginia held on for a 16-9 win over Georgia Tech in Atlanta Thursday night, as Brennan Armstrong set the school record for touchdown passes in the process.
The Cavaliers (3-4, 1-3 ACC) not only gave first-year head coach Tony Elliott his first conference win, but also snapped a few losing skids, ending a five-game ACC drought dating back to 2021, and prevailing on the road for the first time in over a year as well, breaking another five-game string.
Armstrong threw for 255 yards and a score, while also leading the team in rushing with 91 yards on 13 carries and another touchdown to lead the way.
The Yellow Jackets (3-4, 2-2) lost starting quarterback Jeff Sims in the first half to an ankle injury, and produced just 201 total yards (2.7 yards per play) and 13 first downs on the evening. Virginia's defense was solid, holding Tech to just 55 yards rushing and 146 through the air. The Hoos produced 8 sacks and 10 tackles for loss.
Tech had a chance to tie the game on its final offensive possession, but Virginia's Fentrell Cypress II broke up a pass intended for Malachi Carter on fourth down with less than two minutes left to seal the victory.
Virginia posted 410 yards of total offense (255 passing, 155 rushing). Dontayvion Wicks had a game-high 99 receiving yards and a touchdown, while Keytaon Thompson added 89 yards on 7 grabs.
UVA senior linebacker Nick Jackson had a monster night in his hometown, leading the Wahoo defense with a team-high 8 tackles (5 solo), a fumble recovery, a pair of sacks and two tackles for loss. Georgia Tech transfer Chico Bennett Jr. had a memorable return to Bobby Dodd Stadium as well, adding 7 stops (4 solo), 2 sacks and 2 tackles for loss.
FIRST QUARTER
UVA won the toss and deferred to the second half, and forced a Tech three-and-out and a punt on the game's opening possession.
The Hoos started with great field position, as Armstrong and the offense took over from their own 42-yard line. On a big third-and-2 just over two minutes into the game, Virginia's Perris Jones picked up a first down on a run up the gut for 11 yards, but coughed up the ball at the end of the play, and the Jackets recovered at their own 39.
Tech marched down the field looking for the game's first score, but the Wahoo defense came up with its first takeaway of the night instead. On third-and-goal from the UVA 8-yard line, Sims threw into the end zone trying to hook up with Malachi Carter, but Cypress was there to tip the ball in the air, and Coen King made a diving interception, giving Virginia the ball with 7:21 on the clock.
The momentum turned out to be short-lived, however, as two plays later, Armstrong's slant pass intended for Keytaon Thompson was deflected by Tech's Clayton Powell-Lee, and LaMiles Brooks snagged the ball and scored on a 37-yard interception return to give the Jackets a 6-0 lead with 6:51 left in the opening period (Gavin Stewart missed the extra point wide left).
A 31-yard toss to Lavel Davis Jr. jumpstarted Virginia's ensuing drive, as Thompson picked up 15 yards on a third-down conversion a few plays later to keep the chains moving.
K.J. Wallace was flagged for interference on Thompson, and then Thompson was interfered with again on the following play in the end zone, giving Virginia a first-and-goal at the GT 2. Three plays later, Armstrong took it in himself from a yard out, and Will Bettridge's point after made it 7-6 Hoos with 2:01 left.
When the Jackets got it back, Jackson spun Sims down for a 5-yard sack on third-and-8, on the final play of the quarter.
SECOND QUARTER
After a GT punt, Virginia avoided a quick three-and-out as Tech was called for roughing Armstrong, but he was then picked off for the second time in the half on the following play.
The Hoos came up with a stop on defense, however, and Virginia regained possession with 11:47 left in the half from its own 15, but punted after a short pass to Xavier Brown on third-and-long went nowhere. Georgia Tech couldn't get anything going though, and gave it right back.
Three plays later, Armstrong broke the school's touchdown record with a 44-yard toss to Wicks — his 57th career TD pass, jumping Matt Schaub on the all-time list — to extend the lead to 13-6 (Bettridge's extra-point try sailed right) with 7:24 until halftime. Wicks caught the ball at the 29-yard line along the sideline before spinning out of a tackle and making a few more dazzling moves on his way to the end zone.
Virginia held again on defense, and Billy Kemp IV had his longest punt return of the season (22 yards) to give the Cavaliers the ball at their own 45 with 4:36 until the break.
Brown rushed for 18 yards on the next play to get the ball into Jackets' territory, and then a few plays later on fourth-and-3 from the GT 30, Armstrong connected with Wicks for 6 yards to keep the drive alive as the clock went under two minutes.
Armstrong couldn't find Wicks on third down from the 22, and Bettridge's ensuing 39-yard field-goal attempt also missed to the right, and Tech took over with 1:16 to go.
Backup quarterback Zach Gibson, who replaced the injured Sims earlier in the period, led a 9-play, 70-yard scoring drive that resulted in a 35-yard Stewart field goal to cut Virginia's lead to 13-9 with 24 ticks left. The Hoos headed to the locker room with a lead, despite turning the ball over three times in the half.
THIRD QUARTER
Neither team could get much going out of the break. Armstrong completed a pass for 31 yards to Thompson on the first drive of the second half, but an illegal block in the back call on the Hoos brought it back 10 yards. A few plays later, Armstrong couldn't hook up with Thompson on third down, and Daniel Sparks came on to pin the Jackets at their own 5-yard line.
Tech quickly went three-and-out (its third of the night) and punted back, as Virginia was called for another illegal block in the back penalty on the return, its third flag in less than four minutes (3:51) to start the quarter. After the Cavalier offense picked up 16 yards, Sparks was back on for his second punt of the period.
Gibson put the ball on the turf on the third play of the ensuing drive, though, and Jackson was there to pounce on it at the Tech 9-yard line, leading to a 28-yard Bettridge field goal to stretch the UVA lead to 16-9 with 6:21 showing.
Armstrong found Wicks for another big gain of 37 yards when the Cavaliers got it back — after another three-and-out forced by the defense — to get back inside the red zone. On third-and-7 from the Tech 12, Armstrong's pass to Wicks was broken up, and Bettridge had a chance to make it a two-score affair, but his 29-yard attempt bounced off the right upright, and the Jackets took control deep in their own territory.
Tech's David Shanahan went on to punt for the eighth time of the evening just before the end of the quarter. UVA outgained the Jackets, 145-11, in the period.
FOURTH QUARTER
Virginia advanced down to the Tech 26-yard line, but Brown was dropped for a loss on third-and-2, and then Armstrong's fourth-down pass intended for Thompson was defended by Brooks, and the Hoos turned it over on downs with 13:30 to play, and it remained a one-score contest as the Jackets took over from their own 28.
Bennett combined with Paul Akere for a 10-yard sack of Gibson on third down three plays later, marking the sixth three-and-out and ninth punt forced by the Cavalier D in 12 Yellow Jacket drives up to that point.
UVA wasted another opportunity to capitalize on the lead, as Armstrong couldn't connect with Davis on third-and-9, and then Sparks' ensuing punt was blocked and the Jackets had the ball at the Virginia 36-yard line, by far their best starting field position of the game.
But Kam Butler came up with a huge sack on third down to kill the drive, Shanahan was back on for his 10th punt of the night, and the Cavaliers dodged a bullet, getting it back with 8:18 remaining at their own 9.
Two plays later, Armstrong took off for 43 yards to the Tech 48 to give the Hoos some breathing room, but then threw incomplete on third-and-5 from the 43, and Sparks' ensuing punt traveled to the GT 7-yard line at the 5:18 mark.
The Cavaliers forced yet another Shanahan punt but were flagged for leaping on the play and Tech kept possession, desperately trying to find a way to get close to the end zone in the waning moments.
On a crucial third-and-4 from Tech's 40, Gibson found Nate McCollum for 9 yards and a first down. The Jackets then had a 21-yard completion wiped out by an illegal touching penalty.
Jackson sacked Gibson for a 9-yard loss on third-and-2, bringing up the all-important fourth-down incompetion for Carter with 1:46 to play.
The Jackets got it back, having to go 80 yards in 36 seconds with no timeouts remaining, and despite allowing a first-down gain, the Hoos were able to escape with the win.
Game Stats
Scoring Summary
Virginia    7 6 3 0 — 16
Ga. Tech  6 3 0 0 — 9
First Quarter
GT (6:51) — LaMiles Brooks 37-yd interception return (kick failed). Georgia Tech 6, Virginia 0.
UVA (2:01) — Brennan Armstrong 1-yd run (Will Bettridge kick). Virginia 7, Georgia Tech 6.
Second Quarter
UVA (7:24) — Dontayvion Wicks 44-yd pass from Brennan Armstrong (kick failed). Virginia 13, Georgia Tech 6.
GT (0:24) — Gavin Stewart 35-yd field goal. Virginia 13, Georgia Tech 9.
Third Quarter
UVA (6:21) — Will Bettridge 28-yard field goal. Virginia 16, Georgia Tech 9.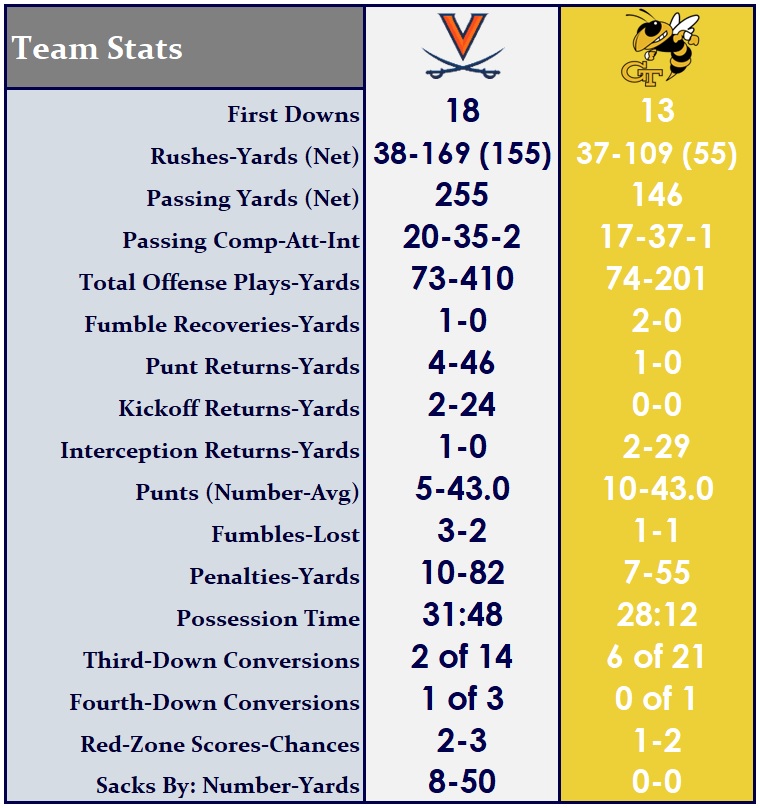 Player Stats
Rushing
UVA — B.Armstrong 13-91; X.Brown 12-44; P.Jones 10-17; K.Thompson 1-5; S.Bracey 1-(minus-1); TEAM 1-(minus-1). Total: 38-155. GT — H.Hall 12-42; D.Smith 9-33; M.Rutherford 1-4; J.Sims 3-1; Z.Gibson 12-(minus-25). Total: 37-55.
Receiving
UVA — D.Wicks 4-99; K.Thompson 7-89; L.Davis Jr. 1-31; G.Misch 4-28; X.Brown 4-8. Total: 20-255. GT — N.McCollum 5-62; M.Carter 4-43; H.Hall 4-37; M.Rutherford 2-4; D.Leonard 2-0. Total: 17-146.
Passing
UVA — B.Armstrong 20-35-255-1-2. Total: 20-35-255-1-2. GT — Z.Gibson 11-26-99-0-0; J.Sims 6-11-47-0-1. Total: 17-37-146-0-1.
Team Notes
Courtesy UVA Media Relations
Virginia took control of the all-time series against Georgia Tech, improving to 22-21-1 against the Yellow Jackets.
The Cavaliers picked up their first win at Bobby Dodd Stadium since 2008, dropping their previous five decisions.
UVA has won four of the last five games against the Yellow Jackets.
It marked only the second time in the 44-games between the two schools that Georgia Tech failed to reach double-digit points (UVA won 24-7 in Atlanta in 1994).
Virginia picked up its first road win of the season and first victory away from Charlottesville since winning at Louisville on Oct. 9, 2021, a span of five games.
The Cavaliers accumulated eight sacks, the second-most ever in a game in program history and the most since setting the school record with nine against Duke in 2006. UVA has recorded eight sacks in a game, four times, most recently in 1996 against Wake Forest.
The eight sacks are the most by an ACC team this season. Including UVA, only seven schools in the country have recorded eight or more sacks in a game this season.
UVA defense did not allow a first down in the third quarter and held Georgia Tech to 14 total yards in the third quarter on four drives (all 3-and-outs). It forced the Yellow Jackets to go 3-and-out on its first six possessions of the second half.
The Georgia Tech offense did not score in the second half, the first time a UVA opponent was held scoreless in the second half since blanking Duke in the final 30 minutes last season.
UVA blocked a punt on Georgia Tech's third possession of the game,Chayce Chalmersgot a hand on a David Shanahan attempt. It marked the first blocked punt for UVA since 2019 against Pitt.
The UVA defense held the Yellow Jackets to 202 yards of total offense (146 pass/55 rush), the fewest in a game since allowing 183 against William & Mary in 2021 and the fewest allowed to an FBS/ACC opponent since yielding 199 to Pitt in 2013.
Player Notes
Brennan Armstrongthrew his 57th touchdown pass of his career, a 44-yard catch and run by Dontayvion Wicks in the second quarter to break UVA's career touchdown record. He surpassed Matt Schaub, who threw for 56 touchdowns from 2000-03.
Both Schaub and Armstrong broke the UVA career TD record in their 38th game. Schaub broke Shawn Moore's then-record with a 52-yard strike to Heath Miller in the 2003 Continental Tire Bowl against Pitt.
Atlanta native Nick Jackson finished with a team-high eight tackles, recorded two sacks and recovered a fumble in the contest. It was his first ever multiple sack game and first fumble recovery of his career.
Jackson moved up to 14th place all-time on UVA's all-time career tackle list and now has 324 in his four seasons as a Cavalier.
Chico Bennett Jr., a transfer from Georgia Tech, also put together his first multi-outing sack of his career. He leads the team six on the season.
Paul Akere had a career-high two sacks and was responsible for four tackles, a season-high.
Michael Diatta recorded his first career sack and added another tackle for loss. He became the ninth Cavalier to record a sack on the season.
The first career interception by Coen King came on a deflected ball by Fentrell Cypress in the end zone.
Wicks had a season-high, 99 yards receiving on four catches. A total of 43 of his yards came after the catch. Wicks had two catches of 20 or more yards the 44-yard TD catch and a 37-yard catch in the third quarter. He has 34 catches of 20 or more yards, the most by any Cavalier receiver since 2000.
Armstrong accounted for 346 yards of total offense (255 passing, 91 rushing), his second highest output of the season. He rushed for his 18th career touchdown, one shy of fourth place on UVA's all-time list for quarterbacks.
Punter Daniel Sparks punted five times for 215 yards and had three punts downed inside the 20-yard line, a career-high.
Trey McDonald made his collegiate debut in the contest.
UP NEXT
The Hoos return to Charlottesville for four-straight home games, beginning with Miami next Saturday (Oct. 29) at 12:30 p.m. (ACC Regional Sports Networks).
Comments