Armstrong not concerned about smashing UVA's records, only winning, baby
By Jerry Ratcliffe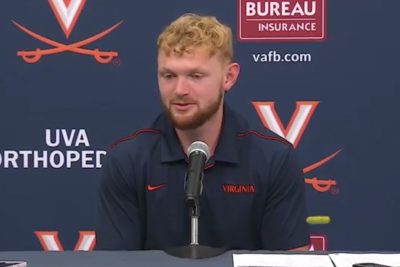 With 191 more yards, Brennan Armstrong will become Virginia's all-time career leader in total offense, leapfrogging Bryce Perkins. Six more touchdown passes, and he'll vault past Matt Schaub for first place in Wahoo history.
More UVA records are within Armstrong's grasp, but those numbers aren't on the Cavaliers quarterback's mind. The only numbers he's focused on are the number of wins he can collect.
"Wins are going to get you whatever those records are," Armstrong said this week as he prepared for Saturday's season-opener against visiting Richmond. "Just going out there and playing as hard as I can, being a quarterback that distributes the ball well.
"Just being at a high completion percentage, getting the ball out quickly, getting those guys moving, letting the guys make the plays once the ball is out. That's just my job and that's all I'm really going to be focusing on this entire season."
One of the facets missing from Virginia football has been a reliable running attack, something Tony Elliott hopes to change this season, although the Cavaliers will have to do so with an offensive line that has little game experience and with running backs with even less. Still, Armstrong believes the ground game is coming and it will make a difference in his passing game.
"When you run the ball, you can keep the defense honest," the veteran quarterback said. "Everyone talks about our receivers, which obviously they're great, but when we're able to run the ball, keep those linebackers tucked in a little bit more, it gives [the receivers] a little bit more space to operate.
"If a defense knows we're going to be passing it all the time, they can easily adjust, but the run will open up the pass game, make it easier. Under center, play-action stuff, all that good stuff, man, that stuff's wide-open for us."
Last season, under former offensive coordinator Robert Anae, 73 percent of UVA's play calls were passes, and while Armstrong lit up defenses across the ACC, the Cavaliers could only finish with a 6-6 record. Armstrong recently pointed out an old coaches' axiom, that passing numbers usually equate to losing numbers.
While he led the nation in passing yardage for most of the season, it did not put Virginia in the win column very often.
Because of a lack of a potent running game, Armstrong rarely had the benefit of using play-action to free up his receivers. Linebackers could drop into coverage or put pressure on Armstrong, who still managed to display amazing accuracy while out of the pocket or under blitz conditions.
In fact, the southpaw became one of three quarterbacks in NCAA history to throw for 4,400 yards in 11 games or less, while setting an ACC record with 404.5 yards per game. No other quarterback in league history averaged more than 350 yards per game in a season.
He will be surrounded by perhaps the most elite receiving corps in UVA history with proven targets such as Dontayvion Wicks, Keytaon Thompson, Billy Kemp IV and Lavel Davis Jr., who missed last season with a torn ACL.
Armstrong is eager to have Davis back in the mix, remembering all the damage Davis did to secondaries two seasons ago as a freshman.
"Oh, man, it's been great [having Davis back]," Armstrong said. "Are you kidding me? Add another [proven] receiver in there. Lavel has come a long way. Just having him back in the mix, having been a threat before.
"Just having him on the field for a defense to see, and it's 'Hey, how are we going to play this guy?' Shoot, there are three other guys out there, too, so I feel like defenses are going to have to either take away somebody, not take away somebody and try to play everybody even, or whether they're going to roll to the field or cover the boundary. Whatever they decide, we're going to figure it out and that just makes us harder to guard, so it's great he's back out there and rolling at 100 percent."
Armstrong was right. If the Cavaliers can mount any kind of efficient running game and give his fleet of receivers any extra time to gain separation, wins should come and records will fall.
Just try and stop it.