Baseball: ACC Tournament pairings set; UVA to play Georgia Tech Wednesday, UNC Thursday
Courtesy UVA Media Relations/The Atlantic Coast Conference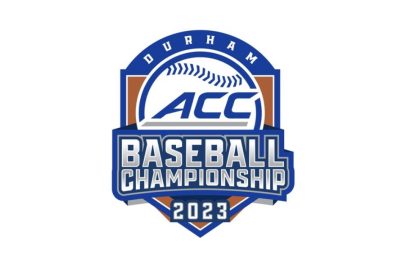 Virginia, the No. 2 overall seed in the upcoming ACC Tournament in Durham, will play 11th-seeded Georgia Tech on Wednesday and seventh seeded North Carolina on Thursday in Pool B play. First pitch for both games is scheduled for 3 p.m.
Both games will be televised on ACC Network and can be heard locally in Charlottesville on WINA (98.9 FM/1070 AM) or anywhere on WINA.com.
UVA ACC Tournament Schedule
Wednesday, May 24 vs. Georgia Tech – 3 p.m. (UVA away team)
Thursday, May 25 vs. North Carolina – 3 p.m.  (UVA home team)
All games will be played at the Durham Bulls Athletic Park. The Championship will feature a pool-play format, leading into a four-team, single-elimination bracket to determine the league champion.
Each team in the four pools will play one game against each of the other two opponents in its pool Tuesday through Friday. The four teams with the best records within their respective pools will advance to Saturday's semifinals, with the winners playing on Sunday in the ACC Championship Game.
Game times Tuesday through Friday are set for 11 a.m., 3 p.m. and 7 p.m. Saturday's semifinals are scheduled for 1 p.m. and 5 p.m., while Sunday's championship will begin at noon.
If the teams are tied at the completion of pool play, the team with the highest seed in the respective pool will advance.
The four pool winners will play on Saturday at 1 p.m. and 5 p.m., with the winners advancing to the ACC Championship game on Sunday at noon.
Tickets are now available at DurhamBulls.com or by calling the Durham Bulls Box Office at 919-956-BULL (2855). Please see here for the direct link to online ticket sales.
ACC Network will carry each of the pool play games Tuesday through Friday, in addition to both of Saturday's semifinals. Sunday's championship is scheduled for a noon start and will be carried nationally by ESPN2.
Additionally, each game will air live on Sirius XM ACC Radio channel 371.
Eight ACC baseball teams are ranked among the top 30 of the latest NCAA RPI, including three among the top 10 with No. 1 Wake Forest followed by No. 7 Clemson and No. 9 Virginia. No. 14 Boston College, No. 18 Miami and No. 19 Duke follow to give the conference six among the top 20, with NC State at No. 26 and North Carolina at No. 29.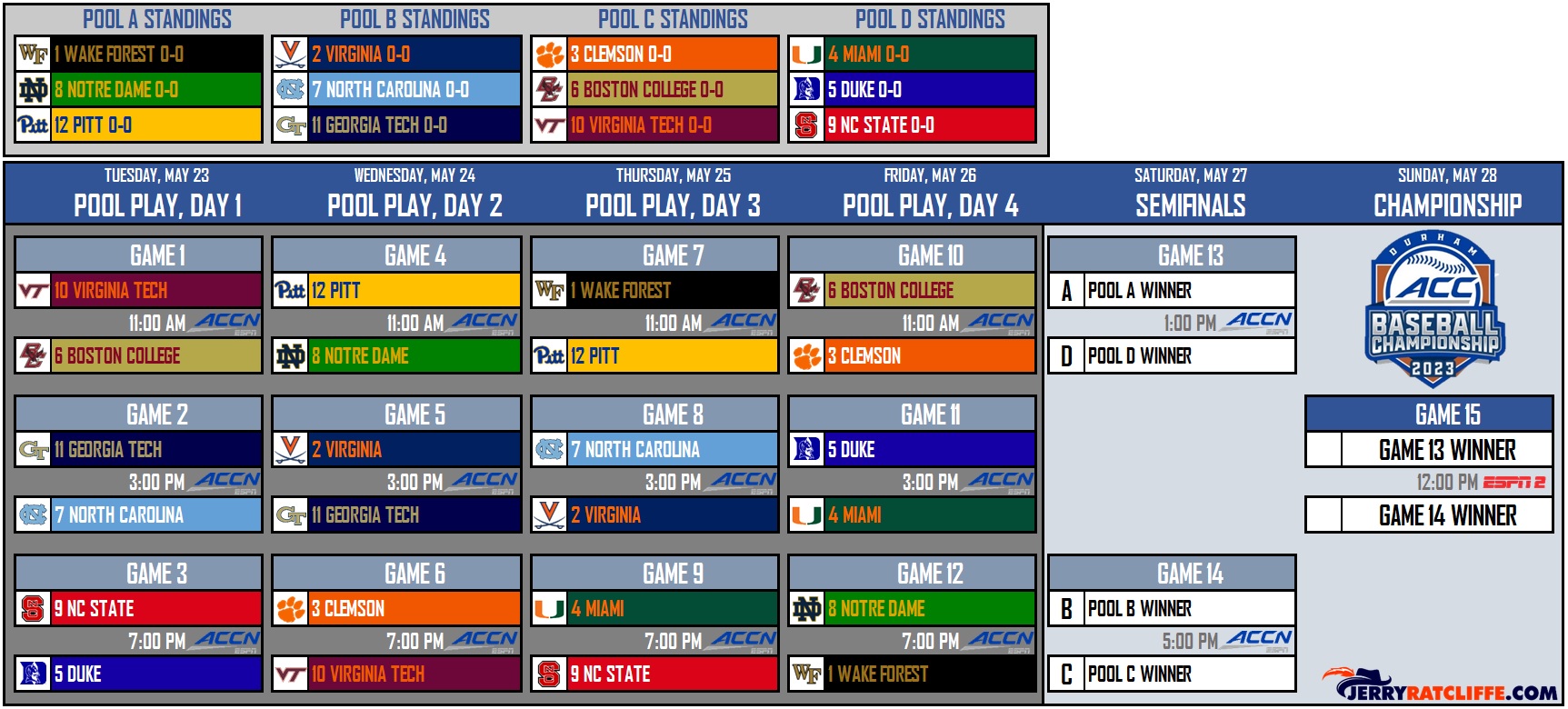 2023 ACC BASEBALL CHAMPIONSHIP SCHEDULE
Tuesday, May 23
No. 10 Virginia Tech vs. No. 6 Boston College, 11 a.m. (ACC Network)
No. 11 Georgia Tech vs. No. 7 North Carolina, 3 p.m. (ACC Network)
No. 9 NC State vs. No. 5 Duke, 7 p.m. (ACC Network)
Wednesday, May 24
No. 12 Pitt vs. No. 8 Notre Dame, 11 a.m. (ACC Network)
No. 2 Virginia vs. No. 11 Georgia Tech, 3 p.m. (ACC Network)
No. 3 Clemson vs. No. 10 Virginia Tech, 7 p.m. (ACC Network)
Thursday, May 25
No. 1 Wake Forest vs. No. 12 Pitt, 11 a.m. (ACC Network)
No. 7 North Carolina vs. No. 2 Virginia, 3 p.m. (ACC Network)
No. 4 Miami vs. No. 9 NC State, 7 p.m. (ACC Network)
Friday, May 26
No. 6 Boston College vs. No. 3 Clemson, 11 a.m. (ACC Network)
No. 5 Duke vs. No. 4 Miami, 3 p.m. (ACC Network)
No. 8 Notre Dame vs. No. 1 Wake Forest, 7 p.m. (ACC Network)
Saturday, May 27
Pool A Winner vs. Pool D Winner, 1 p.m. (ACC Network)
Pool B Winner vs. Pool C Winner, 5 p.m. (ACC Network)
Sunday, May 28
ACC Championship, Noon (ESPN2)