Bennett blows his top over Alexander's controversial involvement on call
By Jerry Ratcliffe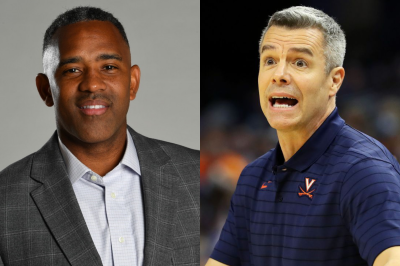 The biggest question in Wahoo Nation this weekend is whether Virginia coach Tony Bennett and former Cavalier player Cory Alexander, an analyst for ESPN and the ACC Network, have smoked the peace pipe after Friday night's brouhaha.
In a rare show of emotion, Bennett exploded on Alexander in the final minute of UVA's 73-70 victory over Florida in the Hall of Fame Classic played in Charlotte. The Cavaliers led the Gators 71-69 with 59.4 seconds to play when UVA freshman Blake Buchanan and Florida's Walter Clayton scrambled for the ball, which sailed out of bounds.
Officials had to go to the replay monitor to decide which team would be awarded possession and gave it to Virginia, ruling the ball went off Clayton. Before the game restarted, officials approached the sideline to the ACC Network's area, where Alexander showed them his TV monitor.
Lee Cassell was about to hand the ball to UVA's Andrew Rohde so play could resume, but stopped when official Pat Adams approached, and the two officials looked over to Alexander.
According to a transcript from the TV broadcast, Alexander said: "I got a great …" as he gestured for the officials to take a look. "We're going to have our officials look at this again," he said, flipping his monitor for the approaching game officials.
"Yeah, we've got a much better view on this one," Alexander said.
Cassell had asked the TV crew if they got the call correct, prompting Alexander to tell them they got it wrong.
After a long review, the officials reversed their decision and awarded the ball to Florida, enraging Bennett, who had to be restrained by his staff and players.
Bennett yelled at Alexander, "That's on you. You can't do that."
Alexander said on air: "TB's upset with me on this one because I told them. Tony Bennett is now yelling at me from across the court for allowing the officials to know, but the basketball goes out, it's the right play on the floor.
"I'll take that one, that's on me."
Bennett, who has been called for only one technical foul in 15 seasons at Virginia, was livid.
Ryan Dunn actually pulled his coach back to the sideline in an attempt to settle Bennett down.
"I probably lost my cool a little bit when that call was reversed and what I thought I saw, but it was interesting," Bennett said in his postgame. "Ryan was like, 'Next play, next play.' It's nice when the players are telling you. Usually, you're telling them that. I wasn't ready to move on. I needed a little more time.
"We'll get to the bottom of it and we'll figue out what happened," Bennett said. "I thought we had the ball, but it's all good."
According to reports, UVA associate head coach Ron Sanchez was spotted talking with Alexander after the game, and that Bennett and Alexander texted later.
Bennett clearly felt it was inappropriate for a media member to influence a game.