Bennett not ready to declare this his best defensive team; ACC Power Poll included
EDITOR'S NOTE: Today's piece kicks off our new weekly ACC Power Poll, with our four expert panelists rating the league's 15 teams. Beginning with next week's poll, brought to you by our friends at Riverside Lunch, it will be accompanied by Ratcliffe's Scattershooting around the ACC, an insider's look at the league you love.
By Jerry Ratcliffe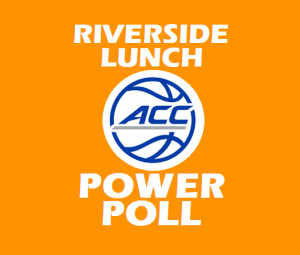 While national analytics would leave fans to believe that the present Virginia basketball team is playing perhaps the best defense of any previous Tony Bennett team, the Cavaliers' head coach begs to differ.
Statistical guru Ken Pomeroy (kenpom.com), which ranks UVA No. 25 nationally overall, rates the Wahoos the No. 1 defensive team in America as Bennett takes his team to Boston College tonight. While the coach demands excellence on that side of the court, he's not ready to pronounce this team his best in that category.
"It's too hard to say if this is one of our best defensive teams, too early to say," Bennett said. "I'm not concerned with analytics at this point. That would be drawing a conclusion too soon."
While getting senior Braxton Key back into the lineup has certainly strengthened that part of UVA's game, the Cavaliers still have to face the meat of their schedule. Virginia is 3-0 in ACC play with early wins over Syracuse and North Carolina, and last Saturday's triumph over Virginia Tech, but it's all conference games from here on out and Bennett knows his team will be tested.
"This team doesn't have as many options (defensively) as some past teams," Bennett said.
For example, while Mamadi Diakite and Kihei Clark are excellent defensive players, UVA has had to rely on freshman Casey Morsell as one of its lock-down performers on defense, along with Key.
"What they do, the players change but the culture stays the same," said Boston College coach Jim Christian, whose Eagles own a 2-1 ACC record going into the game (wins at Notre Dame and over Wake Forest, and a lopsided loss at Duke). "Their defensive efforts have been unbelievable at times. Teams are executing but still finding it difficult to score."
Virginia is by far the national leader in scoring defense. The Cavaliers are giving up an average of only 46.7 points per game after 13 games.
The closest pursuer in that category? Liberty, coached by former UVA associate head coach Ritchie McKay, at 51.8. Yes, McKay also uses the "Pack-Line" defense that is Virginia's foundation.
Christian knows that beating the defending national champion is no easy task, even though the Cavaliers have dropped games to Purdue and South Carolina thus far.
"We're not Purdue or South Carolina," Christian said. "We don't have that type of size. Everybody has bad games. Maybe [Virginia] didn't play as well or as aggressively as they could have played. If you look at what has happened [with UVA] since that [South Carolina] loss, it's not the same ball team. That swagger is back."
Certainly the swagger was evident in last Saturday's outing when the Cavaliers pulverized visiting Virginia Tech, 65-39, the largest margin of victory in the series against the Hokies since 1955. Tech came into John Paul Jones Arena as one of the nation's best 3-point shooting teams that had a solid handle on the basketball.
The Hokies exited after turning the ball over 13 times and shooting 27 percent overall in the game, only 16 percent from the 3-point line (4 of 25), leaving new Tech coach Mike Young scratching his head for answers.
"You've got to make shots against Virginia," Christian said. "If you get shots, you have to shoot the ball well. You have to guard them. They're a better offensive team than people give them credit for. You know they're not going to beat themselves. For me, it's fun to watch them."
Bennett has been impressed with what he has seen in BC, noting that the Eagles have some experience in graduate transfer Derryck Thornton, a 6-3 guard from Southern Cal. One of the Eagles' top performers, 6-11 senior Nik Popovic, has been injured and has not practiced, and is due to visit the doctor today (status unclear for tonight's game).
"Jim always runs some good stuff offensively," Bennett said. "Defensively, I'm not sure if Nik's going to play or not. They do some good things with pressure. They have some nice athleticism. The addition of Derryck has helped them. They went on the road against Notre Dame and won. I'm sure they'll be ready."

Comments