Bennett: Now That He's Tasted A Title, He Wants To Do It Again
By Jerry Ratcliffe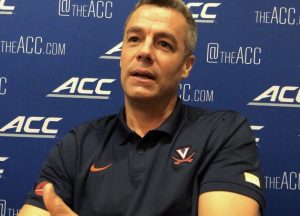 CHARLOTTE — In Octobers past, Tony Bennett would visit the city where he made an NBA team, the place he met his wife, the scene of perhaps his most disappointing moment as a coach, but also somewhere that he dreamed about taking Virginia back to college basketball's apex.
He never failed to talk about that fire in his belly to get the program back to the Final Four. He also always reminded us that if it never happened, he could handle it because he refused to allow such shortcomings to define him as a coach or a person.
Tuesday morning was a much different October visit to the Queen City for the UVA coach at the annual ACC Operation Basketball media event. This was a triumphant return with not only a Final Four pennant in tow, but a shiny national championship trophy.
Mission accomplished.
Media types were curious. He always insisted it wouldn't change him and urged his players in an inspiring talk — before they left the championship locker room in Minneapolis — to not allow the title to change them either.
Anyone who knows Bennett is keenly aware that a championship isn't going to change who he is, what he's about. But how has it impacted his life, his job?
"There's a lot of excitement in Charlottesville," said Bennett, wearing a Virginia blue coaching shirt with a golden patch on the sleeve that signified a national championship. "You're a little more noticed."
Anyone who knows Bennett is also keenly aware that he shuns the spotlight, the attention. Being noticed is not his thing.
"Sometimes a hat and sunglasses work and sometimes they don't," the UVA coach chuckled. "I think you have to be intentional about putting up guard rails and just enjoy your life and keep it as simple as you can. A few more pictures and autographs, and things like that, but it doesn't change a whole lot."
Having won the title, is the pressure off? Does he feel vindicated? He received criticism in pockets of the country for not having accomplished a lot during the madness of March. 
"I use the proverb that 'a desire accomplished is sweet to the soul,'" Bennett said while surrounded by cameras, recorders and media normally reserved for the ACC's Hall of Famers — Krzyzewski, Williams, Boeheim.
"Winning a national championship … I didn't know if I ever would, and I desperately wanted to, I wanted to get to the Final Four," he said. "I wanted to be one of the only second father-son coaching duos (to reach the Final Four, joining the Thompsons of Georgetown). That was a little challenge to myself. I wanted to do that so I could tell my dad, 'Shut up.'"
That last line was in jest and followed by a round of laughter around the Bennett media crowd.
"I wanted these guys to experience it," he said.
After all, UVA had done about everything else in his decade of coaching in Charlottesville; No. 1 seeds, Elite Eights. The only thing left was to make it to the ultimate stage.
"I desperately wanted that," Bennett said. "It was burning hot."
Reaching the Final Four, then winning the whole shebang, particularly in the dramatic style in game after game, gave college basketball fans one thriller-diller after another.
So now that the trophy rests in John Paul Jones Arena, where the national championship banner has been hoisted to the rafters, just how does Virginia's coach feel now, heading into his 11th year, having taken the program to where it had never been?
"Now that I've tasted it, I desperately would love to build a team to do that again if possible," Bennett confessed. "I don't now if it's this year. You never know year to year … or in following years. That's all still there. And I stand pat about what I've said in the past, that if it doesn't happen, I'm still OK, because I still love the game."
Don't think for a second that Bennett has mellowed and allows things to slip through the cracks. He admitted that he's been harder on this bunch than most of his previous teams. He's still a coach who insists in doing everything the right way.
"Even though I just won a championship, I still really get mad at our players in practice," Bennett said. "It's like, 'Dang, we've got to open up at Syracuse,' and 'We're not ready.' And you feel, 'Uh oh.' You just live in the moment and feel those things."
Virginia will be the first defending national champion to open its season on the road since John Wooden's 1969 UCLA squad.
If you think that has grabbed Bennett's attention, you'd be right. Boeheim's Syracuse program doesn't give a rip that UVA won the natty. They would like nothing more than to hand the Cavaliers a loss right out of the gate.
That's what drives Bennett. He's not accustomed to losing (six losses over the past two seasons combined), and even though he has a relatively new team in many ways, the thought of losing is not acceptable. 
Tony Bennett change? C'mon man. Ain't gonna happen.
That fire in his belly hasn't gone away.

Comments