Bennett questions team's toughness again as Virginia drops third straight game
By Jerry Ratcliffe
After dropping a third straight game for the first time in more than a year, and watching a 15-game home winning streak vanish against N.C. State on Wednesday night, Tony Bennett again questioned his team's toughness.
Virginia, which has dropped a full game in the ACC standings into second place behind Florida State, held the lead for a mere 48 seconds in a 68-61 defeat. The Wolfpack, sitting in 10th place in the conference, dominated the Cavaliers with physical play and won the battle of the paint, 30-16, in addition to making 23 of 28 free throws in the upset.
UVA was an 11-point favorite by oddsmakers, who are probably as baffled by the Cavaliers' drop in performance over the past 10 days as Wahoo fans.
"This one hurt because [State] was (more physical) at times," Bennett said after watching Virginia drop to 15-6 overall and 11-4 in ACC play. "I thought we had some mental toughness in stretches, but in time we lost our way a little bit.
"One thing you must do is look in the mirror and say, 'am I being as physically tough and mentally sound and tough as I absolutely can be to give ourselves the best chance to be as good as we can be.'"
Virginia started slow, fell behind 17-4 midway through the first half and managed to fight bak to within 29-23 at the break. Sam Hauser, the team's leading scorer, heated up in the second half, scoring 19 of his team-high 21 points.
It wasn't enough.
The Cavaliers tied it at 31- and 33-all before taking a 35-33 lead on a pair of Jay Huff free throws with 14:21 to play. That lead was short-lived as State answered with an 8-0 run, and maintained a cushion until the final 36 seconds when a Huff and Hauser-led rally fell short.
State led by only 65-61 with 16 seconds to go, when Huff's length bothered a Wolfpack inbounds pass. Hauser's subsequent 3-pointer bounced off the rim and State locked it up at the free throw line.
With Wahoo fans reaching for the panic button, Bennett attempted to soothe his team's wounds.
"The message was don't hang your head," Bennett said. "You can't do that. The pillars in our program matter and you stay unified."
Earlier in the season Bennett delivered a similar message to his team when he drew a line and said, "this is what you think your maximum effort is, and you're trying to get to but there's a line above it and you got to somehow get to that because you're leading too much on the floor."
Virginia allowed State to shoot 45.5 percent for the game, with the Wolfpack controlling the paint the majority of the night.
While it was somewhat encouraging that both Hauser and Huff got off the schneid in terms of scoring, UVA's two leading scorers didn't get much help.
ACC teams have been smothering that duo along with Trey Murphy III, and forcing the Cavaliers backcourt to make up the difference, falling short in losses to Duke and Florida State.
In the loss to State, Hauser was 7 of 16 from the field, 5 of 11 from the arc and made both free throws for his 21 points, while Huff added 19 points on a 6 of 12 shooting performance (1 of 6 from the arc) and 6 of 6 at the foul line. Huff also added 11 rebounds and five blocks.
However, Murphy was covered up and held to only five shots and two points.
Other than Huff and Hauser, the rest of Virginia's team combined for a paltry 7 of 26 from the field and 1 of 8 from the arc.
It didn't help that another potential scorer, and possibly the answer for Virginia's offensive problems _ Tomas Woldetensae _ missed his second consecutive game due to Covid contact tracing. Bennett is hopeful to have him back for the Cavaliers' final home game of the season, Monday night against Miami.
"It was by no means a happy locker room," said Huff, "but we've been in bad situations before. I told the team after the game that my redshirt year we lost four in a row early on in the season and we ended up winning the ACC Tournament."
Still, the players are going to have to reexamine the physicalness of their games going forward into the last two regular season games and into the ACC Tournament in Greensboro next month.
"Not only physically, but I think mentally we've got to sharpen up and get tougher," Hauser said. "I think we've had some of the same type of lapses happen throughout the year in our losses, and they seem to keep coming up and repeating themselves. I think we do have to get physically tougher, but I think a lot of it starts with the mental side."
---
Team Notes
Virginia fell to 15-6, 11-4 ACC with its third consecutive loss
The loss ended the Cavaliers' 15-game winning streak at JPJ
The Cavaliers dropped to 9-1 at home (6-1 ACC)
A pair of free throws from Jay Huff gave UVA its first lead at 35-33 at 14:33 second half
Virginia gained its first tie (29-29) on a pair of 3-pointers from Sam Hauser to start the second half
The Cavaliers trailed 29-23 at halftime
UVA shot 37.1 percent, including 1 of 9 from 3-point range, in the first half
UVA started 2 of 13 from the floor and trailed 17-4 at 10:43 first half
UVA went 14 of 14 from the free throw line
NC State outrebounded Virginia 31-30
Series Notes
Virginia is 68-84 all-time vs. NC State in the series that dates back to 1912-13
UVA is 13-2 in their last 15 regular-season games against NC State
UVA defeated NC State 64-57 earlier this season
Tony Bennett is 14-4 vs. NC State as head coach at Virginia
Player Notes
Double Figure Scorers: Sam Hauser (21), Jay Huff (19), Kihei Clark (11)
Huff (11 rebounds) recorded his ninth career double-double
Huff has reached double figures in 16 games
Huff matched a career high with three steals
Huff (5 blocks) recorded his 16th multi-block game (43rd career)
Hauser has reached double figures in 19 games
Clark reached double figures for the 13th time
Tomas Woldetensae missed his second straight game due to contact tracing
---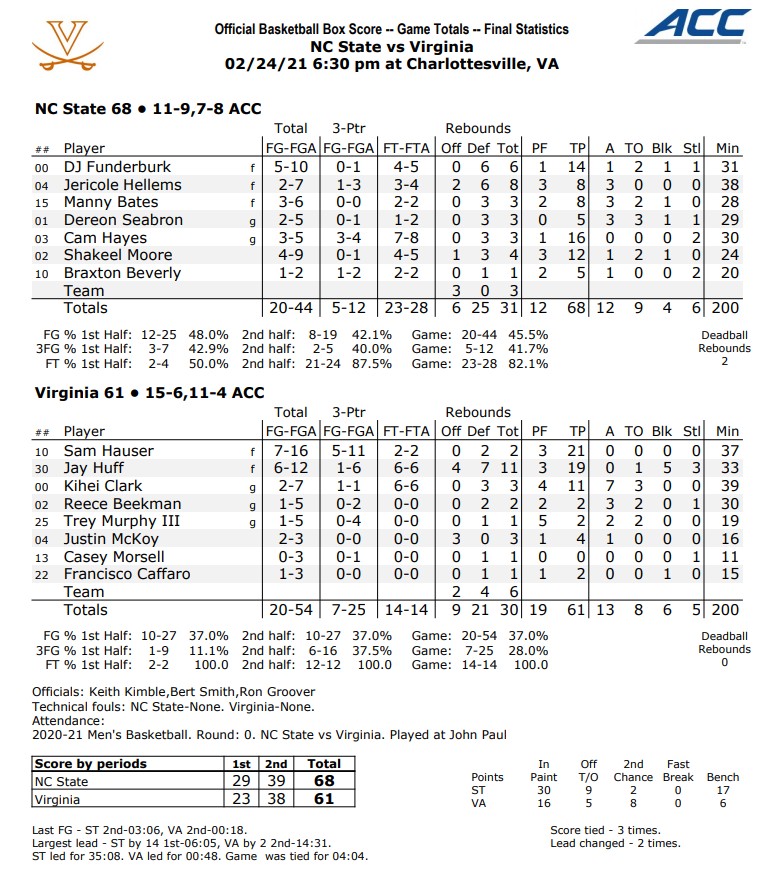 Support JerryRatcliffe.com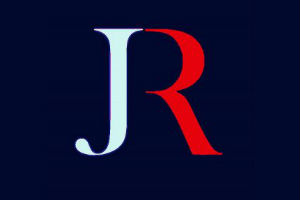 Make a one-time or recurring gift to support JerryRatcliffe.com online below. Your gift is not tax-deductible. Thank you for your support of JerryRatcliffe.com and the "Jerry Ratcliffe Show" podcast!