Bennett was last to know that he joined Holland with 300 UVA wins
By Jerry Ratcliffe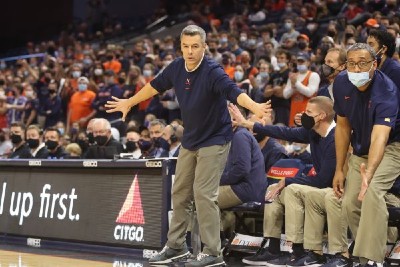 Tony Bennett has always admired Terry Holland, Virginia's all-time winningest men's basketball coach who retired in 1990. So when Bennett was told Friday night that he joined Holland as the only two coaches in program history to win 300 games, he was blown away.
Number 300 came with a 61-43 win over visiting Lehigh after the Cavaliers broke away from a 25-21 lead at the break and cruised to their fourth straight win after starting the season 1-2.
Bennett didn't know until his new radio play-by-play man John Freeman told him that a win would give him his 300th win. The UVA coach thought he had already posted No. 300 against Marshall some time back, until Freeman clarified it would be Bennett's 300th at UVA only. He has 369 wins over his entire coaching career.
"It's my 13th year (in Charlottesville) and I didn't even know that I joined Coach Holland," Bennett said. "Coach Holland is a legend and I love that man and what he's done for this institution. I don't even know how many he's won, I'm sure it's a ton."
Holland, who sat courtside with wife, Ann, to observe Bennett's milestone, compiled a record of 326-173 from 1974-90 at Virginia.
300 isn't the only thing the two legends have in common. They both built their winning programs with defense, rebounding and taking care of the basketball.
Bennett has 369 career wins as coach at Virginia and Washington State, but he ranks high in ACC annals for his achievements while in Charlottesville. He was the fourth-fastest coach in ACC history to reach 200 wins behind only Duke's Vic Bubas, Carolina's Dean Smith, and Holland. He was the second-fastest coach in ACC history to No. 250, behind only Roy Williams.
Bennett shares a great distinction with two of the storied league's most treasured names. Last season, Bennett joined Mike Krzyzewski and Smith as the only three coaches in ACC history to post 10 consecutive winning conference seasons.
Yeah, he's a three-time National Coach of the Year, but you'll never hear Bennett mutter anything about it. He's a humble guy who leans on the Five Pillars introduced to him as a younger man under his coach/father Dick Bennett up in the frozen tundra of Wisconsin.
Other coaches, like Lehigh's Brett Reed, will tell you what it means to their profession to have a guy like Tony Bennett to be one of the faces of their sport.
When mention of Bennett's 300th win as the Cavaliers coach popped up during Reed's postgame media chat, the Mountain Hawks coach found a little victim humor in the moment.
"I'd rather have him get against somebody else," Reed cracked.
"But he's a high-character, high-class individual. I couldn't be any more happier for him. I think it's good for the game of college basketball to have somebody who has a lot of personal integrity and values that he seems to demonstrate, that his teams seem to embody. I think college basketball can celebrate somebody as good as he is to have success on the court."
Bennett, in his aw-shucks style, credited his past and present players and coaching staffs. An avid reader, he mentioned a book in which the main character always had a stock answer for when people asked him how he was doing.
"The guy's response was always, 'Better than I deserve,'" Bennett said. "The chance to have been here as long as I have (13 years), and the things that have happened and transpired here are better than I deserve. I know that and I'm grateful for just being here and getting to coach."
He brought the school its only national championship in 2019 and two of its three ACC Tournament titles.
The old coaches will tell you that sometimes they don't remember all the wins, all the success, but rather the losses that eat at them long after they've retired. They still sting.
Bennett had an interesting observation about wins and losses and how he hopes to deal with those over time.
"I told our guys I'm hoping I'm becoming the coach that I always wanted to be, where losses don't crush and destroy you and wins don't consume you," Bennett said.
"I challenged our guys, and it's a challenge to me to coach them in the right way and celebrate when they're giving an all-out effort, when their attitude is at their best, no matter their role, and their effort is at a high level.
"If they do that and I can celebrate that, well that's the culture I want, because when they do that and we don't have a good result, (and someone could say) 'That's not good enough,' then you're shaming them, and that doesn't work."
Bennett said he has been thinking about what it means to him as a coach — because he said he fails often to coach them and have them play with great joy and great freedom and a competitive spirit that's undeniable — and not be consumed by outcome. That's the coach he wants to become, and many would present a strong case that he already has become that coach.
"But to answer the question, what do I remember more (wins or losses)? You know probably the older you get, the losses, they kind of stay with you," Bennett said. "You feel some of those more."
Then he paused for a second, and realized that out of those 405 total games at Virginia, he had done pretty darn good.
"But I do have some pretty good memories of wins here," he lit up the room with a smile. "The older I get when I'm done coaching, I'll be like, 'Hey, I didn't lose any games. I'll just remember all the wins."
Number 300 will accumulate a lot of dust between now and when that day comes. There will be a lot more to celebrate.
Support JerryRatcliffe.com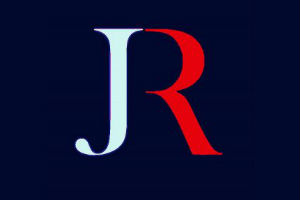 Make a one-time or recurring gift to support JerryRatcliffe.com online below. Your gift is not tax-deductible. Thank you for your support of JerryRatcliffe.com and the "Jerry Ratcliffe Show" podcast!