Bliss commits to Virginia over Miami, Villanova, Xavier
By Jerry Ratcliffe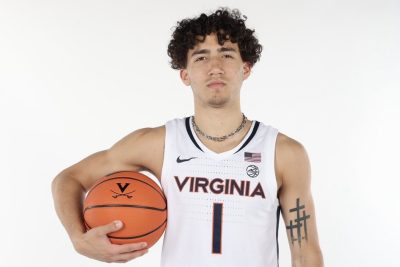 Christian Bliss is a Wahoo!
The 4-star point guard, Virginia's top recruiting target in the 2024 class, announced today that he has committed to Tony Bennett's UVA program. Bliss, who plays at George School in Newtown, Pa., chose the Cavaliers over Xavier, Villanova and Miami.
"I chose UVA because I believe in the vision the coaching staff has for the program and myself," Bliss told Joe Tipton of On3.com. "I want to be around a group of people that will help prepare me for the next level and life. And most importantly to bring home a national championship."
Tipton asked Bliss what kind of player Virginia is getting with him and Bliss answered: "I am a leader who is always willing to sacrifice for the team's success. I'm a versatile playmaker that can really do it all on both sides of the floor."
In addition, Bliss sent a message to Wahoo Nation via Tipton: "My message to UVA fans is you are getting a winner and a high character person, who is hungry to get better."
View this post on Instagram
Bliss, who started his basketball career as an eighth grader at Arch Bishop Malloy prior to ending up at George School, is s 6-foot-4 point guard who is rated the No. 72 overall prospect in the nation for his recruiting class (by On3). He plays for the PSA Cardinals on the Nike EYBL Circuit, same as former Virginia star Ty Jerome played, where Bliss is presently averaging 9.6 points, 4.1 rebounds and 5.1 assists per game. He is rated by On3 as the No. 11 point guard in the country in the '24 recruiting class.
"I have a great relationship with the [Virginia] coaches," Bliss said. "Coach Tony Bennett played in the NBA himself as a point guard, so he's someone I could learn a lot from. Just the way they develop guards like myself is something I really like about them a lot."
Originally from Queens, N.Y., Bliss had time to spend with former UVA point guard Ty Jerome, now a member of the NBA's Golden State Warriors, during Bliss' official visit to Virginia last week.
It was then that Jerome apparently convinced Bliss that UVA was the place he should select to play college basketball.
"I told [Bliss] that I can't think of a better place to come in somewhere and really get better," Jerome told JerryRatcliffe.com writer Scott Ratcliffe, who visited Jerome's youth basketball camp at Albemarle High School this week. "I can't think of a better place to come and grow as a person and a player."
Bliss has said that player development is the major deciding factor in choosing a school. He was impressed with the Virginia coaching staff's ability to do just that along with Cavaliers' strength coach Mike Curtis' record in developing players for the rigors of major college basketball in preparation for the NBA. Bliss also liked how UVA players develop in the classroom and as individuals in agreement to Bennett's "Five Pillars" philosophy on life.