Bronco: early game vs. Hokies gives football hope, optimism, momentum
By Jerry Ratcliffe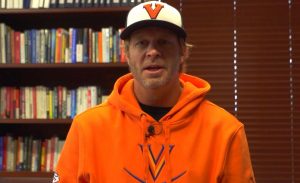 Life in the Virginia football bubble is monotonous at best, so when Bronco Mendenhall announced the upcoming football schedule to his team on Thursday, the players said that made the bubble easier.
UVA's football players have been in the safest bubble as possible since they reported back to Charlottesville on July 5. They have followed the protocols and have participated in voluntary workouts in anticipation of a season that is still up in the air.
As some FCS conferences have suspended their seasons, some FBS players have opted out of their seasons while others have protested their safety by boycotting or threatening to boycott practices, Virginia and its ACC colleagues are marching on. UVA's training camp optimistically opens on Monday.
"They're masking and social distancing, they're quarantining, they're staying inside," Mendenhall said in a video released to media on Friday. "Like all of us, they're wrestling and struggling with that to have something solid. The fact that some dates are actually in front of them to shoot for has been helpful."
Those dates were released by the ACC on Thursday morning as the Cavaliers gazed over their 11-game schedule, which is challenging to say the least.
"Our schedule that's been released for the 2020 football season is unique in about every possible way," Mendenhall said. "Starting on a Friday night (Sept. 11 at home vs. VMI), then playing Virginia Tech so soon (Sept. 19 in Blacksburg), and then having a schedule so kind of away and front-end loaded before we are able to come home (four of UVA's first six games are on the road), but also just the unique circumstances. So it'll be one of the most challenging schedules that I've ever had the chance to take on as a head coach with the quality of opponents week in and week out from beginning to end."
UVA has road games against the Hokies, Clemson, Miami, Florida State and Wake Forest, but has a favorable back-end of the schedule with four of its last five games at Scott Stadium: North Carolina, Louisville, Duke and Boston College.
The biggest date that immediately caught everyone's attention was the early-season game at Virginia Tech. Traditionally UVA's last regular-season game since 2000, this will be the earliest date the two rivals have met since 1987 (Sept. 19, third game on the schedule), which was Frank Beamer's first season at Tech.
"You know, playing the Virginia Tech game that early, I think maybe gives a sense of hope and optimism to our state, and maybe to college football," Mendenhall said. "If there is to be a season, we are going to play it having some of those games early on, I think was intentional and maybe adds some momentum to the season."
Mendenhall said he was pleased with the nonconference opener with nearby VMI.
"We didn't have spring practice but we're working as fast as we can to accelerate our program and get it ready for this season," Mendenhall said. "A nonconference game to start with seems to fit really well."
UVA will play six home games, five road contests, with no divisional play. The two teams with the best winning percentage at season's end will play for the ACC Championship.
"When you have as many road games as we have to begin with, to have some spacing in between in terms of bye weeks or a home game, even though the number of away games is disproportionate to begin with, schedules are always what they are," Mendenhall said. "Each team probably has strengths and weaknesses and things they like and don't like."
The Boss talks 2020 Schedule. #GoHoos pic.twitter.com/W31KLHcHFf

— Virginia Football (@UVAFootball) August 7, 2020

Comments