Bronco: home record is excellent, but that's not enough
By Jerry Ratcliffe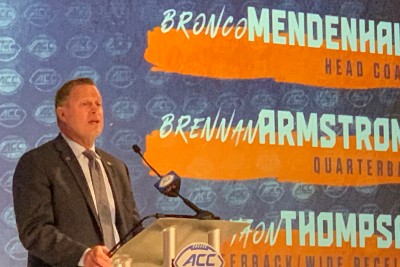 CHARLOTTE, N.C. Bronco Mendenhall learned a lot about the ACC in 2019 when his Cavaliers won the Coastal Division for the first time and played for the ACC Championship here in the Queen City.
One of the things he discovered was sort of a formula for winning the Coastal, which has had seven different champions over the last seven years of divisional play. UVA won all of its home games and claimed victory in two road contests that earned the Cavaliers the Coastal Crown.
"We were dominant at home, and beat not only Pitt, but also UNC on the road," Mendenhall pointed out during the annual ACC Football Kickoff. "That's about what the model has called for in the Coastal Division where you have to be excellent at home and at least 50 percent on the road."
Virginia has certainly been excellent at home over the past three years of the Mendenhall era. The Cavaliers are 17-2 at Scott Stadium since 2018.
UVA was 5-1 at home in '18, losing only to No. 23 Pitt. The Cavaliers' best home win that season was an upset over No. 16 Miami.
2019 was certainly the best home season with Virginia going unbeaten at home, 7-0, including a huge win over rival No. 23 Virginia Tech, a game that ended a long losing streak to the Hokies.
Even last season's abbreviated home schedule proved to be another success for the Cavaliers, who posted a 5-1 record at Scott. The only loss was to N.C. State after starting quarterback Brennan Armstrong suffered a concussion early in the game. UVA also surprised No. 15 North Carolina with an upset win.

While that is an eye-popping record at home over that span, it's not enough to satisfy Mendenhall. He acknowledged that while UVA has been almost unbeatable at home, he also pointed out that the Cavaliers are second-to-last in the ACC in road wins during his tenure.
"Our program has been built very intentionally to become dominant at home, then we have to expand and be exceptional on the road," Mendenhall said.
When he explained the formula of winning at home and 50 percent on the road, Mendenhall pointed out the shortcomings.
"We are currently not doing that," the UVA coach said. "That's the next level of expansion, to have consistency in our program, to maintain what we're already doing at home, which is very strong, then that has to travel and that hasn't yet. That's one of the areas of growth."
Support JerryRatcliffe.com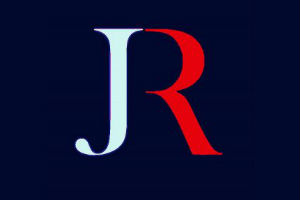 Make a one-time or recurring gift to support JerryRatcliffe.com online below. Your gift is not tax-deductible. Thank you for your support of JerryRatcliffe.com and the "Jerry Ratcliffe Show" podcast!