Bronco lights up the room in Orange Bowl presser while putting everything in perspective
By Jerry Ratcliffe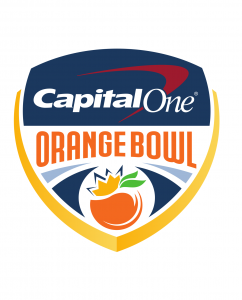 FORT LAUDERDALE, Fla. — Sunday morning's Orange Bowl press conference with the two head coaches couldn't have ended more appropriately when Virginia's Bronco Mendenhall was asked what a win in this game would mean for his program.
Mendenhall didn't have to think, or even blink. It was as if he had been waiting for days to be asked the question.
"The University of Virginia has one 10-win season in 130 years of football," Mendenhall said.
Nuff said. His reply was met with laughter throughout the room. Attendees weren't laughing at Virginia football — that had been well taken care of during the majority of those 130 years — but rather how succinctly Bronco explained his feelings on the topic.
Standing at 9-4, the Cavaliers are at the threshold of program history. A win over the 6th-ranked Gators, particularly on a New Year's Six stage would be significant. It would check another box for Bronco's ambitious plans to make UVA a player on the national scene.
Only George Welsh's 1989 team with Shawn & Herman, and so many others, reached the magic number of 10. Those Cavaliers were 10-3 and were ACC co-champions with Duke, a team they thoroughly dominated, 49-28.
Prior to that season, Virginia had won nine games only once, back in 1895, only the seventh year of football at UVA. The Cavaliers were 9-2, with the losses coming to then-Ivy League powerhouses Princeton and Penn.
A total of 91 years passed by until Welsh's team not only won nine games, but 10. Heck, only seven UVA football teams have ever won nine games, including the current one, hoping to make it a historic 10.
Mendenhall gave a lot of credit to his veteran players during the presser, praising their dedication and hard work in turning around a program that was in sad shape when he arrived from BYU.
"They deserve all the credit," the coach said. "I had them stand in the team meeting a few days ago before we left Charlottesville and each one that stood, they're the pioneers of this era of UVA football. 
"Yeah, they were part of 2-10. They were part of the first bowl game or going to the first bowl game anyone on our roster had been to when we played against Navy. They were part of the win versus South Carolina last year in that bowl game. Now they're part of the Orange Bowl."
Mendenhall had to chuckle, and lit up the room again when he said he had overhead those veterans tell the program's freshmen that it wasn't right that they were getting to start their careers with the Orange Bowl, while they started 2-10.
"There's a message that's being sent to [the first-years] like they're soft because they're not having to go through what [the upperclassmen] went through, but they're saying it in a teasing way, and in also like a self-confirming way that we've helped this to where you don't have to go through that phase," Mendenhall said.
The Cavaliers are arguably in the most challenging three-game stretch in program history, having been pummeled by defending national champion Clemson in the ACC Championship game a few weeks ago. The Tigers were ranked No. 3 in the nation and have now gone on to win 29 consecutive games, having beaten Ohio State in the College Football Playoff semifinals, and will face No. 1 LSU for the national title.
Virginia now faces Florida, a team that was perhaps one game away (Georgia) from making those playoffs and is a two-touchdown favorite over the Cavaliers on Monday night at Hard Rock Stadium.
The Cavaliers open next season against Georgia, another team that barely missed the playoffs, in the Chick-fil-A event that kicks off the college season in Atlanta's Mercedes Benz Stadium.
That's some big-boy football right there, something Mendenhall won't shy away from. In fact, he expanded that stretch to four games.
"Our past number of games — the victory over Virginia Tech (ending a 15-year losing streak to the state rival), and then playing in the ACC Championship, now playing in the Orange Bowl versus Florida, then opening versus Georgia — that is why I came to the University of Virginia," Mendenhall said. "That was intentional. The steps have been made methodically to get to this stage. We're learning, we're growing, we're developing, but we're also comparing and contrasting and learning with each of those games in what parts of our program still need attention, not only to be able to arrive and play in those games, but to win in them consistently."
He believes the more games like those that Virginia can play in, the faster the program accelerates so that at some point, a three-game or four-game stretch as aforementioned isn't a "wow moment," but rather normal.
We'll reserve judgment on just how good the present UVA team might be until after the Orange Bowl. Should the Cavaliers pull off the upset, though, and finish 10-3, they can legitimately stake a claim as the best team in Wahoo history.
The '89 squad faced more ranked teams, lost to defending national champion and No. 2-ranked Notre Dame in the Kickoff Classic at the Meadowlands, 36-13. They bounced back in the next game and stunned No. 12 Penn State, 14-6. It wasn't one of Paterno's better teams, but it was still Penn State in Happy Valley.
The Cavaliers lost to No. 15 Clemson, defeated No. 18 NC State and lost to No. 11 Illinois and QB Jeff George in the Florida Citrus Bowl (31-21), finishing No. 18 in the nation.
The Current Virginia squad will face four Top-25 teams by the end of Monday night, having lost at No. 10 Notre Dame, defeated No. 23 Virginia Tech, lost to No. 3 Clemson, and bracing for No. 6 Florida (AP poll).
What would it mean to Bronco and his players to win the Orange Bowl?
Everything.

Comments