Bronco not planning on another head coaching job after Virginia
By Jerry Ratcliffe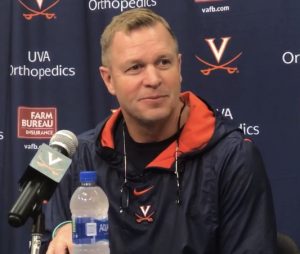 For Virginia fans concerned that Bronco Mendenhall might jump to another Power Five football job sometime in the future, it doesn't appear that is likely.
Mendenhall said in an interview with The Deseret News that he's not interested in coaching as long as former BYU great LaVell Edwards, who was head coach of the Cougars for 29 years, and that he doesn't see himself in another head coaching job after Virginia.
When Mendenhall was elevated to head coach at BYU, he was 39 years old. After 11 years as the program's leader in Provo, he's entering his fifth year at Virginia.
The longer he's in the business, he's disliking the direction college sports is trending.
"I've become less enamored with the world of college athletics as it moves to professionalism and commercialization and entertainment," Mendenhall said. "I'm an advocate of amateur sport and the development of young people through the game.
"I love the scholar-athlete model and I find myself in the minority more and more. I think college athletics is a great way to develop young people."
That being the case, don't expect Mendenhall to stick around as a head coach into his 70s. He's currently 54 years old.
"I'm not a lifetime head coach is the best way to say it. I don't have an interest," he said.
Would he likely move on to another head coaching job?
"It would be hard to imagine another coaching job after this one as a head coach," Mendenhall said.
That's just fine with Virginia fans. The Cavaliers program was in shambles when Mendenhall took over and UVA has improved each year in his first four seasons.
Last year, the Wahoos went 9-5, won their first ACC Coastal Division title, played national powerhouse Clemson in the ACC Championship game, and lost a well-played game to No. 6 Florida in the Orange Bowl.
Comments