Bronco: Running back race tightens as candidates run more 'violent'
By Jerry Ratcliffe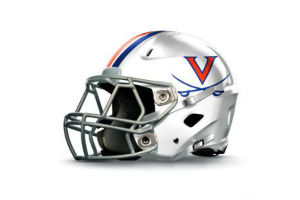 The last time we talked to Bronco Mendenhall about Virginia's running backs, the Cavaliers were on the verge of opening spring practice.
A week from UVA's spring game, we checked with Mendenhall about how the running back competition was going. In a previous story, we pointed out how for the past three seasons, the Cavaliers leading rusher has been a quarterback: Brennan Armstrong last season, and Bryce Perkins the previous two seasons. Jordan Ellis was technically UVA's leading rusher one of those Perkins' seasons, however if one would remove Perkins' yards lost due to quarterback sacks (which in reality should be a passing statistic), Perkins would have been the leading rusher.
In that first interview of the spring, Mendenhall said that returning starting tailback Wayne Taulapapa had essentially obliterated all competition among running backs in offseason workouts. Those workouts mainly consist of strength and conditioning, which is entirely different than on the field practice with live hitting.
How much has changed in spring drills?
"The competition is bringing out the best in our run game," Mendenhall said. "Our traditional run game is more violent, more productive and more physical than I've seen it, at least in my time here," Mendenhall said.
That's a noteworthy statement by the head coach, who is in his sixth year at the helm of the Cavaliers. No one has wanted a reliable running game more than Mendenhall over that span, because a strong running game makes the offense click better than ever and opens up the passing game.
He often had that at BYU in 11 seasons before coming to UVA.
"We have deception runs, we have creative runs, we have quarterbacks runs, and we have traditional runs," Mendenhall said.
There is fierce competition between Taulapapa, Mike Hollins and Ronnie Walker Jr..
"All are running more violently, more productively and more urgently because of the competition," Mendenhall said.
Taulapapa still is the leader of the running backs corps, relying on his starting experience and the offseason edge he created. Still, Mendenhall said that it is essentially "dead even" right now between those three backs, and that even true freshman Amaad Foston, a 6-0, 210 product of Milledgeville, Ga. Foston arrived mid year and is already showing a lot of promise.
"Competition really makes you a good coach," Mendenhall said, "so the competition is bringing out the best in our run game."
Taulapapa finished with 395 yards rushing last season and scored five touchdowns. For his career, he has posted 884 yards rushing in 30 games, averaging 4.2 yards per carry. He also has scored 17 touchdowns.
Walker, who formerly played at Indiana, didn't have his transfer waiver approved by the NCAA until October, but he still managed to appear in five UVA games. He rushed for 20 yards against Louisville on five carries, 36 more vs. Abilene Christian and 10 vs. Boston College. Previously, he appeared in 22 games for the Hoosiers and rushed 59 times for 221 yards and two touchdowns, while catching 12 passes for 112 yards and another score.
Hollins, from Baton Rouge, La., is intriguing in that he came to UVA with a strong reputation from his high school career, where he was considered the best running back in Louisiana.
He played in 12 of UVA's 14 games as a true freshman in 2019, much of it on special teams, but scored a touchdown on his first career rush against William & Mary (nine yards). He had 78 yards in that game on 11 carries and scored twice.
Hollins opted out of the 2020 season due to concerns of the Covid-19 virus.
Foston had huge numbers in high school during his career in Georgia.
Virginia fans have to like Mendehall's usage of words "violent and urgency," when it comes to describing the Cavaliers running game this season.
He already said that he has more quality backs than any other time in his time at UVA, and don't forget that Armstrong is back along with dual-threat backup Keytaon Thompson and Ira Armstead, giving the Cavaliers all sorts of deceptive tools in terms of quarterback runs.
Comments