Bronco: There's a sense of urgency to fix defense before Friday night's Wake game
By Jerry Ratcliffe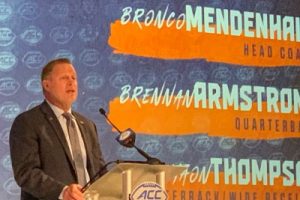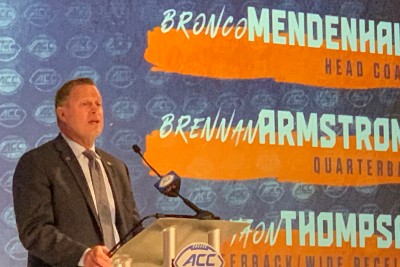 Virginia went back to work on Monday trying to figure out how to bounce back from a 59-39 whooping at North Carolina last Saturday night, a game where the Tar Heels put up 699 yards of total offense.
Bronco Mendenhall is a defensive-oriented coach and expects a lot from that side of the ball. Watching game film over the weekend must have been a nightmare. Missed tackles, blown assignments, players misaligned, tons of yards after contact, must have been torture for Mendenhall, who was his own defensive coordinator when he arrived in Charlottesville, before turning over those duties to Nick Howell and Kelly Poppinga.
Mendenhall takes all losses personally, but one with such monumental numbers like 59 points and 699 yards, has to sting.
"They certainly leave scars no matter what," Mendenhall said Monday during his press conference. "Man, when I used to be the defensive coordinator and the head coach, wow, that would have been double trouble.
"So really the role that I have now, when I'm advising and helping direct everything, it hurts every bit as bad. Not quite as bad as if I was actually calling the plays. I expect and am used to dominant defenses and them being the strength of our team. So yeah, it doesn't sit well."
Mendenhall isn't known for his patience when it comes to such deficiencies on his football team, so being so defensive minded, would such a poor performance prompt him to interject himself more into the defensive preparation heading into this week against Wake Forest?
"No, it doesn't," the coach said. "I don't ever overestimate or underestimate one game, and I don't let a single mark get in the way of objectivity. I just work as hard as I can to do my job for our offense, for our defense, for our special teams, for our whole team at the highest level I can, and I make sure my expectations are clear for everyone on my staff."
Clearly that last part of his statement was clearly aimed at his defensive coaching staff.
Mendenhall said after the game Saturday night that he had overestimated his defense after two wins over William & Mary and Illinois, that he was stunned that any team could put up essentially 700 yards of offense on his squad and that the halftime defensive adjustments UVA had made simply didn't work.
After reviewing the game, his view hadn't changed. He thought the effort was good, the competitive spirit, but it stopped there.
"Execution was very inconsistent and poor at best, and lack of assignments and just basically being where we need to be frequently or infrequently led to just lots and lots and lots of yards, plays, points. We can certainly do a better job preparing our players to give them their best chance."
The Tar Heels rushed for 392 yards, getting huge chunks of yardage after contact as UVA's tackling was sloppy at best. UNC's players were delighted in taking it to Virginia after Cavaliers defensive end Mandy Alonso questioned Carolina's toughness.
Running back Ty Chandler, who set a career high with 198 yards rushing and two touchdowns, gave Alonso an assist because of the game-week statements.
"We used it as motivation all week," Chandler said. "But I think we'll let them settle that one out and handle that and discuss it amongst themselves. We controlled the line of scrimmage and it paid off."
The Tar Heels began the game without three of their starters on the offensive line: right tackle Jordan Tucker, center Brian Anderson and left guard Joshua Ezeudu, who were nicked up with injuries. Still, they manhandled Virginia's front seven for the most part all night long.
Starting out 0-1 in the Coastal Division certainly isn't what Mendenhall was hoping for, but believes his team can learn and improve from the experience. First, the Cavaliers will have to put the lopsided defeat behind them and then move on, in a short week, to take on a sneaky good Wake Forest team that popped into the AP Top 25 with its win over FSU.
Asked what he sensed from his team, whether they were angry, eager to get back, humbled, down in confidence, Mendenhall answered all of the above.
"There are individuals even within a strong side that might not have performed to their capability, and so I think it's probably the full range. But we did go to UNC and at halftime we expected that kind of game. We didn't know what the score would be, but we battled really hard.
"We were resilient and fought back after kind of an overwhelming start and resettle dat halftime and really believed we'd come out and battle right until the very end, just did not execute well enough, especially defensively, and then we turned the ball over and those kind of things in that type of game allowed them to pull away."
Whatever adjustments or simplifications the defensive staff must make, it will be in a shorter period of time due to the Friday night game. Certainly one of the points of emphasis will be limiting big plays, something that ruined Virginia's 2020 season.
"Yeah, it has to be first just because that's where points are occurring," Mendenhall said. "Those are correctable things. Our focus had been there in the offseason, and again, apparent the first couple of weeks. But you have to execute those things well also.
"Points are everything, and what gives up points is the priority, and big plays have to be targeted. As you pull that thread, there are schematic things and/or technique things that usually are the contribution, not just personnel. So we have a number of things to fix that way as well."
Mendenhall said in some ways a short week to turn things around is better because there is a true sense of urgency. Lots of things were exposed on the defensive side of things, and it is truly urgent that those warts are taken care of.
"If anything, it was just playing outside of their technique and outside of their scheme and outside of their assignments, maybe because they wanted to win too much," Mendenhall said. "That's not the right way to say it. Because they were motivated at a really high level, they were going outside of what was really necessary and expected, and a lot of times that was the cause of the problem. Almost trying to do too much, I guess is a better way to say it."
Virginia, which has lost the last two meetings with Wake Forest, opened as a 4-point home favorite over the Deacons. The Cavaliers have won 19 of their last 21 home contests.
Support JerryRatcliffe.com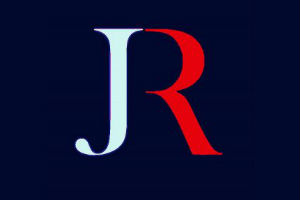 Make a one-time or recurring gift to support JerryRatcliffe.com online below. Your gift is not tax-deductible. Thank you for your support of JerryRatcliffe.com and the "Jerry Ratcliffe Show" podcast!