Bronco: UVA football practice without a football? What gives?
By Jerry Ratcliffe
Bronco Mendenhall isn't sure when Virginia's football players will be allowed to return to Charlottesville, even though the NCAA cleared the way for a possible June 1 restart of sorts.
Mendenhall said Thursday during a videoconference with media that the state of Virginia, CDC, and even the UVA guidelines will dictate when the Cavaliers can come back for football-related activity. Presently, that wouldn't be June 1, although that could change.
As of this week, somewhere between six and 10 UVA football players are in town. It should be noted that Florida State reported that nearly 40 of its football players and 20 football staff members were tested for Covid-19 at the school's student-health center in anticipation of resuming football activity sometime next month.
Should the Cavaliers be cleared for a return sometime in June, Mendenhall and his staff will be ready to hit the ground running.
"I've thought about it a lot," Mendenhall said. "I stay up at night thinking about it and trying just to redesign this."
The coach pointed out that the NCAA's chief medical officer, Dr. Brian Hainline, has recommended that teams not share the ball for four weeks. Hainline, by the way, was the top adviser to the NCAA to shut down the conference and NCAA basketball tournaments. He is also the same guy who recently said, "I can't imagine a scenario this fall where you have 100,000 people in a stadium."
The fact that you're going to conduct football practice without a football is a concept that Mendenhall and the rest of his coaching cohorts can hardly imagine.
"I don't know how you play football without sharing the ball," Mendenhall said. "So that's just one small little component. The passing game is really hard when you can't deliver the ball to anyone else, and so those subtle but impactful decisions are rapid throughout the entire predictive phase, which is where we are right now.
"It seems like that new and better data continues to come in by the day, and my hope is that by the time we allow our players to return that we have the very best, most current and best protocols and data in place to allow them to be safe."
Certainly such a return could vary from state to state, and the ACC is comprised of schools in 10 states that could possibly cause a staggered re-opening of football players returning to their respective schools unless the NCAA comes up with an official restart date.
"Anyone providing [football-related staff such as strength coaches, nutritionists, trainers, medical] it's invaluable," Mendenhall said. "Anyone that's providing that certainly could have an advantage."
He went on to point out that it remains to be seen whether it's safe to return early.
"If June 1 is some magical date where the data has now supported people coming back, it might work just the other way. Where are those people coming from? Early might then mean having to stop, regroup and hold because it's too early. All things being equal, if all circumstances are healthy and we're allowed to [return], it's great to have our team back and the more motivated teams train like crazy in the voluntary setting.
"That's the biggest question right now that I think each state is wrestling and each institution is wrestling with and relying on the medical community to help us on whether it's appropriate to come back yet."
Mendenhall said he is in on meetings almost every day concerning possible returns and that he hasn't found any consistency yet because of new dynamics and new problems. Questions must be answered in terms of housing athletes, meals, how to keep them safe, practice, workouts, weight training and more. He said every scenario possible is being considered by UVA.
Virginia's coaching staff conducts eight hours of meetings (via videoconferencing) a week with players — two hours per day. Incoming recruits can participate as long as they have finished their high school coursework. Graduate transfers can participate if they have actually graduated from their previous institution. In this case, Ronnie Walker Jr. (Indiana) can participate but quarterback Keytaon (Mississippi State) cannot until he finishes a class in mid-June.
Walker, originally from Hopewell, Va., transferred to UVA after dropping to third on Indiana's depth chart at running back. He had a stellar career at Hopewell and is hoping a change of scenery reignites his chances for playing time.
Walker has graduated and is hoping to gain a waiver so that he begin his two years of remaining eligibility immediately.
"He's in the waiver process right now," Mendenhall said. "I think he has submitted his version to our compliance officers, they then review it and then pass it on to the NCAA. At some point, the NCAA reviews it and determines whether he'll have immediate eligibility for this season or whether he'll sit this year."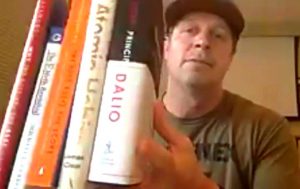 Other than recruiting and sitting up at night imagining schedules when his players return, what fills up Bronco's spare time during this shutdown? He eagerly shared his routine.
"Up until the rain (Charlottesville has had daily rainstorms for several days now), I've been out in my arena roping with my boys every night," Mendenhall said. "Usually about 6:30 until 8."
He joked he's had more practice at team roping than he's had in his entire life.
Mendenhall has also been reading. He pointed out to 20 books on his desk, more than he can possibly read, he said.
FRIDAY: Mendenhall talks UVA football recruiting A to Z.

Comments