Bronco: Where Else Would We Rather Be; 'Thrilled Is How I'd Describe It'

By Jerry Ratcliffe
There is little question that No. 3 Clemson is going to try and "boat race" Virginia in Saturday's ACC Championship game. That's just who the Tigers are.
Only one of Clemson's dozen opponents this season have scored more than seven points against the Tigers in the first half. The defending national champions focus on imposing their will, while breaking their opponents in the first half. In this season's lone exception, Mack Brown's North Carolina team was tied with Clemson, 14-14 at the half, and came within a failed two-point conversion gamble of pulling off the unthinkable.
Here's the evidence, halftime scores this season for the 12-0 Tigers: Clemson 28, Georgia Tech 0; Clemson 17, Texas A&M 3; Clemson 17, Syracuse 6; Clemson 38, Charlotte 3; Clemson 14, UNC 14; Clemson 28, Florida State 0; Clemson 17, Louisville 3; Clemson 38, BC 7; Clemson 42, Wofford 0; Clemson 42, NC State 0; Clemson 31, Wake Forest 3; Clemson 24, South Carolina 3.
What this reveals is that if 28-point underdog Virginia has any desire of making this a game, it needs to hang tough in the first half.
"I think it is important," Bronco Mendenhall said this week. "Our game against Virginia Tech, the first couple of scores we had offensively just really signaled that we were ready, capable and able to play on that stage at that time, in that game.
"It reflected our mindset. I would think that would be similar. Starting fast, having some success to begin the game certainly then makes the same kind of statement — not only to our opponent, but to our own team."
The coaches have made that a point of emphasis to Virginia's players, and quarterback Bryce Perkins — the ACC's runner-up as both ACC Player of the Year and Offensive Player of the Year to Clemson running back Travis Etienne — definitely got the message.
"It's really important because we can't let [Clemson's] ball get rolling," Perkins said. "Once that momentum goes, they feed off it, so we've got to stop it in its tracks and impose our will. We have to come out with the mentality that we're not going to lay down just because they're Clemson and defending national champions."
Defensive end Mandy Alonso, who strip-sacked Virginia Tech quarterback Hendon Hooker in the end zone last Friday, followed by Eli Hanback's recovery of the fumble in the end zone for a touchdown, is on the same page as Perkins.
"The coaches are talking to us about [Clemson] likes to come out and throw the first punch because they like to go up early, like 21-0 at the end of the first quarter," Alonso said. "Our main mentality is to stop them in the first and second quarter and play football from there. If we get a hot start on defense that would be the perfect game."
Certainly that won't be easy. Clemson's defense hasn't allowed a touchdown in the last nine quarters. It held Wake Forest to five first downs for the entire game, South Carolina only nine. The Tigers have held all 12 opponents this season to less than 300 yards total offense.
Offensively, Clemson owns a 35.2-points scoring margin over opponents and hasn't lost to an ACC opponent it the last 21 encounters within the league, a streak dating back to October of 2017 against Georgia Tech.
Mendenhall recognizes the task at hand, but isn't afraid.
"Oh, I love, love, love challenge and doing hard stuff," Mendenhall said. "This is just the next thing for this program to take on. We're talking about a team that has won the national championship two of the last three years and 27 straight wins.
"This is the pinnacle or one of the pinnacle programs in college football. As we're building, ascending, man, where else would we rather be? And, we've earned the chance to be there. Thrilled is how I'd describe it."
Will being a four-touchdown underdog allow the Cavaliers to play free and loose? Mendenhall doesn't want to acknowledge any of the perceived negatives, but rather frame the challenge as what his team can gain. He realizes everyone the Tigers have played this season, and perhaps even beyond, has been in virtually the same boat as UVA.
"The progress we've made in four years hasn't been in relation to anything we could lose, but what we could gain by doing," Mendenhall said. "The next stage keeps getting bigger and better."
He also realizes that while Virginia is playing for an ACC Championship, something the Cavaliers have never had an opportunity to do since the league began divisional play in 2005, that Clemson has much more at stake.
The Tigers are hoping to gain a spot in the College Football Playoffs, which goes to the top four teams in the country, so that they can have a chance to repeat. That means with the selection committee's collective eyes watching the results, Clemson needs to be impressive.
"For Clemson, or any team in the playoff, it's not only do they win their conference championship, style points matter, right?" Mendenhall posed. "How much can they score? How big a margin? There's a committee that chooses on not only outcome but how was the outcome achieved.
"Clemson certainly has to win the conference championship game by beating Virginia. How they win it will also be relative to them. We're still going to play the game. Our main focus is the conference championship. Maybe that's an advantage."
Maybe. Maybe enough to not allow the Tigers to boat race.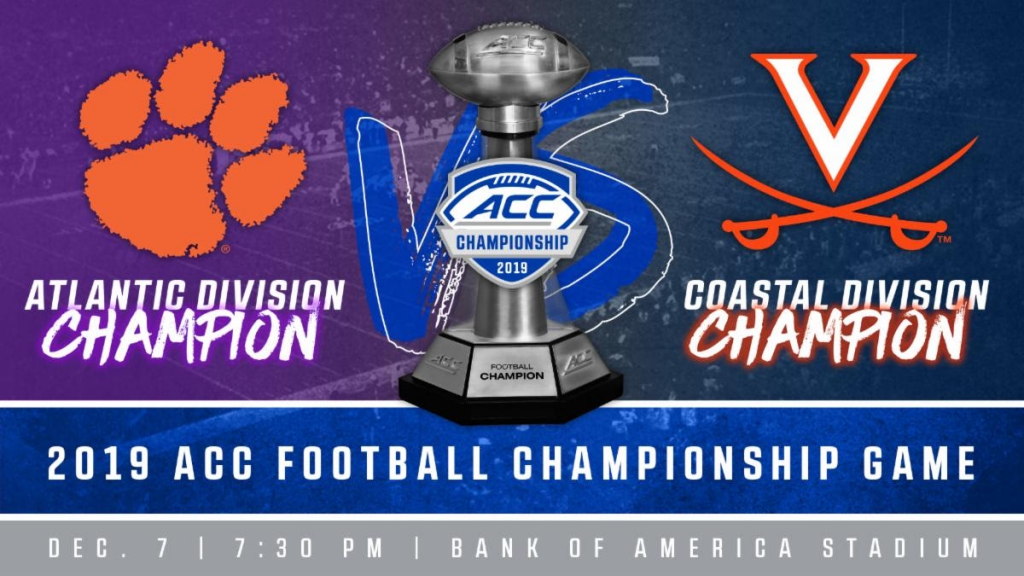 Comments