Cavaliers' 3-point game allows them to hold off Orange
By Kenneth Cross
JerryRatcliffe.com Correspondent
The No. 11 Virginia Cavaliers assumed a 22-point lead at 57-35 over Syracuse when Virginia guard Isaac McKneely scored on a 3-pointer from Reece Beekman with 11:41 remaining in Saturday evening's 73-66 win over the Orange.
However, the Cavaliers would not score again on a field goal until 2:40 remained, when a Beekman 3 off the left wing gave Virginia a 64-50 lead. 
Virginia had gone 0 for 11 from the field with one turnover in that 9:01 span. 
The clutch shots and free throws by Beekman allowed Virginia to survive some tenuous moments, while the Orange cut the 22-point margin to a 57-48 Virginia advantage with 4:50 to go.
Virginia guard Armaan Franklin made three of his four 3-point field goals with immediacy as Virginia built what was an important 11-2 advantage with 17:33 to play in the first half. 
"When you play against their zone, you can't just live and die by the three, but you have to live a little bit by the three or maybe more than a little," said Virginia coach Tony Bennett. "You have to make threes."
Virginia posted 12 of 26 triples, and the Cavaliers registered one more 3 than their 11-of-27 mark from inside the arc.
The Cavaliers only average 7.2 made triples per game, which is 222nd in college basketball, as they only post 19.2 attempts per game (293rd). The numbers aren't surprising, as Virginia is not an offensive dynamo that spreads the floor and looks for the deep ball on multiple possessions.
McKneely equaled Franklin's four 3s, as he made two off the bench to begin his assertion into the game in the first half.
"You have to get it into the high post," noted Bennett. "You've got to get it down low, and they do a good job when they get it right near the rim."
Virginia did well in navigating the Syracuse zone, as Beekman and Ben Vander Plas posted two each in joining Franklin and McNeely with multiple triples.
"This is one of your favorite weeks to come into, knowing that you have good teammates that can work well inside the high post," said Franklin. "They find you when you get off the ball into the middle."
Franklin noted that shooting practice was key with Syracuse coming in with their zone defensive structure.
Meanwhile, as McKneely's four triples equaled his season high from earlier in the campaign against Monmouth, he noted that Bennett wanted him to be more aggressive in finding his own shots.
"He knows he can shoot the ball and we all know what he can do," explained Franklin. "It's a matter of just stepping up and not passing up those shots."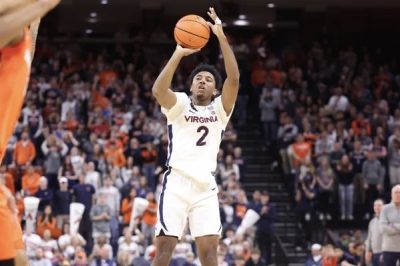 Syracuse guard Joseph Girard had his own 3-point barrage, as he made 5 of 9 triples in leading the Orange to cut the Virginia lead to 64-56 with a pair as the latter came with 2:15 to play.
From there, Beekman picked his game up from the free-throw line as he made 5 of 6 in the final 1:18.
"I didn't think we penetrated it off the dribble well," noted Bennett. "Those guys make, for the most part, some really nice decisions when they got to the high post or looked at things, and we will sometimes put Reece in there."
The Cavaliers assisted 22 of 23 made shots, as Kihei Clark dished out 11 assists with only three turnovers in 32 minutes.
Virginia outscored Syracuse, 19-4, off the fast break, which is a huge number for the Cavaliers, and it pumps confidence into players to be able to create and use their offensive skills.
"We had a little trouble finishing in transition, even when we had numbers that were so nice," commented Bennett. "You get offensive rebounds, keeping balls alive, getting to the line, and anything in transition that shoots as you have to against the zone."
Franklin led five Cavaliers in double figures with 16 points while Girard led all scorers with 19 and Judah Mintz added 18.