Cavaliers advance to Kurtz Cup semifinals for second straight year
Courtesy UVA Media Relations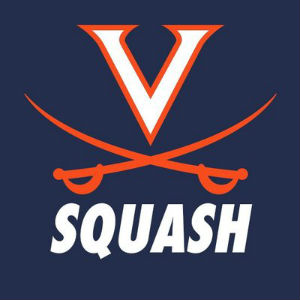 The second-seeded Virginia women's squash team defeated seventh-seeded Middlebury, 9-0, in the opening round of the Kurtz Cup, the B division of the College Squash Association Team Championships, on Friday at Yale's Brady Squash Center in New Haven, Conn.
Sophomore Emma Jinks captured the first point of the match, defeating Ideal Dowling, 11-3, 11-4, 11-2, at the top of the order. Freshman Julia Curran followed with an 11-7, 11-7, 11-2 win against Anne Glassie in position seven.
Junior Emily Woodworth topped position six, 4-11, 11-1, 11-4, 11-5, against Natasha Lowitt, while freshman Grace Seymour went 11-2, 12-10, 11-4 against Mira Chugh in position eight. Freshman Maria Paula Moya defeated Virginia Schaus in position two for the deciding point, going 11-5, 10-12, 11-9, 11-4 for the victory.
The Cavaliers (15-6) also recorded wins from senior Julia Thompson in position five, senior Sarah Doss in position nine, freshman Sydney Maxwell in position three and sophomore Mandy Haywood in position four.
With the win, Virginia advances to Saturday's semifinal match to face third-seeded Cornell. The two teams will compete at 3:30 p.m. at the Brady Squash Center.
Match Notes
Virginia advances to the semifinals for the second year in a row.
The Cavaliers are 6-0 against Middlebury (8-9) since becoming a varsity program in 2017.
Virginia recorded its fourth consecutive 9-0 win against the Panthers.
UVA will face Cornell for the second time this season after edging the Big Red in a neutral-site match, 5-4.
The Cavaliers and the Big Red are 2-2 all-time in the series.
Virginia 9, Middlebury 0
1. Emma Jinks (UVA) def. Ideal Dowling (MC) — 11-3, 11-4, 11-2
2. Maria Paula Moya (UVA) def. Virginia Schaus (MC) — 11-5, 10-12, 11-9, 11-4
3. Sydney Maxwell (UVA) def. Gwen Davis (MC) — 11-5, 11-3, 11-9
4. Mandy Haywood (UVA) def. Natalie Madden (MC) — 11-7, 11-8, 11-8
5. Julia Thompson (UVA) def. Caroline Arena (MC)  — 11-9, 11-9, 7-11, 11-7
6. Emily Woodworth (UVA) def. Natasha Lowitt (MC) — 4-11, 11-1, 11-4, 11-5
7. Julia Curran (UVA) def. Anne Glassie (MC) — 11-7, 11-7, 11-2
8. Grace Seymour (UVA) def. Mira Chugh (MC) — 11-2, 12-10, 11-4
9. Sarah Doss (UVA) def. Grace Santoro (MC) — 11-1, 11-0, 11-3
Exhibition: Tara Arya (UVA) def. Maya McDonough (MC) — 11-8, 11-7, 11-2
Order of Finish: 1, 7, 6, 8, 2, 5, 9, 3, 4

Comments