Cavaliers fight hard without several starters, but come up short against No. 17 UNC, 31-28
By Scott Ratcliffe
Redshirt freshman quarterback Drake Maye threw two second-half touchdown passes and ran for another in the first half to lead North Carolina to a 31-28 win over Virginia, in what was a back-and-forth affair Saturday at Scott Stadium.
The Cavaliers (3-6, 1-5) were without all three of their starting receivers — Keytaon Thompson, Dontayvion Wicks, Lavel Davis Jr. — along with starting running back Perris Jones. But guys like Sackett Wood Jr., Mike Hollins, Sean Wilson and Ronnie Walker Jr. kept the Wahoos in the 127th all-time meeting between the schools.
Wood posted a team-high 94 receiving yards on six catches, barely coming up short of what would have been his first career touchdown, while Hollins led the team with 75 yards rushing on 16 carries. Wilson added five grabs for 61 yards, while Walker rushed six times for 30 yards and a score. Freshman Xavier Brown tacked on a short touchdown run as well. Demick Starling made the most of his one reception, a 40-yarder down the sideline that set up the Wahoos' final touchdown.
But the valiant effort ultimately wasn't enough. The Tar Heels (8-1, 5-0) racked up 455 total yards on the afternoon (UVA was not far behind, with 418), and were able to stave off a late Cavalier rally and hang on for their fifth road victory of the season, as they're one win away from locking up the ACC's final Coastal Division title.
Virginia senior quarterback Brennan Armstrong became just the 15th player in ACC history to reach the 10,000-total yard plateau for his career, throwing for 232 yards (17 for 35, no touchdowns, one interception) and rushing for another 64 yards and a pair of touchdowns.
Armstrong's second score, a nifty 8-yard scramble that ended with him bowling over a couple of Carolina defenders and into the end zone, trimmed the Heels' lead to three with 3:24 to play.
Virginia head coach Tony Elliott had burnt his final timeout with 6:10 remaining, and UNC was able to run out the clock and escape.
After the game, Elliott revealed that Wicks suffered a bone bruise in practice and could miss some time, while Thompson and Davis were also banged up with undisclosed issues, but could be back on the field later in the week, and didn't think any of the injuries should be considered long-term.
FIRST QUARTER
The Cavaliers got on the board first, as Demick Starling's 34-yard return on the opening kickoff gave Armstrong and the offense favorable starting field position. Virginia marched down the field, utilizing a nice combination of running and passing, and Armstrong capped off the 9-play, 65-yard drive with a 4-yard touchdown run to give the Hoos a 7-0 advantage with 10:48 on the clock. Hollins set up the score with a tough 15-yard run.
UNC answered, as a Maye 26-yard carry gave the Heels a first-and-goal at UVA's 7-yard line, but senior linebacker Nick Jackson came up with a sack on third-and-goal from the 11. The Heels settled for a 35-yard Noah Burnette field goal, and the Hoos led 7-3 at the 6:32 mark.
UVA was on the move again until Armstrong was intercepted trying to connect with Luke Wentz over the middle, as the ball was deflected and picked off by Carolina defensive back Storm Duck.
SECOND QUARTER
UNC took its first lead midway through the second, as a questionable pass-interference call on UVA's Jonas Sanker kept the Heels' drive alive, after they had backed themselves up into what would've been a third-and-24 situation with a penalty.
A few plays later, Maye, who was 6 for 8 on the drive, was able to avoid another Jackson sack, as he reversed his field and trotted in for a touchdown to put Carolina ahead, 10-7, with 6:47 until halftime.
On Virginia's ensuing possession, a crucial Armstrong third-down run kept the chains moving, and put him over the 10,000-yard mark. He then picked up another first down on another nifty move with his feet into Carolina territory.
Wood hauled in a big 11-yard catch on third-and-8 giving Virginia a first-and-goal at the 3. Brown snuck into the end zone on the next play, as his first career touchdown gave the Hoos a 14-10 lead with 2:04 left in the half. UVA outgained the Tar Heels, 243-195, across the opening 30 minutes.
THIRD QUARTER
A 32-yard completion to Josh Downs advanced the Heels to the UVA 25-yard line out of the locker room, and then Elijah Green scored a few plays later on a 4-yard run, as Carolina went 75 yards in less than 3 minutes to go back in front, 17-14, with 12:05 left in the third.
On the following possession, UVA called its first timeout of the half with 10:16 left, just before Walker converted on a fourth-and-1 at the Carolina 46-yard line. Armstrong found Wilson for a 15-yard gain and a first down on a third-and-long, and then hit Wood for 33 yards down the same visitors' sideline on the next play. Wood laid out in full extension with both hands and dove for the end zone, but replay review determined that he was knocked out of bounds at the 1. Walker scooted in on the following snap, and UVA retook the lead, 21-17, with 7:49 showing.
The Heels responded quickly, moving the ball 71 yards in 3:36, as Maye placed a pass over the top of Sanker and into the Hands of Downs for a 19-yard score to make it 24-21 Carolina with 4:13 left in the quarter.
The Cavalier offense stalled on its next three possessions, gaining just 33 yards in 13 plays, and punted each time.
FOURTH QUARTER
After converting on a fourth-down attempt (its ninth in 11 tries so far this season), the Carolina offense was back in the end zone on the following play — a pass in the flat to Green, who took it 22 yards to the house to start the fourth quarter, giving the Heels a 10-point cushion with 13:19 remaining.
Starling decided to bring the kickoff out on the ensuing return but was gobbled up, and the Hoos' next drive started from their own 14. A holding penalty on Derek Devine brought it back even further to the 7. On third-and-11 from the Carolina 13, Armstrong couldn't find anyone open and tried to make something happen with his legs, but came up short of the marker. Virginia used its second timeout before punting the ball away with 11:25 left, as Elliott was visibly frustrated on the sideline.
Sophomore linebacker James Jackson came up with a sack (Virginia's fourth of the day) on the ensuing drive, and the Heels would punt it right back, with the Cavaliers still needing two scores in the final 7:40.
UVA went three-and-out, calling the final timeout with 6:10 to play before another Daniel Sparks punt. Downs almost broke loose on the return, but still managed to pick up 38 yards to the UVA 37, and one score could have essentially put the game in the books.
The Wahoo defense got a critical stop on third down with about five minutes to go, however, a moment where a timeout could have been a big help. The Heels went for it on fourth down, but this time, UVA held again, and Virginia had another crack at it with 4:23 on the clock at its own 29-yard line.
Armstrong led a quick 71-yard scoring drive in just 59 seconds, finishing it off himself to cut it to three with time winding down, but Brendan Farrell's ensuing onside kick was recovered by the Heels at the UVA 23-yard line with 3:19 to play.
On third-and-2 from the 15 a few plays later, there looked to be movement along the UNC offensive line prior to the snap, but Maye completed a 4-yard toss to Downs and no flags were on the field, and Carolina went into victory formation.
Maye finished the game completing 26 of his 37 attempts for 293 yards, 2 passing touchdowns and a rushing touchdown on 16 carries for 74 yards. Downs had a game-high 166 receiving yards on 15 catches, while Green had a game-high 91 rushing yards on 22 carries.
Game Stats
Scoring Summary
North Carolina 3 7 14 7 — 31
Virginia             7 7 7 7 — 28
First Quarter
UVA (10:48) — Brennan Armstrong 4-yard run (Will Bettridge kick). Virginia 7, North Carolina 0.
UNC (6:32) — Noah Burnette 35-yard field goal. Virginia 7, North Carolina 3.
Second Quarter
UNC (6:47) — Drake Maye 5-yard run (Noah Burnette kick). North Carolina 10, Virginia 7.
UVA (2:04) — Xavier Brown 3-yard run. (Will Bettridge kick). Virginia 14, North Carolina 10.
Third Quarter
UNC (12:05) — Elijah Green 4-yard run (Noah Burnette kick). North Carolina 17, Virginia 14
UVA (7:49) — Ronnie Walker Jr. 1-yard run. (Will Bettridge kick). Virginia 21, North Carolina 17.
UNC (4:13) — Josh Downs 19-yard pass from Drake Maye (Noah Burnette kick). North Carolina 24, Virginia 21.
Fourth Quarter
UNC (13:19) — Elijah Green 22-yard pass from Drake Maye (Noah Burnette kick). North Carolina 31, Virginia 21.
UVA (3:24) — Brennan Armstrong 8-yard run (Will Bettridge kick). North Carolina 31, Virginia 28.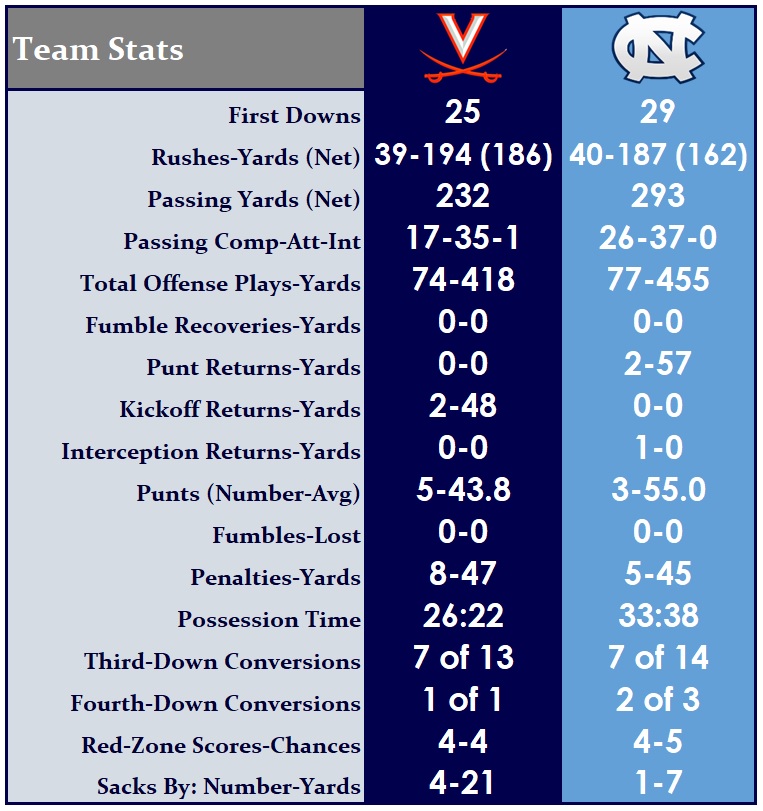 Player Stats
Rushing
UNC — E.Green 22-91; D.Maye 16-74; TEAM 2-(minus-3). Total: 40-162. UVA — M.Hollins 16-75; B.Armstrong 12-64; R.Walker Jr. 6-30; X.Brown 5-17. Total: 39-186.
Receiving
UNC —J.Downs 15-166; A.Green 3-33; K.Morales 2-23; E.Green 1-22; J.Jones 2-21; D.Jones 1-14; G.Blackwell 1-9; K.Paysour 1-5. Total: 26-293. UVA — S.Wood Jr. 6-94; S.Wilson 5-61; D.Starling 1-40; B.Kemp IV 2-17; X.Brown 1-7; E.Davies 1-7; G.Misch 1-6. Total: 17-232.
Passing
UNC —D.Maye 26-37-293-2-0. Total: 26-37-293-2-0. UVA — B.Armstrong 17-35-232-0-1. Total: 17-35-232-0-1.
Tight end Wood Jr. has a big day in absence of UVA's top receivers
Column: Mack Brown's Charlottesville curse ends with UVA's best shot at upset falling short
UP NEXT
The Cavaliers will host Pittsburgh next Saturday at noon (ACC Network).
Comments