Cavaliers improve in key areas in ACC opening win at Notre Dame
By Jerry Ratcliffe
After getting punched in the face early and often in a lopsided loss to No. 1 Gonzaga last Saturday, a couple of areas were disturbing to Virginia coach Tony Bennett about his team.
He didn't like the huge amounts of turnovers, didn't like the defensive effort in giving up 98 points, didn't care for the slow start. Outsiders wondered how the No. 23 ranked Cavaliers would respond a few days later when ACC play began.
Wednesday night, UVA provided the answers by beating Notre Dame on the road, 66-57, the Cavaliers' 13th consecutive ACC season-opening win.
The win, Virginia's 10th regular season win without a loss to the Irish, didn't come easy but Bennett will take it. Everything considered, the Cavaliers made strides in certain aspects of their game. Then again, they were playing a so-so Notre Dame team (3-5 overall/0-2 ACC) and not Gonzaga.
UVA committed only five turnovers compared to a season-high 15 versus the Zags. The defense was better, too, limiting the Irish to 40 percent shooting for the game (18-45) and only 32 percent in the first half as the Cavaliers took an early lead and led wire-to-wire, up 30-24 at the break. Notre Dame is a team that relies heavily on its perimeter game with its four-guard lineup that spreads the floor, but the Irish made only 25 percent of their shots from the arc (5-20).
"We just watched film and made some adjustments," said UVA point guard Kihei Clark, who led the Cavaliers in scoring for the second straight game, posting 19 points each time (he also played 38 minutes without turning over the ball and played tight defense on Notre Dame's Pretiss Hubb, who scored only four points and was 1 of 8 shooting, 0-6 from the arc). "I think we did a better job of anticipating on getting to the ball and getting to shooters. I think we could still improve. I think defensively we did take a step in the right direction."
Clark was solid for the Cavaliers, connecting of 7 of 12 field goal attempts (2-4 on 3's), and hit half his six free throw attempts. He also dished out five assists.
He, Sam Hauser and Trey Murphy III, all made critical baskets down the stretch when the Irish rallied at home before a crowd of 85 fans.
Clark, who scored 14 of his 19 in the second half, torpedoed Notre Dame's defense, penetrating and scoring or drawing fouls. Perhaps his biggest score came with 9:14 to play after the Irish had cut the UVA lead to 45-44.
Moments later, Hauser, who finished with 13 points but had another off night shooting, banged in the second of two important 3's down the home stretch. Hauser's shot gave the Cavaliers a 50-46 lead. Justin McKoy scored back-to-back to hold the lead at 54-49 before Murphy stuck a big 3 to expand the cushion to six at 57-51.
Hauser put the final nail in the Irish coffin with his last 3-point of the night for a 63-55 lead with less than two minutes to play.
While UVA was scoring critical baskets during that final stretch, the Cavaliers defense put up a stout stand, holding Notre Dame to only one field goal the final 5:47 of the game.
"Yeah, we definitely made a step in the right direction," said Hauser, who admitted that his defense has been his weakness thus far. "Gonzaga really exposed us on that end of the floor and that didn't leave a good taste in our mouth, so we took that personally and it showed tonight.
"We played pretty well on defense. Obviously, there's still some things to clean up, but definitely improvement for sure."
Some of the clean up needs to come from No. 10 himself, who was beaten to the basket on occasion by Notre Dame's 6-10 forward Nate Laszewski, who scored a game-high 28 points on an 8 of 11 shooting performance (4-7 from the arc), including 8 of 10 from the free throw line and helping get UVA's 7-footer Jay Huff in foul trouble.
"That's where Sam and Jay have got to keep coming defensively," Bennett criticized. "They've got to shore up on defense and be more alert. They did some wonderful things offensively."
Huff put up 15 points (7 of 9) in only 24 minutes but was plagued with foul trouble for the second consecutive game.
"You've got to be ready early, you've got to be alert, you can't pick up any of the silly fouls, unforced fouls," Bennett said. "You've just got to be in position. I want Sam and Jay to take a step defensively and they've got to keep working. It's got to matter."
Hauser didn't needed to be reminded because he hears it every day. It's something he's continually aware of and wants to improve on that side of the floor.
"I just got to work on my on-ball defense," Hauser said. "That's an area where I definitely need to improve. I work at it every day.
"I think I've gained a lot of experience in this Pack-Line last year and a half. I think I've gotten better and made the right strides to getting better, so I've just got to stick with it in practice. I know coach will be on me for that and I'm ready for that challenge."
Virginia shot the ball better as well, 47 percent for the game (27-58) and from the 3-point line as well, 8 of 26, but only had eight free throw attempts and made only half of those.
Bennett used only nine players in the tightly contested game, including Casey Morsell, Reece Beekman, Kadin Shedrick and Tomas Woldetensae.
The Cavaliers, now 5-2 overall and 1-0 in the ACC, host rival Virginia Tech on Saturday at John Paul Jones Arena.
Team Notes
The Cavaliers (5-2) have a 13-game winning streak in ACC openers and are 12-0 in ACC openers under head coach Tony Bennett
Virginia is 33-35 all-time in ACC openers
UVA led 30-24 at halftime and is 5-1 when leading after 20 minutes
UVA had a season-low five turnovers
Series Notes
Virginia is 15-2 all-time vs. Notre Dame, including a 10-0 ACC regular-season record, in the series that dates back to 1980-81
UVA is 6-0 against the Irish in Notre Dame
UVA has limited Notre Dame to 58 or fewer points in nine of the last 11 meetings
Head coach Tony Bennett is 11-1 all-time against Notre Dame
Player Notes
Double Figure Scorers: Kihei Clark (19), Jay Huff (15), Sam Hauser (13)
Hauser recorded his first double-double at Virginia (8th career) with 13 points and 10 rebounds
Justin McKoy contributed six points and matched a career high with six rebounds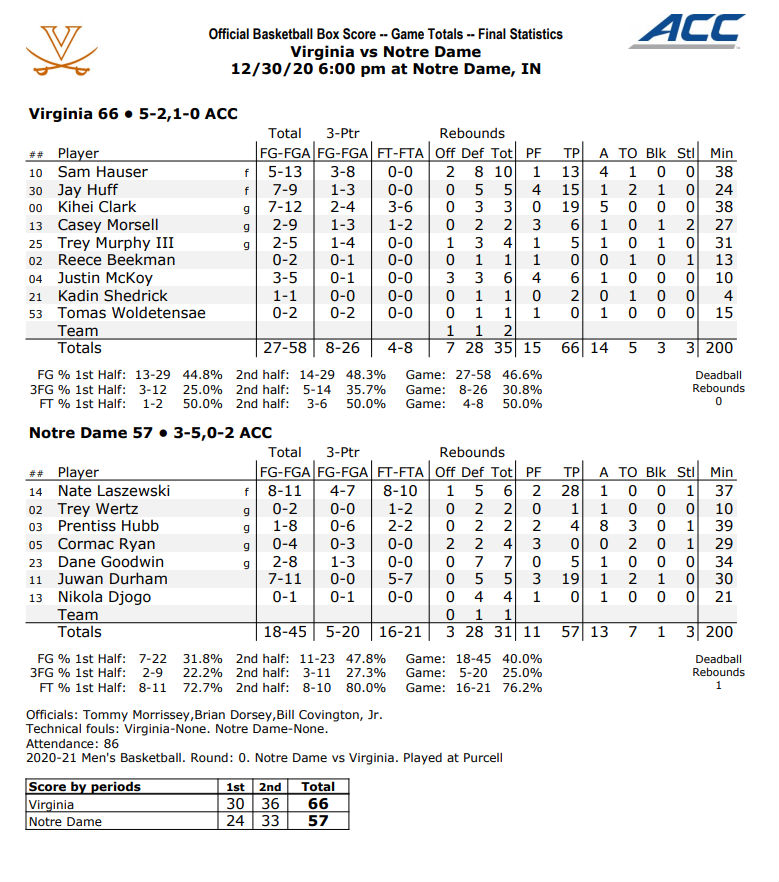 Comments