Cavaliers put up a fight but come up short in Orange Bowl, 36-28
Virginia senior quarterback Bryce Perkins put up one last heroic effort in his final game as a Cavalier, but Florida's Lamical Perine helped build a first-half lead that would not be relinquished, and the Gators prevailed, 36-28, in the 2019 Capital One Orange Bowl Monday night in Miami.
Perine scored three touchdowns, all by the halftime break, and accounted for 181 total yards en route to Most Valuable Player honors, as the Gators (11-2) posted 549 total yards and out-rushed the Wahoos, 244-52.
Perkins finished his last collegiate contest completing 28 of his 40 passes for 323 yards and four touchdowns against another one of the country's top defensive units, while rushing 14 times for 24 yards. Senior wideouts Hasise Dubois and Joe Reed combined for 135 yards receiving and three scores, as the Wahoos finished the memorable 2019 season with a record of 9-5. Junior Terrell Jana led the team with 126 receiving yards and the other touchdown reception.

Individual Statistics
RUSHING: UVA — Bryce Perkins 14-24; Joe Reed 2-14; Wayne Taulapapa 5-14. UF — Lamical Perine 13-138; Kyle Trask 8-37; Dameon Pierce 6-34; Emory Jones 4-32; Malik Davis 1-3; Kadarius Toney 1-1; TEAM 1(-1).
PASSING: UVA — Bryce Perkins 28-40-1-323. UF — Kyle Trask 24-39-1-305.
RECEIVING: UVA — Terrell Jana 7-126; Hasise Dubois 10-83; Tanner Cowley 3-60; Joe Reed 7-52; Billy Kemp IV 1-2. UF — Van Jefferson 6-129; Tyrie Cleveland 3-51; Lamical Perine 5-43; Kyle Pitts 3-39; Freddie Swain 3-21; Malik Davis 1-9; Trevon Grimes 1-7; Jacob Copeland 1-7; Kadarius Toney 1-(-1).
Attendance — 65,157.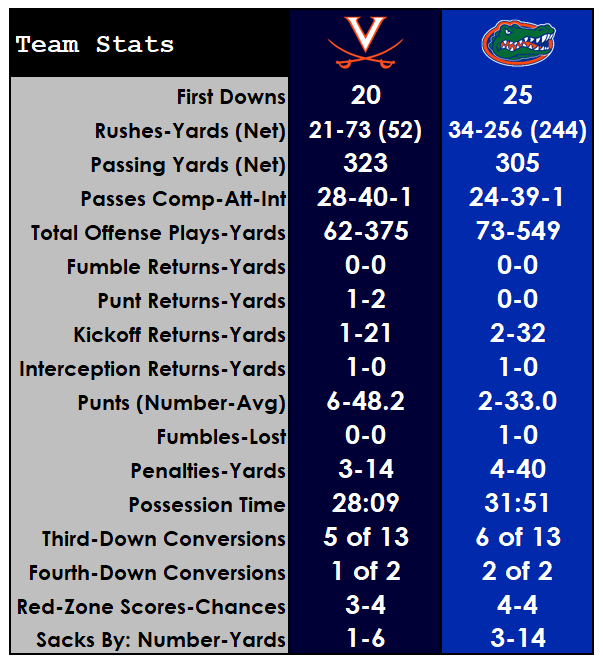 First Quarter
Florida received the opening kickoff and it only took 40 seconds for the Gators to grab an early lead. Perine found a seam and hustled 61 yards to the house with 14:20 left in the opening quarter. Gators 7, Wahoos 0.
Virginia couldn't get anything going on its initial possession, but quickly got another opportunity as Nick Grant dove for an interception of Kyle Trask on Florida's ensuing series.
On the very next snap, Perkins lofted one to Jana for a 34-yard score, and just like that it was knotted up with 11:27 on the scoreboard. Wahoos 7, Gators 7.
Perine 16-yard touchdown catch out of the backfield with 6:26 on the clock. Gators 14, Wahoos 7.
A 15-yard hands-to-the-face penalty put the Cavaliers across midfield on the following drive, and then Perkins connected with Dubois over the middle a few plays later on a crucial fourth-and-one to keep the chains moving.
Perkins took a shot from the Gator defense but found Jana for another huge first down three plays later in the red zone just before the end of the period.
Second Quarter
The 'Hoos faced an important third-and-eight from Florida's 9-yard line to begin the second, and Perkins danced around to avoid heavy pressure and went up high to Dubois in the back of the end zone, as Dubois made an amazing grab over his defender to tie it up after Brian Delaney's extra point with 14:53 on the clock. Wahoos 14, Gators 14.
Perine picked up another big chunk of real estate — 27 yards — on Florida's next march. On the next play, Trask appeared to cough up the ball at the end of his run, prior to his shoulder hitting the turf. The controversial play was ruled down on the field, and was reviewed and upheld. Trask then ran for two more big plays into the red zone and then completed one across the field to Jacob Copeland, who stretched across the marker for a first-and-goal opportunity. De'Vante Cross batted one away in the end zone on third down, however, to set up the 23-yard Evan McPherson go-ahead field goal with 9:39 until halftime. Gators 17, Wahoos 14.
Perkins was sacked on UVA's ensuing third down, and Trask then found Van Jefferson for a big play and later kept the drive going with a fourth-down completion inside the Virginia 30. Trask went over the middle to Jefferson at the 10, and then Perine skipped into the end zone for his third score of the night with 2:13 left in the half. Gators 24, Wahoos 14.
When the 'Hoos got it back, Perkins made another highlight-reel throw on the run, finding Reed for a sweet catch right around midfield with just over a minute to go, but Nash Griffin eventually punted it away and the first half came to a close.
Perkins was 12 for 16 for 108 yards and two touchdowns in the opening 30 minutes, but Florida out-gained the Cavaliers, 342-135, with 189 of those yards coming via the rush. The Gators averaged right around 120 yards rushing a game coming in. Perine accounted for 138 total yards (102 rushing, 36 receiving) and three touchdowns himself. All that being said, the 'Hoos were down just 10 and getting the ball back to start the second half.
Third Quarter
Reed wrestled himself away from his defender and picked up the necessary yardage for a first down to start the half, but Perkins was chased down on the next third-down try and Griffin came on to punt for the third straight time.
Charles Snowden came up with a sack on Florida's ensuing possession to force the Gators' first punt of the contest, but Virginia booted it right back with 6:10 left in the quarter. Florida's offense sputtered again, however, as the UVA defense forced its first three-and-out of the night, and the Gators' punt by Tommy Townsend only traveled 28 yards, setting the 'Hoos up nicely at their own 47 with 5:14 on the clock.
Perkins aired one out, but a little short, for Tanner Cowley way downfield — then took another deep shot but overthrew Dubois, setting up a third-down sack, and UVA had to punt it again.
On the ensuing drive, Grant almost had another interception with 1:05 to go but couldn't hang on after Florida marched into Cavalier territory. The Wahoo defense came up with another big third-down stop, but McPherson nailed a 49-yard field goal to push the lead to 13 with 16 seconds left in the period. Gators 27, Wahoos 14.
Just before the horn sounded, Perkins hooked up with Cowley for 52 yards down to the UF 23-yard line to start the final stanza.
Fourth Quarter
Perkins went to Reed for a first down to get the 'Hoos in the red zone, and then he ran it himself inside the 10. On third-and-five from the Gators' 7-yard line, Perkins flung a sideline screen for Reed, who snuck his way in for the score with 13:05 remaining, and Delaney's PAT cut it to six. Gators 27, Wahoos 21.
The 'Hoos came up with a huge stop on third-and-two, but Florida went for it on an even bigger fourth-down conversion, and Trask pitched it out on the option to Perine for the first down. After a 30-yard completion by Trask to Tyrie Cleveland, Perine nearly had touchdown No. 4, but he was ruled short at the 1-yard line on instant replay. Trask carried it in himself on the ensuing snap to make it a two-possession affair again with 9:33 to play. The Gators elected to go for two, but Noah Taylor was there to knock it away. Gators 33, Wahoos 21.
With time winding down, the Cavaliers needed a big play in a hurry, and Perkins connected with Dubois for 23 yards across midfield. A few plays later, Perkins found Dubois again for another first down into the red zone before Wayne Taulapapa ran it down to the 13. Perkins was then sacked for a four-yard loss before tossing his first interception of the night inside the 5 with just over five minutes to go. Jefferson quickly moved the Gators out of trouble with a 53-yard gain out a quick out, and Florida could start to sense it as the clock went under four minutes.
Virginia took its last timeout with 3:22 remaining, just before the Gators added three more points off the foot of McPherson (42-yard field goal) with 2:32 to play. Gators 36, Wahoos 21.
In true fashion, Perkins refused to throw in the towel, marching the offense down and finding Jana for another big 47-yard gainer inside the red zone. A few plays later, Perkins connected with lineman Bobby Haskins for an apparent 9-yard touchdown with 55 seconds left, but Haskins was ruled an ineligible receiver on the play and the points briefly came off the board. Perkins hit Reed down to the 2-yard line on the next play from scrimmage, and then Perkins tossed his final touchdown pass as a Wahoo to Dubois with 38 ticks left. Gators 36, Wahoos 28.
The all-important onside kick got a second try, as Dan Mullen called a timeout just before the initial attempt went into a Florida player's hands as the whistle blew. The second try also wound up in the hands of the Gators, as they escaped with the victory.

Comments