Clark's clutch bucket lifts Virginia to 61-56 upset of No. 5 Florida State
The smallest guy on the floor made the biggest play of the game Tuesday, as Virginia sophomore point guard Kihei Clark scored on a reverse layup with a minute to play to put his team on top and the Cavaliers held on to upset fifth-ranked Florida State, 61-56, at John Paul Jones Arena.
With UVA (14-6, 6-4 ACC) trailing by one, Clark, at 5-foot-9, drew an isolation mismatch on FSU big man Malik Osborne (a foot taller at 6-9) and sped past and around him, scooping the ball off the glass and in to make it 57-56.
The Seminoles (17-3, 7-2) misfired on their ensuing trip and let the clock run all the way down to 13.9 seconds before fouling Wahoo senior forward Mamadi Diakite, who capped off a monster night with a pair of clutch free throws to make it a 3-point game.
After calling its final timeout, FSU got off a couple of well-contested looks from downtown in the closing seconds, but Braxton Key came down with a defensive rebound and put the icing on the cake with two more from the stripe with less than a second to go, and the celebration began.
Virginia has now won three of its last four games overall and eight of the last 12 against the Seminoles, whose 10-game win streak came to an end. It was just the ninth time FSU lost in the last 49 times in overtime games and/or games decided by three points or less.
For the 'Hoos, it was their first win over a top-five team since Ty Jerome's game-winning triple at Cameron Indoor over No. 4 Duke nearly two years to the day (Jan. 27, 2018), and first such win at JPJ since knocking off fourth-ranked North Carolina the season before.
The Cavaliers fell behind quickly out of the gate, as FSU made its first three shots (UVA missed its first four) to grab an 8-0 lead. Tomas Woldetensae continued his long-range contributions with a pair of 3-pointers that helped the 'Hoos get it back to even at 14-all on a Casey Morsell and-one with 8:30 on the first-half clock.
The Seminoles, who entered the contest with a 15-0 record when leading at halftime, clung to a 28-27 at the break Tuesday, but Virginia used a 10-2 run early in the second half to take the lead, 37-32, with just under 16 minutes left. Diakite sank his second and third 3-pointers of the night — both wide-open tries on consecutive trips set up by Woldetensae assists — to jumpstart the spurt that spanned right around two minutes.
The Cavaliers got just one field goal to fall over the next six-plus minutes, but tied it up at 44-apiece on a Clark three-point play with 8:52 remaining.
UVA hung around and trailed 56-53 after a Devin Vassell jumper at the two-minute mark when Clark lobbed one up for Jay Huff, who caught it at the rim and dropped it in to cut it to a point. The Seminoles didn't score again, missing their final four shot attempts as Clark put the 'Hoos ahead for good less than a minute later.
Virginia held FSU scoreless over the last 2:10 of the contest and connected on 14 of its 16 free-throw tries in the second half, including each of its last seven down the stretch. UVA only missed three of 23 attempts from the stripe all night, shot 43.9 percent from the floor (18 for 41), 41.7 from long distance (5 of 12) and dominated the glass, 36-23. The sore spot would be 17 turnovers on the night (10 by halftime), but the Cavaliers will gladly take the important victory, which could certainly make a difference on Selection Sunday if the cards fall the right way.
Diakite led all scorers with 19 points (6 for 10 FG, 3 for 3 from 3-point land, 4 of 4 from the line) to go with his nine rebounds. Clark added 15 points (7 of 7 from the free-throw line), four rebounds and four assists, while Key chipped in with 13 points and nine boards, also barely missing a double-double. Woldetensae scored eight points.
Vassell was the only Seminole in double figures with 17 points, as his team shot 38.9 percent on the night (21 for 54), 35 percent from deep (7 of 20).
UVA now gets over a week to prepare for Clemson next Wednesday in Charlottesville.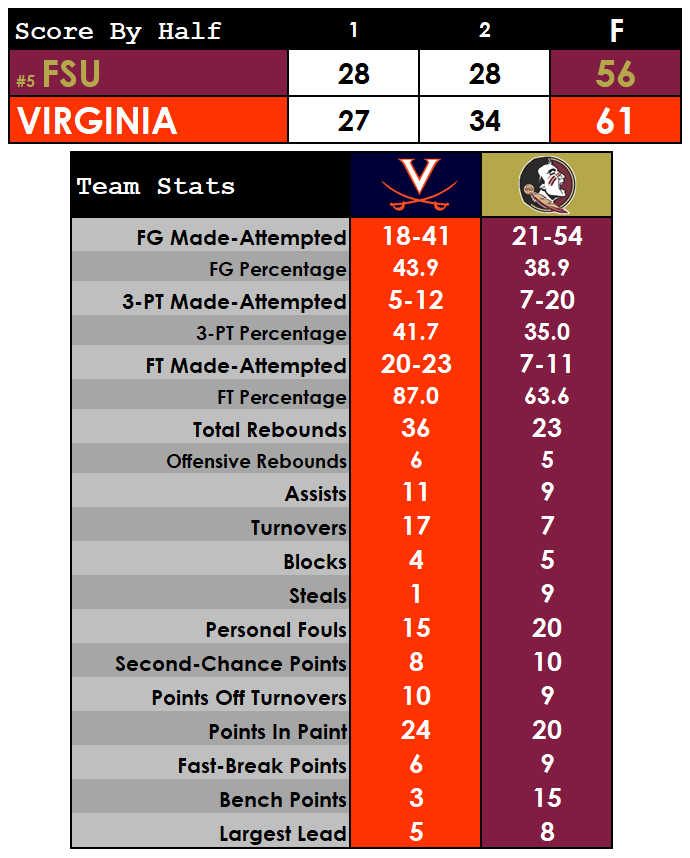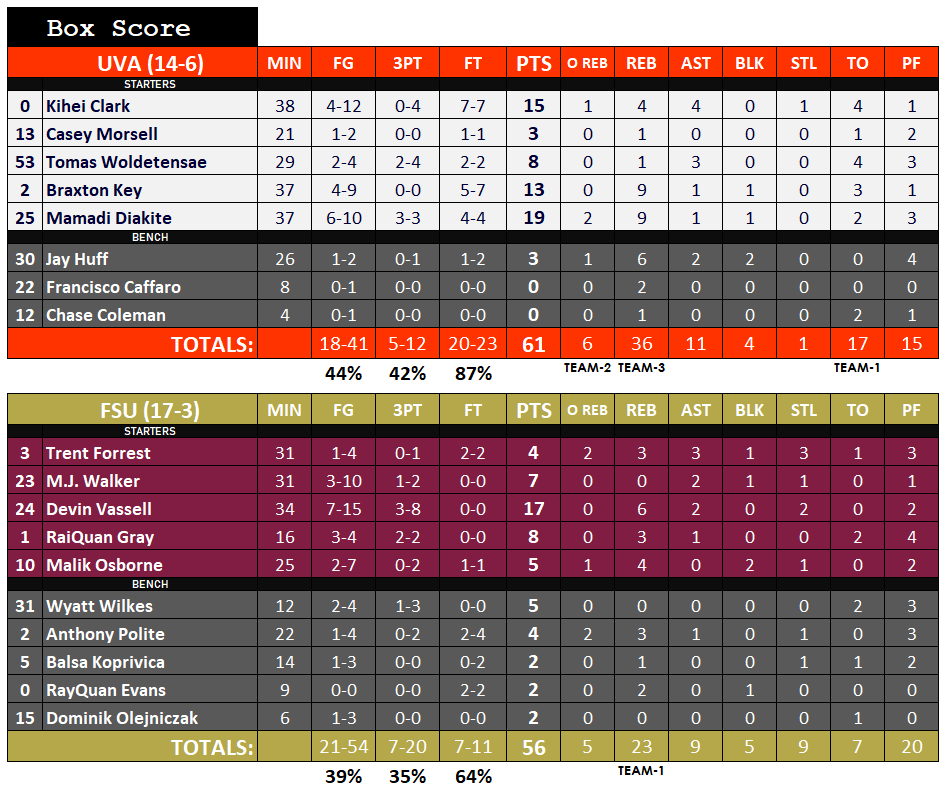 Courtesy UVA Media Relations:
Team Notes
The Cavaliers improved to 14-6, 6-4 ACC
UVA is 2-1 vs. ranked opponents
Virginia posted its first top-five since a 65-63 win at No. 4 Duke on Jan. 27, 2018
The top-5 win was also UVA's first as an unranked team since a 73-68 win over No. 3 Duke on Feb. 28, 2013
Virginia is an ACC-leading 60-8 (.882) in league home games over the past seven seasons
Virginia made a season high 20 made free throws (20 of 23)
UVA posted its second-best 3-point percentage of the season (5 of 12 for 41.7%)
UVA owned a 36-23 rebounding advantage
Florida State started the game on an 8-0 run
UVA gained its first lead at 18-16 at 5:07 first half
UVA trailed at the half 28-27
Series Notes
UVA and FSU split the season series (FSU won 54-50 in Tallahassee on Jan. 15)
Virginia is 26-26 all-time vs. Florida State in a series that began in 1991-92
UVA has limited Florida State to fewer than 70 points in each of the last 19 meetings
Head coach Tony Bennett is 9-9 all-time vs. Florida State
Player Notes
Double Figure Scorers: Mamadi Diakite (19), Kihei Clark (15), Braxton Key (13)
Diakite matched a career high with three 3-pointers
Key and Diakite each had a game-high nine rebounds
Kody Stattmann missed his second straight game with a concussion
Support JerryRatcliffe.com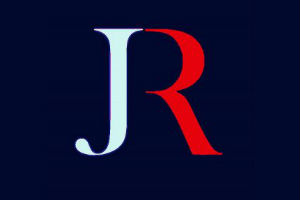 Make a one-time or recurring gift to support JerryRatcliffe.com online below. Your gift is not tax-deductible. Thank you for your support of JerryRatcliffe.com and the "Jerry Ratcliffe Show" podcast!