Clark's late triple helps send seniors out with a win over No. 10 Cardinals, 57-54
Cavaliers clinch No. 2 seed in ACC Tournament
By Scott Ratcliffe
Virginia second-year point guard Kihei Clark has proven on several occasions that he does not get rattled under intense pressure.
On Saturday evening with a ton on the line in the regular-season finale, the scrappy, 5-foot-9 floor general took matters into his own hands with his team clinging to a one-point lead against 10th-ranked Louisville and delivered a decisive 3-pointer that all-but put things out of reach for the visitors in the final minute of a 57-54 win, the eighth consecutive Wahoo win on Senior Day at John Paul Jones Arena.
It was UVA's eighth win in a row overall (and 11th of the last 12) to conclude the season with a record of 23-7 overall and 15-5 in the ACC heading into next week's conference tournament in Greensboro.
The victory gives the 'Hoos the No. 2 seed in Greensboro, with Louisville dropping to the No. 3 seed, so it's possible we could get a Round-3 showdown in less than a week.
UVA will face the winner between No. 7 Notre Dame and No. 10 Boston College in the quarterfinal round on Thursday at 7 p.m. The game will be televised by either ESPN or ESPN2.
With the clock winding down Saturday, the 22nd-ranked Cavaliers had relinquished a 13-point lead that they held with 12:46 to play, as the Cardinals (24-7, 15-5) stormed back behind ACC Preseason Player of the Year Jordan Nwora.
Louisville used a 19-6 run to tie the game at 51-51 on Darius Perry 3-pointer — one of four long bombs over the seven-plus minute stretch — with 5:11 to go.
Playing in his final home game at JPJ, senior forward Mamadi Diakite split a pair of free throws with 1:48 remaining, giving the Wahoos a 52-51 edge.
The teams traded turnovers before Jay Huff ripped the ball away from Cardinal big man Steven Enoch with 52 ticks showing, setting up the exciting conclusion.
Clark crossed the timeline and began to dribble to his right when he noticed his defender, Louisville freshman guard David Johnson, giving him a little extra space.
"We kind of just took what [the Cardinals] gave us," explained Clark of the play. "Johnson was kind of worried about the drive, then he kind of backed up a lot, so I had enough space to get off my shot and just shot it with confidence, and luckily, it went in."
Clark let it fly from downtown and the ball swished through the net with 29.9 seconds on the clock, sending JPJ into pandemonium.
"He's done it, and he continues to do it," Tony Bennett said of his point guard. "He made the big shot and we needed every ounce of it."
Added UL coach Chris Mack of Clark's heroics: "He is a gamer. I mean, look at all the plays he has made down the stretch. I have seen it since he was in AAU when he was in California. He is a floor general. He makes his mistakes, but he doesn't bow his head or put his head down. He continues to play, and he's got some moxie, that is for sure."
The Cards tried to answer quickly but Perry misfired and Diakite got the rebound and was fouled with 18 seconds left, but missed the front end of his one-and-one opportunity, Nwora got the rebound, and Louisville had one last crack at it, down 55-51.
After the 'Hoos wisely committed just their fifth team foul of the second half to stop the clock with 14.6 left, Louisville again couldn't get a shot to drop as Samuell Williamson's 3-point try was off, and Diakite once again secured the board, this time with a little authority, knowing he'd have a chance to redeem his miss.
The 6-9, 224-pounder took a moment to gather himself before stepping to the stripe and sinking his final two free throws as a Wahoo at JPJ, putting his team up by six, 57-51, with just 3.8 seconds to play.
The Cardinals got one last 3-pointer from Williamson just before time expired for the final result, and the Cavaliers had knocked off their fourth top-10 opponent of the season — the third in the last month.
Things turned around with just under six minutes left in the first half, as Clark found Huff for an alley-oop and Huff was fouled for a potential three-point play.
On Huff's attempt, the Cards were whistled for a lane violation, which drew an argument from Mack, who was subsequently charged with a technical foul.
Louisville went from up 5 to tied in a matter of seconds, as Clark nailed the technical free throws and then Huff completed his and-one, and it was 20-20 with 5:56 until halftime.
That sequence sparked the home crowd, and with it, what turned out to be an 18-4 run over the final 6:39 of the half, giving Virginia a 31-24 advantage at the break.
Tomas Woldetensae finally got a shot to drop — he hadn't scored in his last two games — from 3-point land with 13:19 to play, and then a pair of Braxton Key freebies gave UVA its largest lead of the day, 45-32, with 12:46 left.
Nwora scored 10 of his team-high 18 points over the next five-plus minutes to keep the Cardinals within striking distance, but it ultimately wasn't enough, as Louisville dropped to 2-10 against the 'Hoos as a member of the ACC, and 0-6 at JPJ.
Virginia went 19 for 46 for the game (41.3 percent), 4 of 14 from 3-point range (28.6 percent), and 15 for 20 from the charity stripe (75 percent), losing the rebounding category by one, 31-30. UVA committed just three turnovers in the opening half and nine times all day. The 'Hoos scored 16 points off of 13 Cardinal turnovers.
Clark led the way with 18 points to go with 5 assists, 5 rebounds and a pair of steals. Diakite finished his big day with 17 points, 8 boards, 2 blocks and a steal. Key added 6 points, 7 rebounds and 4 dimes in his final home game in the Orange and Blue.
Huff had 11 points, 5 rebounds and two blocks, while Woldetensae scored just 3 points on 1-of-7 shooting (1 of 5 from deep), but recorded 4 steals on the night.
"That's the best send-off we can give 'em," Huff said of the senior duo of Diakite and Key, "especially with a team like Louisville. We wanted to win it for them, and to honor them for what they've done for the program."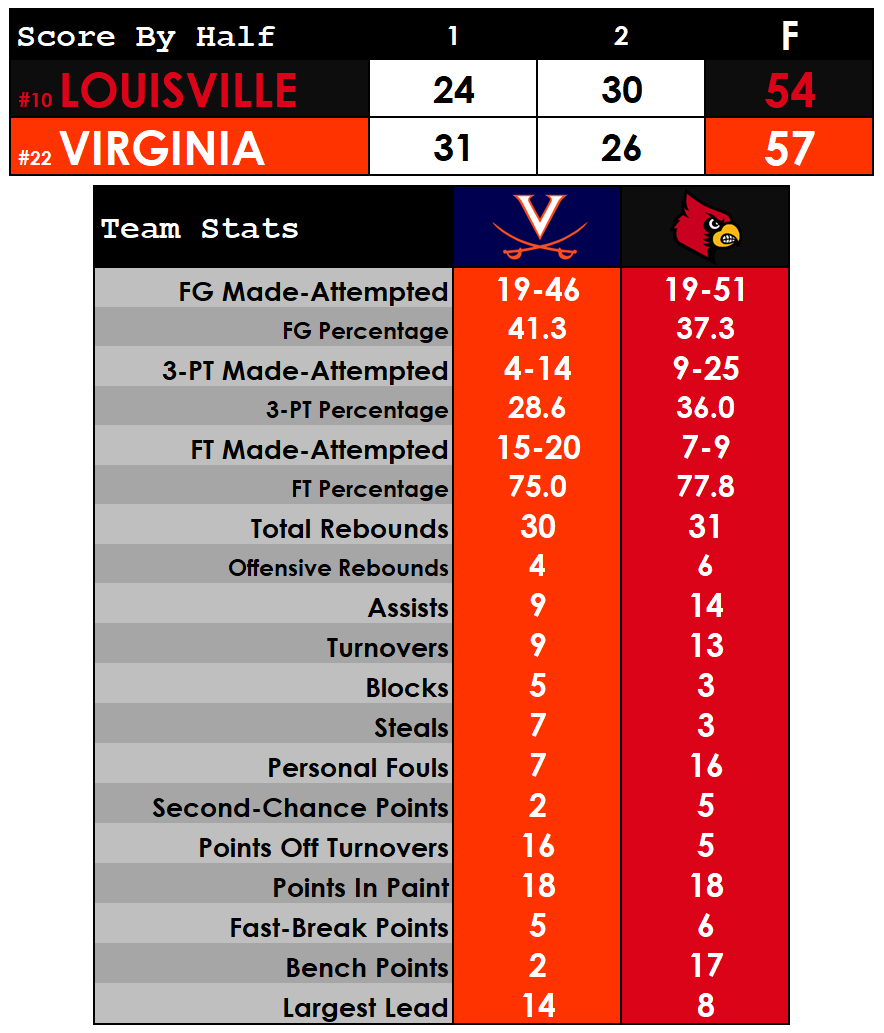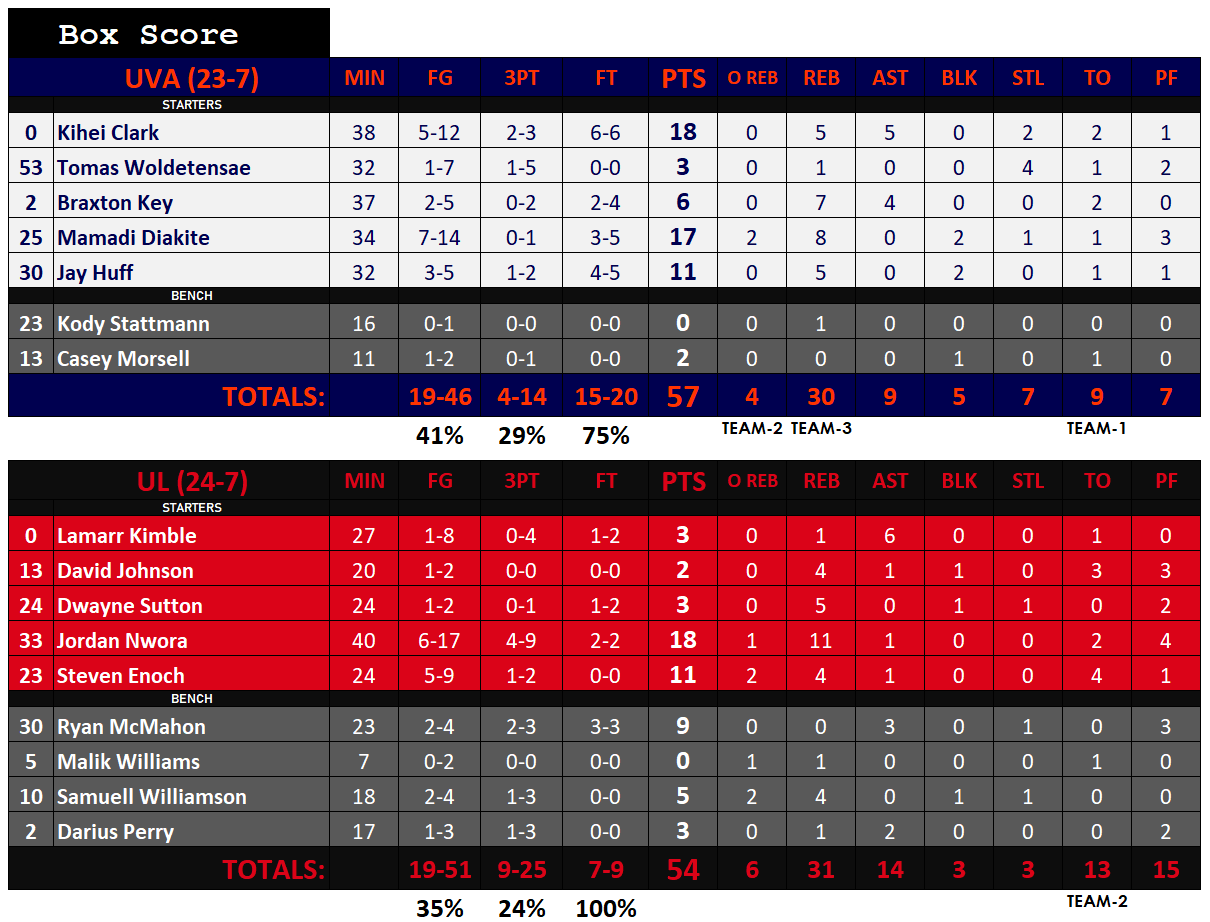 Courtesy UVA Media Relations:
Team Notes
The Cavaliers improved to 23-7, 15-5 ACC
Virginia has won 23 or more games for a school-record ninth consecutive season
UVA has won 15 or more ACC games for the fifth time in school history
UVA has an eight-game winning streak and has won 11 of its last 12 games
UVA has 23 or more wins for the eighth consecutive season
UVA has 14 or more home wins in seven of the last eight seasons
UVA is 4-2 vs. ranked opponents
The Cavaliers have won eight straight games on Senior Day at JPJ
Virginia led 31-24 at halftime and improved to 18-0 when leading at the half
Series Notes
UVA is 16-5 all-time vs. Louisville in a series that began in 1923-24
UVA is 9-3 vs. the Cardinals in ACC action
The Cavaliers are 8-1 vs. the Cardinals in Charlottesville, including a 6-0 record at John Paul Jones Arena
UVA has held Louisville to 59 or fewer points in nine of 13 contests since the Cardinals joined the ACC in 2014-15
Tony Bennett is 11-2 vs. Louisville as head coach at Virginia
Player Notes
Double Figure Scorers: Kihei Clark (18), Mamadi Diakite (17), Jay Huff (11)
Tomas Woldetensae had a career-high four steals
Clark scored 11 points in the first half
Diakite has 997 career points
Clark (5 assists) moved into seventh on UVA's single-season list with 177
Huff and Diakite led UVA with two blocked shots each
Huff has 16 multi-block games
2020 New York Life ACC Tournament
Greensboro, NC
Tuesday, March 10
First Round
4:30 p.m. – No. 12 Wake Forest vs. No. 13 Pitt (ACC Network)
7 p.m. – No. 11 Virginia Tech vs. No. 14 North Carolina (ACC Network)
Wednesday, March 11
Second Round
Noon – No. 8 Clemson vs. No. 9 Miami (ESPN)
2 p.m. – No. 5 NC State vs. Wake Forest/Pitt winner (ESPN)
7 p.m. – No. 7 Notre Dame vs. No. 10 Boston College (ESPN2)
9 p.m. – No. 6 Syracuse vs. Virginia Tech/North Carolina winner (ESPN2)
Thursday, March 12
Quarterfinals
12:30 p.m. – No. 1 Florida State vs. Clemson/Miami winner (ESPN or ESPN2)
2:30 p.m. – No. 4 Duke vs. Wednesday 2 p.m. winner (ESPN or ESPN2)
7 p.m. – No. 2 Virginia vs. Wednesday 7 p.m. winner (ESPN or ESPN2)
9 p.m. – No. 3 Louisville vs. Wednesday 9 p.m. winner (ESPN or ESPN2)
Friday, March 13
Semifinals
7 p.m. – Thursday afternoon winners (ESPN or ESPN2)
9 p.m. – Thursday evening winners (ESPN or ESPN2)
Saturday, March 14
Championship
8:30 p.m. – Semifinal winners (ESPN)

Comments