Covenant's Delaney Poindexter early commits to UVA lacrosse, dreams of defense
By Jerry Ratcliffe
There should be a sign above the front door of the Poindexter home in Charlottesville that reads: Defense wins championships.
If the Poindexter's lived by a motto, it would be that old axiom about how important defense defines success. In a seven-member family in which athletics is a common bond, all agree that defense is king.
No better example of that philosophy than Delaney Poindexter and her three-sport success for the Covenant School. Delaney, who plays volleyball, basketball and lacrosse, recently committed to Virginia's women's lacrosse program, joining longtime friend, Raleigh Foster, as early commits during their junior years of high school.
Delaney, who has four siblings ranging from age 9 to 22, is the second-oldest in a family where everyone participates in athletics, following in their parents' footsteps (both mom and dad played college basketball).
"We're a super competitive family, I think all of us play three sports, and we compete with each other in about everything we do," Delaney said after a recent practice session. "But we have a lot of fun. One of the things my family takes pride in is how much we love each other. At the end of the day, we're family and we sit down at the same table and eat dinner together."
While Delaney has dreamed about playing for UVA ever since she started participating in sports — she and Foster actually talked about being future college teammates from a very young age — Delaney doesn't have what she would consider a dramatic story that led to her commitment.
"I woke up on a Tuesday morning and just thought, UVA is where I'm supposed to go," Delaney said. "I know that's not a super-satisfying answer, but I just felt it in my gut and my heart. I just felt that's where I needed to be."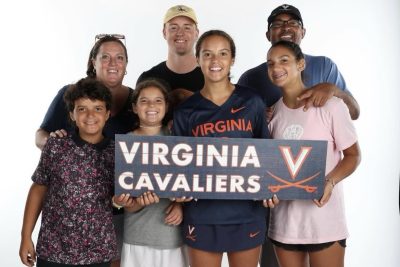 Virginia lacrosse is getting a highly-motivated athlete in Poindexter, who lives by the family defensive motto. She plays strong midfield and defense for both Covenant and her summer travel team (she and Foster are teammates on the summer squad). While she admits that people view offense and scoring goals as the cool thing to do, she's more motivated toward preventing opponents from scoring.
"There's just something about defense," Delaney said. "I like guarding someone. Something about the mindset of not letting your person score or touch the ball or getting past you."
That philosophy isn't limited to lacrosse, but all the sports she plays.
"Like in volleyball, I play the libero position. I just like to play defense until a ball hits the ground. It's my mindset not to let anything get by me and I'll do everything in my power to stop someone from scoring. It just really excites me."
Her mentality has helped Covenant capture back-to-back VISAA Division 2 state lacrosse championships in her freshman and sophomore years. That mentality also attracted UVA's coaches into luring Poindexter into their program.
The Cavaliers have a new coaching staff coming aboard as longtime coach Julie Myers stepped down after a storied career. Sonia Lamonica was named successor to lead UVA's future teams.
"I'm super excited," Delaney said. "I love Sonia and Mike (Sonia's husband is an assistant coach), and Kerrigan Miller (assistant), all of them. I'm excited to be coached by people who view defense the same way as I do, and to be challenged physically and mentally by this staff and by ACC competition. I think these coaches will challenge me and help me get through these challenges."
Sharing the future ride with lifelong friend, Raleigh Foster, was a dream come true for both girls, who are as close as sisters (Raleigh's older sister, Addi, is a freshman on UVA's women's team).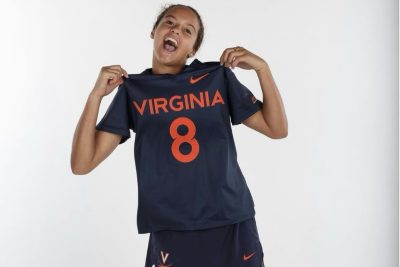 "Everyone kind of assumed I would be following Raleigh because when we were little kids we always talked about going to UVA and playing together," Delaney said. "We wanted to be there together. We didn't even care about the lacrosse part of it, we just wanted to go there together. Obviously we care about the lacrosse part of it way more now than we did back then, but the fact that we get to go there together, and going through college sports together is so cool, seeing our dreams as little kids come true."
But first, she and her Covenant teammates will be looking to three-peat on the lacrosse field. It won't be as easy after losing seven seniors from last spring's championship team, but Poindexter said some of the younger players are really talented and motivated to do it again.
"I think we're going to be an awesome team with an awesome coaching staff," she said. "It's all about creating team chemistry off the field. We can't think about the big picture now, but take things step by step, one practice at a time, one game at a time. Our coach does a great job of keeping everything in perspective. We're focused on the little things."
Playing sports year-round is demanding and it requires great discipline, organization and sacrifice, something Poindexter has mastered at a young age.
She gets up early, goes to school, heads to practice, which usually ends around 6:30 p.m. From there, she'll go work out at a facility until 7:30, then heads home for family dinner, showers, finishes her homework and heads to bed.
No doubt her dreams are filled with defense.