Cowboys' TE transfer Jelani Woods "brightest spot in UVA's spring drills"
By Jerry Ratcliffe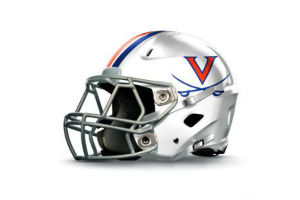 When I asked Bronco Mendenhall about the progress of transfer tight end Jelani Woods during this week's presser, I expected to hear a positive update. What Bronco said about Woods was much more.
"Jelani Woods is probably the brightest spot that I've seen in our program this spring," Mendenhall said.
That's quite a statement from Mendenhall, considering he has most of his offense returning from last year's disappointing 5-5 campaign.
Woods is a 6-foot-7, 275-pound, junior who transferred to Virginia from Oklahoma State, where he was a two-time (2018 and 2019) All-Big 12 honorable mention selection by the league's coaches.
"He is big, and he's fast and he's physical, and he catches the ball well," Mendenhall said. "He's a great blocker, and man I'm thankful that he's here. He's a welcome addition to our program at a position of need."
Virginia's starting tight end from last season was another 6-7 target in Tony Poljan, who was the Cavaliers' second-leading receiver in 2020 with 38 receptions (second only to Billy Kemp's 67 catches). Poljan, who played in all 10 games and started eight, had 411 receiving yards (41 ypg, 10.8 ypc) and scored six touchdowns, second only to quarterback Brennan Armstrong.
"This will be the next [Poljan], except with two years of eligibility remaining," Mendenhall said, "and with similar, if not increased capability, and so I've been thankful he's here. And what a great young man, just a perfect fit for us and him.
"Oh, and did I mention? He's really big," Mendenhall chuckled at his excitement about the big target. "At like 265 or 270, he can run. Anyway, yeah, he's really good."
A native of Ellenwood, Ga. (Cedar Grove H.S.), Woods was ranked as the No. 20 dual threat quarterback prospect in the nation in 2017 (Rivals) after leading his team to the state championship. ESPN.com named him as the No. 25 pocket passer in the country and Scout.com ranked him as the No. 41 overal quarterback prospect nationally.
Woods played in 34 games (28 starts) at Oklahoma State. He moved to tight end prior to the Cowboys bowl win over Virginia Tech in 2017, and left the Big 12 school with 31 career receptions for 361 yards and four touchdowns. His career high was a nine-reception performance for 129 yards and a TD. He is also an excellent run blocker, a physical player.
An All-Big 12 Academic Team selection, Woods graduated from Oklahoma State with a degree in management.
Comments