Croatian Milicic impresses JPJ crowd as he continues to adjust to U.S. basketball
By Jerry Ratcliffe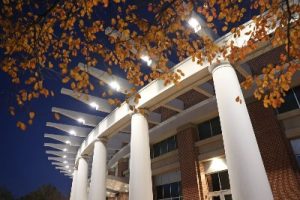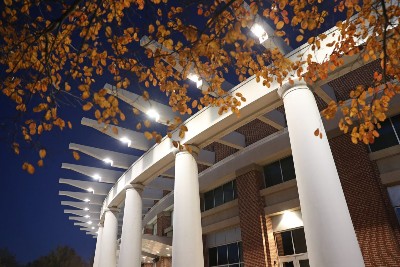 It didn't take long into this new season for newcomer Igor Milicic Jr. to have his coming out party as a Virginia Cavalier.
With Tony Bennett tinkering with lineups, experimenting with team chemistry, he called on the true freshman early in Friday night's 68-52 win over visiting Coppin State. Milicic didn't disappoint.
The 6-foot-10, 224-pound Croatian nailed a 3-pointer within seconds after he entered the game with just under 11 minutes to go in the first half, then drilled a perimeter jumper less than two minutes later and led UVA in scoring at the half with seven points. Milicic finished with 11 points, a couple of rebounds, an assist and a blocked shot.
For a team looking for additional scoring, Milicic certainly raised some eyebrows as he connected on 3 of 6 field-goal attempts, 2 of 4 shots from the arc and 3 of 4 from the free-throw line.
He instantly became a crowd favorite much in the vein of how Cavalier faithful immediately began a love affair with a young Jay Huff several years ago.
"I was a little nervous when Coach Tony called my name for me to come in, but when I stepped on the floor I knew exactly what I had to do, I just played my game: came off of two screens and hit a jumper, then another," Milicic said.
If he was nervous, it didn't show.
"I was just playing my game," the Croatian said. "Confidence has nothing to do with it. I just played how I know how to play."
Just as his father, Igor Sr., who has coached his team to three of the last four Polish championships, trained him.
While Junior said after his first double-figure scoring game in American hoops that he's nowhere close to where he wants to be, he certainly made a good impression. He had played a total of 5 minutes, 21 seconds in mop-up duty in two previous games this season and hadn't scored. Against Coppin, he clocked almost 14 minutes of floor time.
"Yeah, [Milicic] is a good shooter, big kid, made some threes early for them," Coppin coach Juan Dixon, a former Maryland star, said. "I think he's definitely going to have a bright future here at UVA."
Coach Tony also liked what he saw from his European prospect.
"I was happy for Malachi (Poindexter, who scored 2 points in 15 minutes), one of Charlottesville's own, and Igor," Bennett said after watching the Cavaliers improve to 2-2 and bouncing back from a setback at No. 15 Houston on Tuesday. "I thought they were a bright spot in the game.
"For international players, there's an adjustment more than any new guy to your program, either transfers, or a new guy from the States that's in his first year. For the international players I think it takes longer and in Igor's case, he didn't get to come here this summer. He missed the 8-to-10 weeks that we get, because he was graduating [back home]."
That meant Milicic arrived at UVA right at the start of the first semester, which meant he had a lot of catching up to do.
"I think that's been tough, and boy, is he a hard worker," Bennett said. "He sees a shot and he's not bashful to take it, which is good. I loved that he came in and let it go."
Bennett likes Milicic's size, but realizes he must adjust to a faster-paced style of basketball in the U.S., even though UVA doesn't exactly set the world ablaze with it's more deliberate pace. The European game is slower and more physical.
Milicic gets all that, and acknowledges he has a lot of adjustments to make.
"I still think I'm not even close where I have to be," the freshman said. "I just have to keep working and getting better. It's a big adjustment from coming from Europe to here because the game is so different."
Off the court, his adjustment to freshman college life hasn't been as challenging because of his schedule.
"I'm a college student, so I'm pretty much at school and JPJ all the time," Milicic chuckled. "I go to my dorm and just to sleep. Just trying to practice as much as I can and get some sleep."
Bennett can vouch for that. Milicic is a relentless worker, always getting up extra shots at the gym.
"He's practiced well and he can guard the ball," the coach said. "He's strong and he spreads out and he shoots the ball well. He's trying to learn and understand. He's really been a perimeter player his whole life."
That means Bennett can trust Milicic to play the four spot or on the perimeter, as long as he can keep his opponent in front of him. Bennett knows the freshman has been well-coached back home and knows the game as a coach's son. He just needs to get accustomed to the nuances of the American game.
Milicic doesn't lack confidence.
"In today's basketball, there is no position," the European said. "I think I can play one, two, three, four or five. You put me on the floor and I will do exactly what you want, and do the best I can."
His father, who played professionally at a high level in Russia, Croatia, Turkey, Greece, Belgium and Poland, was always hard on him in order to build a complete player. Junior said that Bennett is equally hard on him and he likes it.
"I'm trying to do everything like Coach Tony says and like my dad said," Milicic said.
Because of the six-hour time difference between Virginia and Poland, he only gets to talk to his father once a week, usually on the weekends because by the time classes end and basketball practice ends, Igor Sr., is usually asleep.
"He's the biggest influence in basketball for me," Junior said. "He played, he knows the game, he teaches me, he runs practice for me and my younger brothers. He made me as a player, and I'm really grateful."
He became connected to Virginia as a teammate of former Cavalier Isaiah Wilkins on a German Pro B league team. Wilkins, who has since returned to Charlottesville as one of Bennett's graduate assistants, alerted Bennett on Milicic, noting that he might want to take a good look at the young European.
"We had a great connection," Milicic said of his relationship with Wilkins. "Obviously, he's the only person I knew here (when he arrived a couple of months ago). He's my mentor here. He's helping me all the time, texting me, talking to me what I can do better. He pushes us every day and he does a great job."
At the beginning of the season, Bennett sat down all his newcomers, Milicic, Poindexter (a walk-on from St. Anne's-Belfield in Charlottesville), Taine Murray and Carson McCorkle, and explained that with a 10-man scholarship roster, he wasn't set on positions 7-through-10 and encouraged them to keep working to find playing time in those spots.
"I may play eight, I may play nine, I may play 10," Bennett told them. "You guys just stay encouraged and keep working. It might be one guy's turn one week."
Bennett just felt that it was Milicic's turn Friday night and the youngster made the most of it. 
If the European keeps pushing hard, it certainly won't be his last turn.
Support JerryRatcliffe.com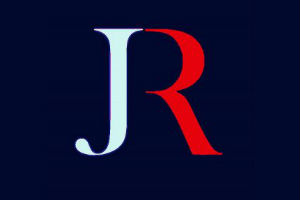 Make a one-time or recurring gift to support JerryRatcliffe.com online below. Your gift is not tax-deductible. Thank you for your support of JerryRatcliffe.com and the "Jerry Ratcliffe Show" podcast!