Cubbage Leads Local Area Trio Into Valley League Hall Of Fame
By Jerry Ratcliffe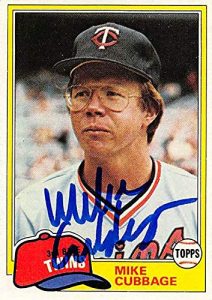 Another year, another Hall of Fame honor for Charlottesville's Mike Cubbage.
Cubbage, who starred at Lane High School and the University of Virginia, was part of the seven-man, 2019 Valley League Hall of Fame class announced this month by the league's board of directors.
Three of those men are strongly tied to the Charlottesville area. Along with Cubbage, Larry Dofflemyer and Jim Kite were also inducted to a class that included Mo Vaughn, Juan Pierre, Lorenzo Bundy, and Bruce Alger.
Cubbage was also recently inducted into the University of Virginia Baseball Hall of Fame, and to the Tidewater Baseball Hall of Fame. 
With 48 years of experience in Major League Baseball, both on the field as a player, coach, and manager (the last 15 in the front office as a scout and special assistant to the GM of the Washington Nationals), Cubbage would qualify for any honors bestowed upon him. But the Valley League HOF is all about what he did as an amateur.
In 1968-69, Cubbage played for the Valley League's Charlottesville Hornets, coached by then-UVA's Jim West. Cubbage led the league in home runs with 11 as a 17-year old with American Legion eligibility left in '68. He was the Valley League's batting champion in '69 with a .341 batting average.
He went on to star at UVA under West, and played shortstop as a freshman and helped the Cavaliers win 20 games for the first time in program history. In 1970, he had second team, All-ACC shortstop, finishing one vote out of first team. In '71, he was first-team and an honorable mention All-American by the Sporting News. In that year's June Major League Draft, Cubbage was the first pick of the second round of the secondary phase of the draft by the Washington Senators. He had been a fifth-round pick by the Senators out of high school in 1968, but chose to accept Virginia's first-ever full baseball scholarship (he has also been offered full football and basketball scholarships by the Cavaliers).
Dofflemyer was elected to the Valley League HOF as player and manager. He played for the Elkton Blue Socks in 1952 and from 1954-57. He played for the Shenandoah Indians from 1958-65, and was player-manager for Shenandoah in '66. He managed the Indians to two pennants and three championships from 1970-75.
In 1979, Dofflemyer managed the Waynesboro Generals until 1981. He also coached various sports and taught at Madison County, Nelson County, Shenandoah, Albemarle, and Page County High Schools over a 30-year span.
Kite, who built a strong company in Wolftown (Kite's Hams), was also elected as a player and manager. He played for the Elkton Blue Sox in 1952 and was player-manager of the Shenandoah team from 1960-63, winning the Valley title in 1960, '61 and '63. Kite led the league with an 11-3 record in '63. He played professional baseball for six years from 1954-59.
Vaughn played for the Harrisonburg Turks in 1987 and had a 12-year Major League career, mostly with the Boston Red Sox, and was a three-time All-Star, American League MVP in 1995.
Pierre also played for the Turks in '97 and had a 13-year ride in the majors, winning the World Series with the Florida Marlins in 2003.
Bundy, who played at JMU, was with the New Market Rebels and played eight seasons in the minor and Mexican Leagues and has coached in the majors with the Dodgers, Rockies, Marlins and Diamondbacks.
Alger was elected as an administrator after dedicating 54 years to the Valley League and New Market team. President and GM of New Market for more than 20 years, he helped the team to championships in '02 and '18. He has been the "Voice of the Rebels" for 46 years.

Comments