Details Announced For Welsh's Celebration Of Life
By Jerry Ratcliffe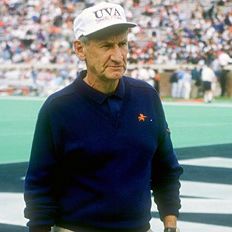 Virginia football has announced details of Saturday morning's "George Welsh Celebration of Life," beginning at 10 a.m. (gates open at 9 a.m.) at John Paul Jones Arena. The event is free and available to the public.
The event will honor the life and coaching career of Welsh, the winningest coach in Cavaliers football history. Welsh guided UVA from 1982 through the 2000 season, compiling a record of 134 wins during that span, and completely turned around what was considered as the worst football program in college football.
Later inducted into the College Football Hall of Fame, Welsh took Virginia to its first-ever bowl game in 1984, upsetting Big Ten runner-up Purdue in the Peach Bowl. He coached the Cavaliers to 12 bowl games in his 19 seasons at the helm and guided the Wahoos to the nation's No. 1 ranking in 1990.
Welsh died unexpectedly on Jan. 2 of this year in Charlottesville in the presence of his family.
Celebrated author John Feinstein will serve as master of ceremonies for the memorial Saturday, with a host of speakers covering Welsh's coaching eras at Penn State, the U.S. Naval Academy, and Virginia.
An array of former players will be on hand, with former UVA and NFL star Ronde Barber moderating a panel of former Cavalier players on their playing days with Welsh. Current Virginia head football coach Bronco Mendenhall will also speak at the event.
As a precursor to the ceremony, this website will continue its multi-part series on the coaching days of Welsh at Virginia, which began shortly after his passing and was paused during the heart of basketball season. The previous stories in the series covering through 1990 is available in the archived section under football.
Also, Saturday morning's "Jerry Ratcliffe Show," on ESPN-Charlottesville (102.9 FM, 1450 AM) will be dedicated to Welsh's career. The show will air from 9-10 a.m., and will be podcasted later in the day on the JerryRatcliffe.com website.
Parking is free to the public, and all lots adjacent to JPJ will be open.
The Virginia spring football game will be held at 1 p.m. at Scott Stadium.

Comments