Dunn's monstrous dunk sparks Virginia, but just tip of his iceberg
By Jerry Ratcliffe
When Ryan Dunn went into beast mode for a short span midway through the first half of Thursday night's Virginia win over visiting Texas Southern, not only did he ignite the crowd at John Paul Jones Arena. He left everyone spellbound.
The sophomore's thunderous dunk off a fast-break turnover brought the biggest roar of the night as he helped fuel a 10-0 run to break open the game, then added a 3-pointer from the left corner about 90 seconds later.
For the record, Dunn posted a career-high 15 points and also a career-high four blocked shots to go along with three steals, and made 8 of 9 free throws to lead the 4-0 Cavaliers over the Tigers, 62-33.
Fans probably would have seen another monstrous dunk by Dunn prior to his slam-bam-jam, but he was fouled on an alley-oop attempt that spoiled the moment.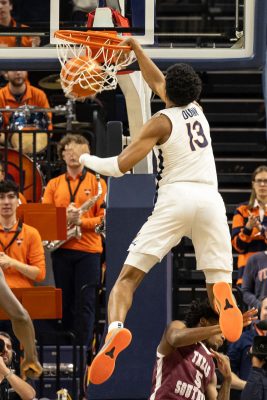 While the Freeport, N.Y., budding star brought the energy that lights up Tony Bennett, his performance brought self-satisfaction to Dunn because of all the hard work he put in over the summer in raising his profile. With NBA analysts mentioning Dunn's name as potential draft material only months after his freshman campaign — something Virginia's coaches didn't want to hear that early — he yearned to advance his game, and ventured out West for help.
Dunn spent time with former UCLA star Don MacLean at his ProActive facility in California in hopes of advancing his potential. While he was there, Dunn mixed it up with several players who were considering going pro or improving their draft stock, such as UCLA Jaime Jaquez Jr. (drafted by the Miami Heat), Tyrese Proctor and Sean Stewart of Duke and several other high-profile players.
"It was good to go up against them and build my confidence in myself, competing with them every day to see how they work, that's the reason I went there," Dunn said.
His game took a leap forward during that training period, and Dunn has been delighted to see his hard work pay off.
"My shot's improved, ball-handling has improved. I feel like I can defend, so being able to guard against some of the elite guys was really good for me. I got a lot out of that camp," Dunn said.
Bennett has noticed the difference in Dunn, along with some of the other returning players to the team, such as guard Isaac McKneely, who sat out Thursday's game with his foot in a boot from an injury earlier in the week.
"That's joy to me … one of my favorite things ever in coaching is watching a guy just go after his game and take another step," Virginia's coach said. "And he's got more steps, as all these guys do, but I love seeing it."
Bennett played Dunn as a freshman rather than redshirting him because of the energy he brought to the team.
"We lived with some of his freshman mistakes and he's starting to sand some of those areas now and become sounder and more skilled in areas through all the work," Bennett said after Thursday's game. "So it's like he's gotten the experience from last year. He's just attacked all areas, and I think that's starting to show."
Last year, although Dunn played a minor role until late in the season, the comparisons between him and former Cavalier star De'Andre Hunter (Atlanta Hawks) began to surface. Remember, Dunn was offered a scholarship by Bennett, who then had to call the Dunn family to inform them he had run out of scholarships by the time their son committed.
Dunn wanted to play so badly for Bennett at Virginia that he volunteered to come as a walk-on his first year, pay his own way until a spot opened up. Not long afterward, a spot opened up and Dunn gobbled up the opportunity and is now a budding star, so much that all the offseason NBA hype raised eyebrows across the country.
"It's been good hearing about it, but I also kind of knew throughout my life, I always took the words and all that stuff out of my mind and control what I can control," Dunn said. "The draft stuff is all cool, but we're focusing on this year. It's my goal to be able to help my team, but it has been cool hearing all this stuff."
At the end of the day, he wants to be an elite defender and what Bennett calls a complete player on both ends of the floor, plus help Virginia win.
His relationship with his older brother, Justin, who pitched in the majors last season for the Cincinnati Reds but has recently declared for free agency, has always helped keep Dunn grounded. Hearing the draft chatter has continued to keep that channel open.
"He's helped me all my life," Dunn said of his conversations with Justin. "Even before he got in the big leagues, he has been an outlet to me, to be able to speak to him about things that maybe I couldn't talk to my parents about, or that he understands what maybe others don't understand.
"Coming to college and then hearing this NBA stuff, he told me it's all cool, but at the end of the day, you've got to work to get there. It's not going to happen overnight, so just continue to work. He's been a great person for me to speak to."
Because he is one of the few players that returned from last season, Dunn has stepped into more of a leadership role than perhaps a sophomore might expect, but that's fine with him. His mom has always told him she has seen the leader in him.
"I can take those attributes and help the younger guys learn and watch what TB (Bennett) wants to do offensively, defensively and just how to come to practice every day and be better," Dunn said.
Meanwhile, his game will continue to grow, and he left the impression that Thursday's rim-bending dunk is just the beginning of the thrills for this season's ride.