Elliott: I'm tired of hearing about last year, as he builds UVA for the future
By Jerry Ratcliffe
It takes a lot to win a football game. It takes very little to lose one.
Virginia's frustration with self-inflicted miscues continued on Saturday, as the Cavaliers dropped their third-straight ACC game this season. Louisville came limping into town without its dynamic quarterback, its leading rusher, or its top tackler, and rumors swirling about the future of its coach.
But it was UVA that blew an early 10-0 lead and left Scott Stadium with more questions than answers in a 34-17 defeat.
As usual, many of the Cavaliers' problems were self-inflicted in terms of turnovers, penalties, poor decisions by quarterback Brennan Armstrong and an inability to block opposing odd-man defensive fronts. Parlay those issues and it adds up to massive frustration.
"As a fan, they're frustrated … I'm frustrated, we're all frustrated," sighed offensive coordinator Des Kitchings over the interceptions, fumbles and dropped passes.
Armstrong, who showed progress in adapting to the new offensive philosophy by completing 70.6 percent of his pass attempts for 313 yards and a touchdown, didn't point to his success, but rather his mistakes: two interceptions, a fumble and six sacks.
The defense, which was on the field all but 11 minutes in the second half, was yet again put in awkward positions by an offense that couldn't stay on the field (3 of 12 on third-down conversions, 1 of 3 on fourth-down conversions) and couldn't hang onto the ball.
When it was over, first-year head coach Tony Elliott had watched his team drop to 2-4 overall and 0-3 in the ACC at the season's midway point, showing his frustration with this year's team being compared to last year. In 2021, the Cavaliers started 6-2, but finished with four consecutive losses and finished at .500 for the second-straight campaign.
While UVA put up a lot of flashy numbers last season, the old coaches will tell you that passing numbers are generally losing numbers. Armstrong confessed to that in the offseason, noting, yeah, the Cavaliers led the nation in passing and total offense for a large portion of the season, where did those numbers really get them?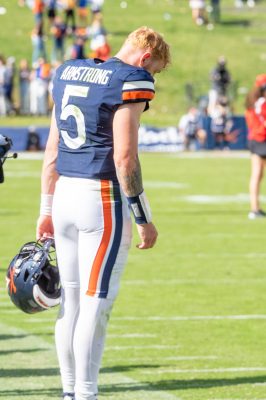 With Elliott coming in with a library of offensive knowledge in calling plays for a dominant Clemson program over the past decade, combined with the return of Armstrong and a fleet of potentially elite receivers, how could anything go wrong, right?
Not so fast, my friend. Elliott's way was not Bronco Mendenhall's way, and his new system has been as ineffective as a Scud missle. Thus the frustration that has set off message boards and social media.
Elliott let his feelings be known about those comparisons during his post-game meeting with media Saturday.
When he was asked about a couple of impressive Virginia drives that reminded fans of last year, and if the coaching staff made adjustments that helped the Cavaliers take on the look of a season ago, Elliott had enough.
"I'm tired of hearing about last year," Elliott said. "That's the problem, is everyone wants to say last year, last year, last year. Some of those guys aren't here. Part of the problem is everybody wants to save last year. I wasn't here last year. I'm not last year. I don't know what the culture was last year.
"All I know is what I'm trying to establish, and that's been a big point of conversation for everybody in the organization."
Elliott, who said he and Kitchings have simplified some of their offense to help get things kick-started — an adjustment, if you will — he told his players what they did last year doesn't carry over.
"So last year, you guys built a chemistry together, right?" he told his team. "Y'all had a cohesion that you built because you put the work in. We've got you put in the work for this year, to build chemistry, cohesion so we can go forward, because unfortunately, I don't know how Coach (Robert) Anae (former offensive coordinator) called the offense. I don't know what his schemes were.
"All I know is what I believe and what Coach Kitchings believes in, and how we're going to do things."
Elliott asked his players what the offense was like the year before last season (2020). They answered that the offense was solid, but had growing pains before the big boom of an offensive explosion in 2021.
"OK, so now we're back here," Elliott said. "We've got growing pains. Let's build the chemistry for this year."
The coach said he was heartbroken for his players, because he wants them to have success, but that he's going to do things the way he knows how.
"I can't replicate last year," Ellliott said. "I can't do what they did last year. That's something I'm trying to get everybody around here to understand. This is not last year.
"Let's say we don't finish with a great season. You know what? Next year is not going to be dependent upon what happened this year. It's always about what's next."
While he tasted a lot of success at Clemson, it wasn't always glorious. He was there when the Tigers were blown out, 70-33, by West Virginia in the 2012 Orange Bowl. The staggering defeat was a precursor of what was to come for Dabo Swinney's program, which went on a dominating run through the ACC and claimed two national championships.
There's no guarantee that Elliott will lead Virginia football to glory, but he has to do things his way, the same way George Welsh did when he came in, and the same way Bronco went completely away from Mike London's system.
It's a process that most every head coach — including UVA basketball coach Tony Bennett — must do. They believe in their blueprint to success, and while that may mean some suffering early on, it's the only way they know.
So, buckle up. This transition may be difficult, but it is what it is. Maybe the bye week came at a good time for this team to make some strides. Maybe it won't win again.
Either way, Elliott has to do it his way.
Comments